Jekyll Island Campground is a cost-friendly place to stay amid natural wonders … and maybe make a few friends, too
It's mid-February, and chilly morning winds are whipping Jekyll Island's shores at 25 mph. Walk a few steps into Jekyll Island Campground, though, and two words spring to mind: "sanctuary" and "enchanting."
The antithesis of a cookie-cutter, roadside parking lot for RVs, this quiet campground is almost fully shaded by towering longleaf pines and century-old oaks. Up in the high branches, the Spanish moss, ablaze with sunshine, merely sways in the breeze. Kids in T-shirts hustle by on bikes. Golf carts are everywhere; almost as ubiquitous as the palmettos, which lend a tropical touch at ground level. Everyone nods hello.
This setting stole Brian Hiebert's heart in 2005. He'd retired and trickled down from Vermont with his wife, Joyce, to visit what the avid campers had heard was one of Georgia's best-kept secrets. They've come back every year since. "This is our winter home now, and we love it," says Hiebert, seated in a folding chair beside his firepit and trusty fifth-wheel Jayco camper. "The weather in Vermont? This morning, it was 12 below!"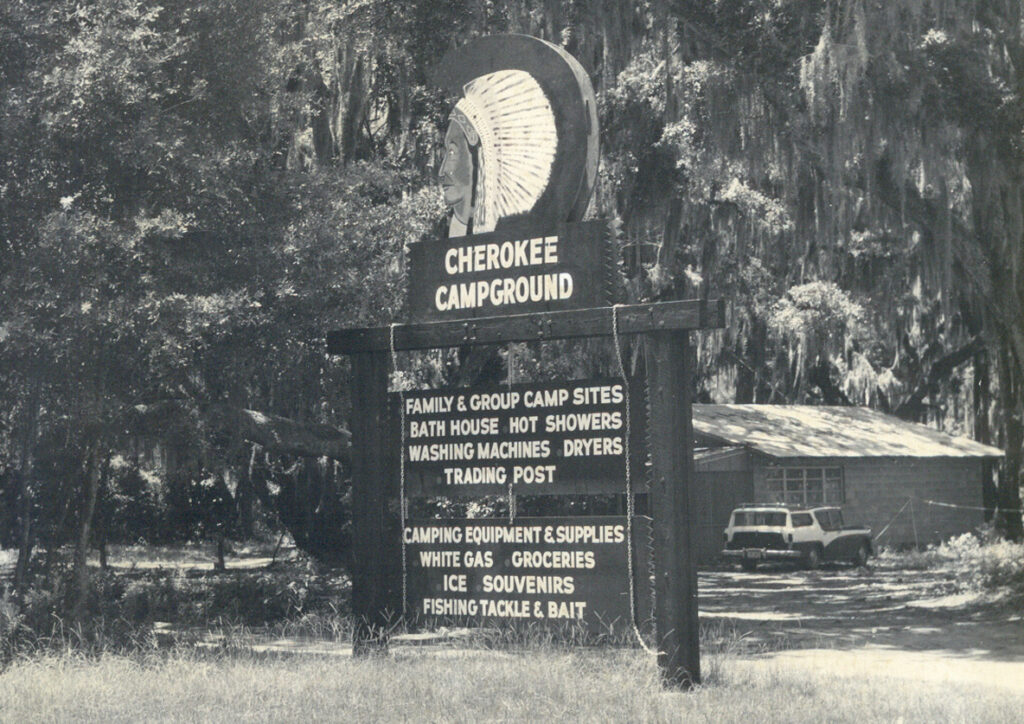 The campground was established in a forest at the island's northern end in the 1950s by two business partners from Thomaston, and it was known as Cherokee Campground until the Jekyll Island Authority took over the private operation in the 1990s. Today, the 179 campsites across these lush 18 acres are each a hot ticket, especially in late-winter months, which are commonly booked solid. (Reservations are accepted up to a year in advance, and staffers recommend calling at least six months ahead.)
Business is so strong, in fact, that a 90-day maximum stay was implemented on all sites a few years ago. It's a means of letting more people experience "roughing it" on Jekyll, insomuch as enjoying Netflix and fresh-caught redfish in your $70,000 RV is doing that.
Seasons see the tenant mix change like the tides. A teeming snowbird habitat in fall and winter gives way to spring breakers around March, followed by RV rallies in April, campers from around the world in summer (especially Germans, for some reason), and then massive, annual family gatherings that can claim up to 60 campsites on Labor Day weekend.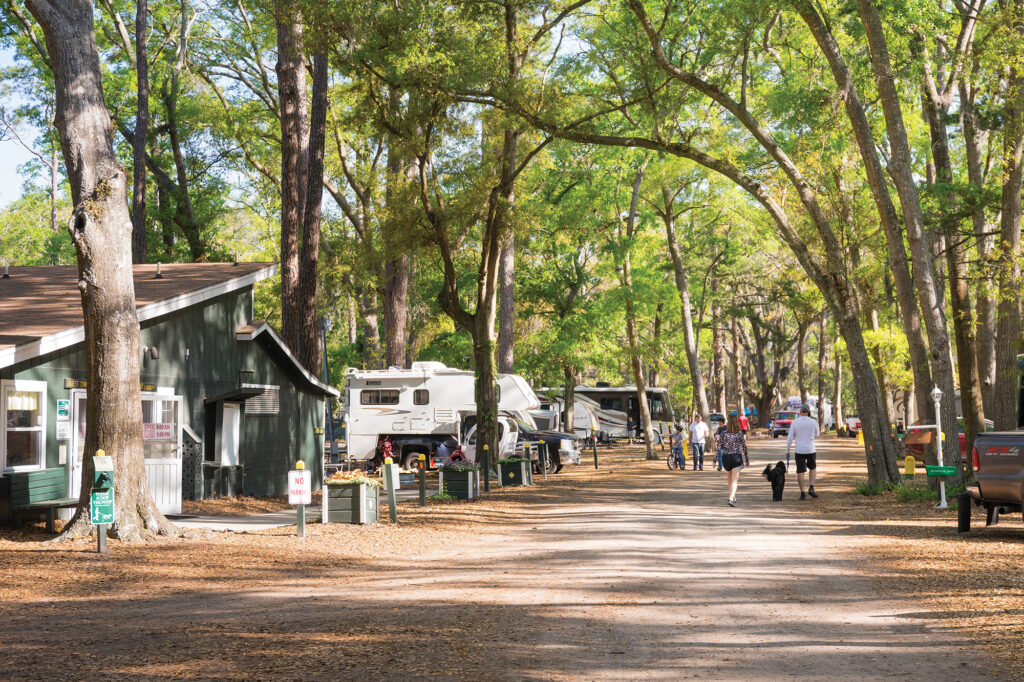 Most coastal campgrounds in the Southeast stay busy. But Ronnie Douglas, Jekyll's campground manager for the past 20 years, says friendliness, camaraderie, natural beauty, and Jekyll's bountiful recreation options set his operation apart. One unique touch, says Douglas, is that all arriving campers are escorted to their sites by volunteer hosts, each a long-term guest (and most with northern accents).
"I hear this all the time: People, when they come across that causeway, and come across that last bridge on the island, they feel like they came home," says Douglas, a Jekyll native who lives in a camper on the grounds year-round. "Jekyll is different. Very laid back. People feel really relaxed, comfortable, safe. It's a good place to just come back to."
Guest service team leader Sumer Rehg, one of about a dozen campground staffers, provides a tour of the grounds on Douglas's personal golf cart, greeting all campers with a "Haaaay!" She weaves around the shower facilities and community room, where every kind of group activity—Zumba, sewing, book chats, quilting, movie nights, potlucks, bingo, and two-hour jam sessions on Thursdays—takes place. It's a veritable mini-city of people from other places, as evidenced by placards hanging at the front of RV guest sites with outlines of where they came from: Ohio, New Hampshire, Michigan, Indiana, New York, Wisconsin, even Wyoming and Ontario.
"I know a lot of Canadians like to go to Florida, and Florida's usually super-booked," says Rehg. "But we're only like 45 minutes away." It all makes clear what Douglas says about this being nothing like a check-in, check-out hotel experience. "Campers are very sociable," he says with a laugh that suggests understatement. "They like to sit around a campfire, and they'll invite their neighbor over."
Carole Rivard, a Massachusetts snowbird who's been coming for five years, is one such campground socialite. She volunteers her time to help new guests get situated, comfortable, and relaxed.
"The people here are just like a little community, because they keep coming back," says Rivard. "The secret's out about Jekyll."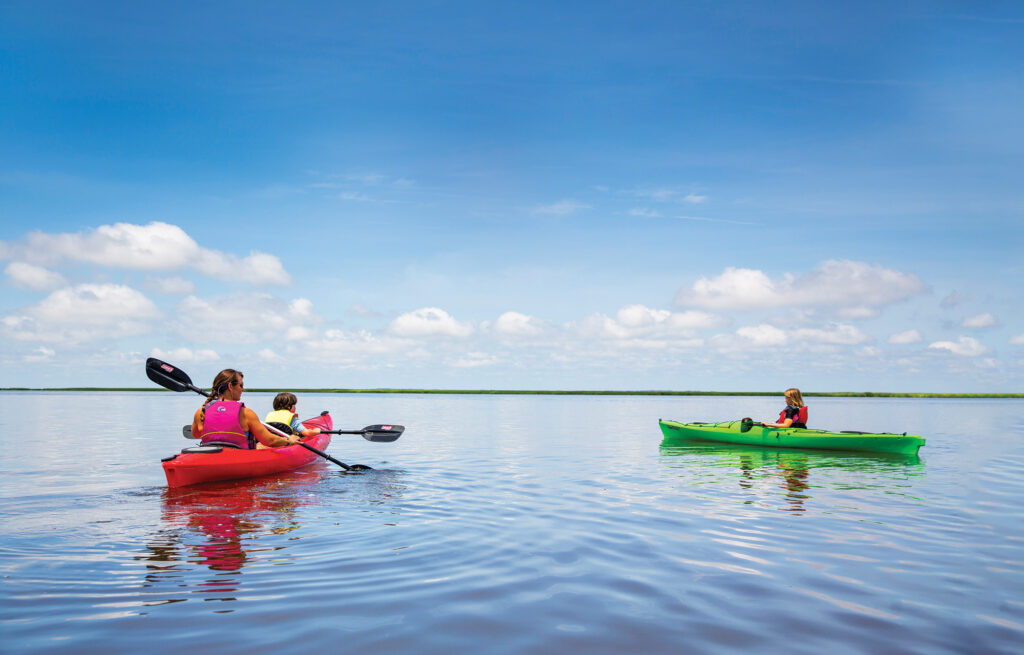 Campground Basics
Check-in: 2 p.m. It's advisable to arrive before nightfall.
Checkout: Noon sharp. (There's a $15 fee for late checkouts.)
Speed limit: 5 mph.
Quiet!: From 10 p.m. to 7 a.m. (Large lights off, voices down.)
Leave at home: Generators (too noisy). Clotheslines (looks junky). Inflatable pools (same). Drones and fireworks (forbidden on Jekyll). Sidewalk chalk (it's just graffiti).
Other fees: $10 cancellation fee. $3.75 for pets (Rehg: "Just don't bring anything weird"), first night only. $4/per person surcharge, per night, for more than six people on a site.
More: $25 bike rentals per day. 45¢ per piece of firewood.
Amenities: Restrooms, showers, Wi-Fi, and recycling are included in camping fees. Basketball and pickleball courts. The campground store has
all the essentials, from ice to Tylenol and dust that makes campfires glow blue.
Rates and fees are subject to change. Visit jekyllisland.com/campground for up-to-date rates.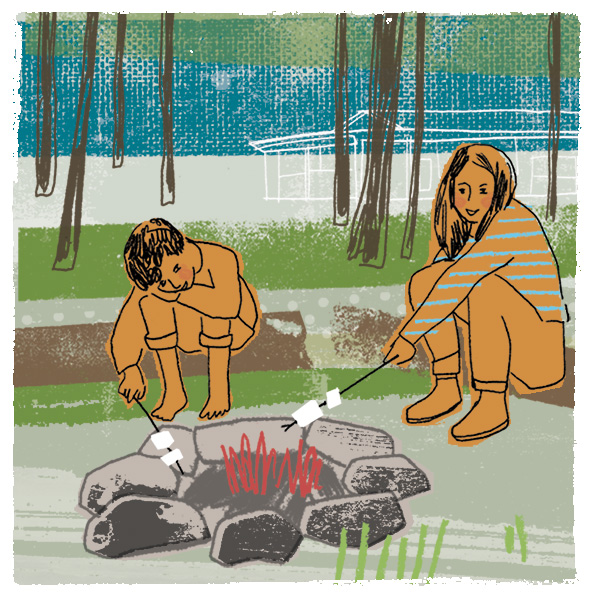 The Costs Per Day
$33: Primitive tent site. At roughly 20-by-30 feet, these 15 campsites will
fit a vehicle and two tents.
$48: The larger sites for RVs and sleeping trailers. Up to 90 feet long, they'll
accommodate anything on the road.
Note: Holiday rates are about $16 more per night. Up to six people are allowed, per site. Reservations are required.
Rates and fees are subject to change. Visit jekyllisland.com/campground for up-to-date rates.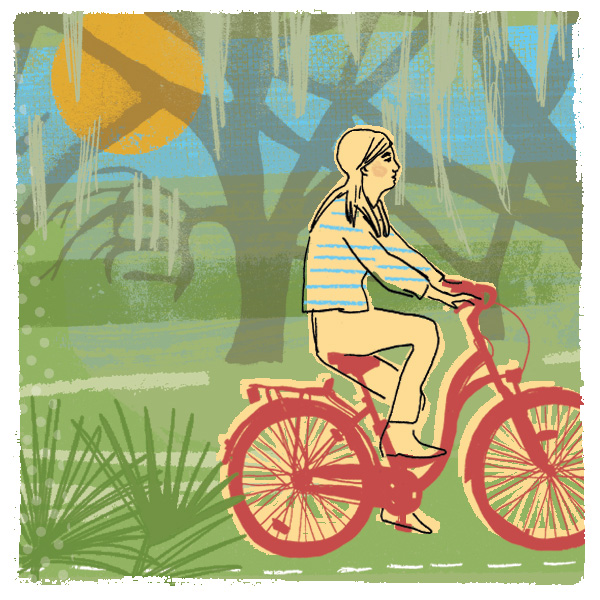 Pro Tips
Alcohol is allowed, but only on your campsite. (Again: Quiet time begins at 10 p.m.)
Gnats and mosquitoes can be thick year-round. Use plenty of bug spray, Thermacell repellent devices, or fans. Campfire smoke usually does the trick, too.
Lock food away at night. Campground racoons and squirrels are notorious rummagers. (Encounters with any other wildlife, such as snakes and deer, are rare.)
Bring the golf cart, but follow Georgia safety rules: Seatbelts, headlights, rooftop strobes, reflective triangles on the back … it's all required.
Live chickens: verboten.
Be mindful of ticks in palmettos, especially in warm months. Look out for Fido, too.
Buying groceries on the mainland (Walmart, Publix, and Winn-Dixie are nearby options) will save money.
Cancellations happen frequently. Because there's no waiting list, snagging one of those slots is a matter of luck and perseverance. Call.
That Spanish moss might look pretty as tent décor, but it's likely teeming with chiggers.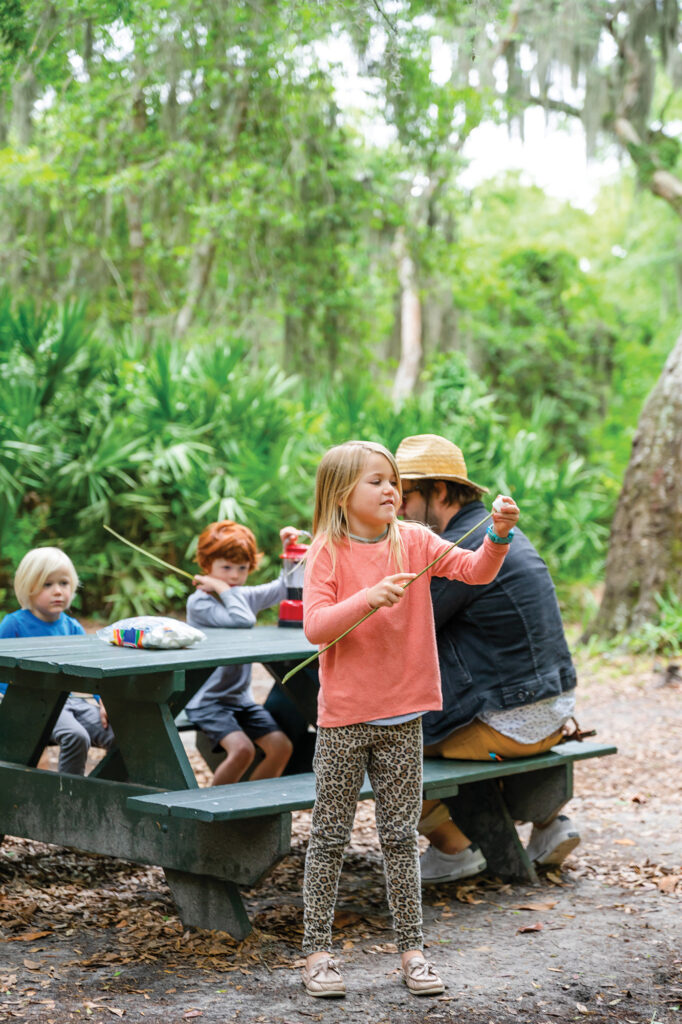 Parents
Kids under age 14 have to be supervised at all times.
No riding bikes after dusk without adult supervision and lights.
You must be 16 or older to operate golf carts on the island.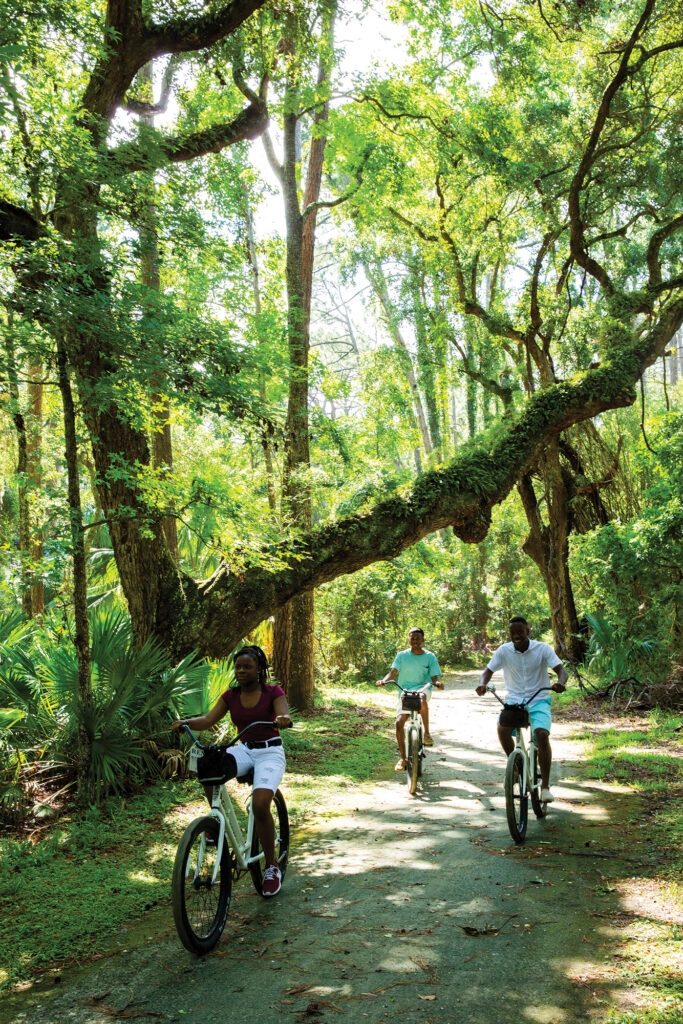 Walkers, Bicyclists
From the campground, walk a breezy three-quarters of a mile to the Clam Creek Fishing Pier, or roughly 10 minutes to famed Driftwood Beach at the island's northernmost end.
Jekyll's bike-trail system links with the campground and will take you virtually anywhere on the island, including to nearby historical sites Horton House and DuBignon Cemetery, or to see the alligators and turtles sunbathing at Horton Pond.
RVers
All campsites come with a fire pit and picnic table, but RV sites also include water, electric (up to 50-amp hookups), sewage, and cable.
Satellite users: Request the newest section, opened in July, with less interference from trees.
By Josh Green
Photography by Brian Austin Lee
Illustrations by Kavel Rafferty