Collecting old Jekyll signage preserves a link to the island's past
BY TONY REHAGEN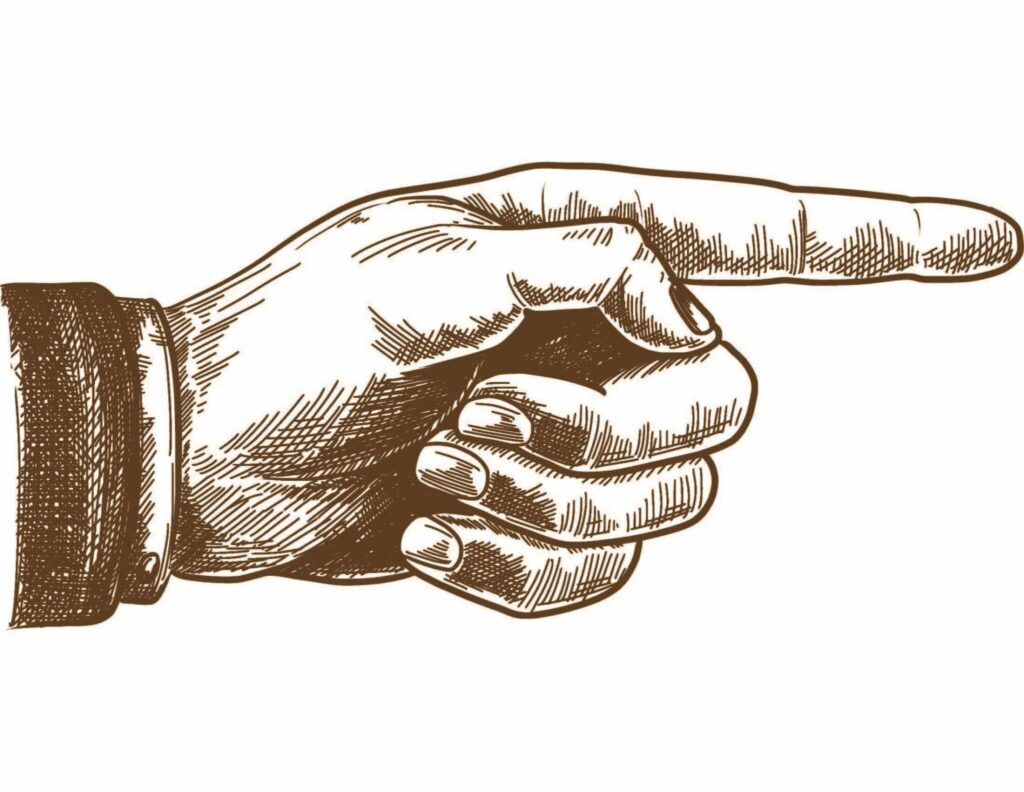 In 2017, as contractors renovated the interior of the old Rah Bar, the dockside restaurant that would become The Wharf, Josh Hilimire (pictured at left) spotted treasure in the rubble. For days, workers in the Jekyll Island Club Resort property had been walking over what appeared to be just another piece of plywood. But when Hilimire, the resort's chief engineer, picked up the plank and wiped away years' worth of cooking grease, he uncovered a sign for the old water taxi that had last been in operation in the 1970s.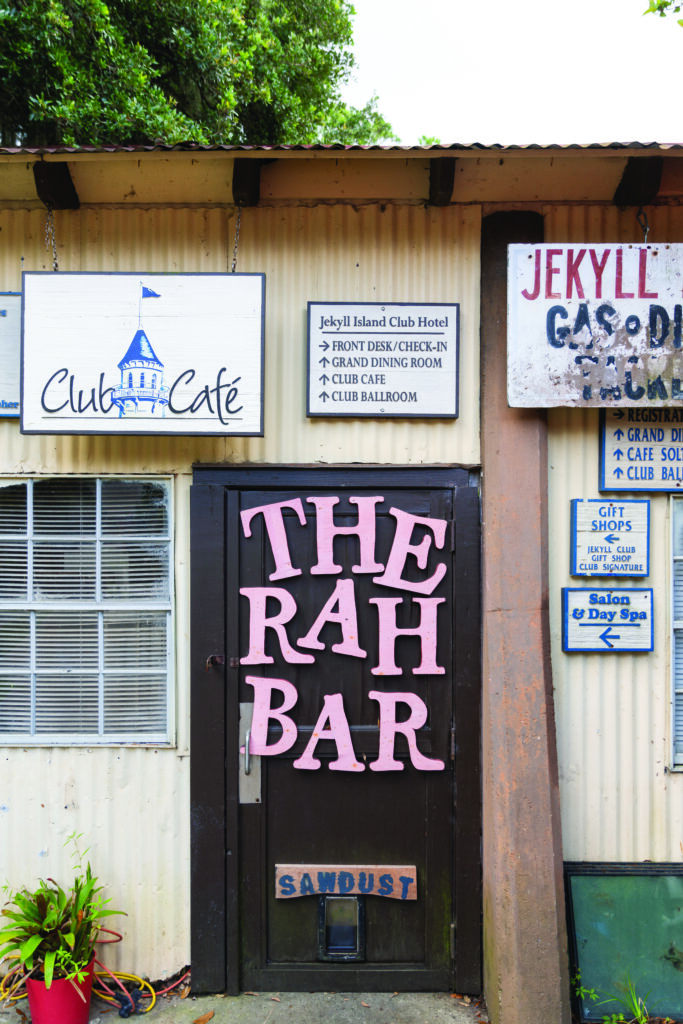 Anyone with even a passing interest in Jekyll Island and its storied legacy would have been intrigued by the find. Hilimire was ecstatic. In his hands, he not only held a piece of history, but a prized addition to his collection of vintage signs that has since grown and become the talk of the island.
Today, Hilimire showcases more than 50 pieces from various parts of the island and its past in a potpourri of signage that now covers nearly all the exterior of the Club's maintenance barn. Among the various signs are specific reminders of names and places gone by (including a sign for Café Solterra, the resort's veranda restaurant that was renamed The Pantry) and general directors for exits and valet parking whose arrows no longer point in the correct direction or whose design has simply gone out of style. The first sign he collected: one directing workers and job applicants to a makeshift office in Villa Ospo. No sign is too insignificant to warrant a place on Hilimire's wall. That's partially because Hilimire lives on Jekyll and has a passion for restoration; it's also because he considers it part of his job.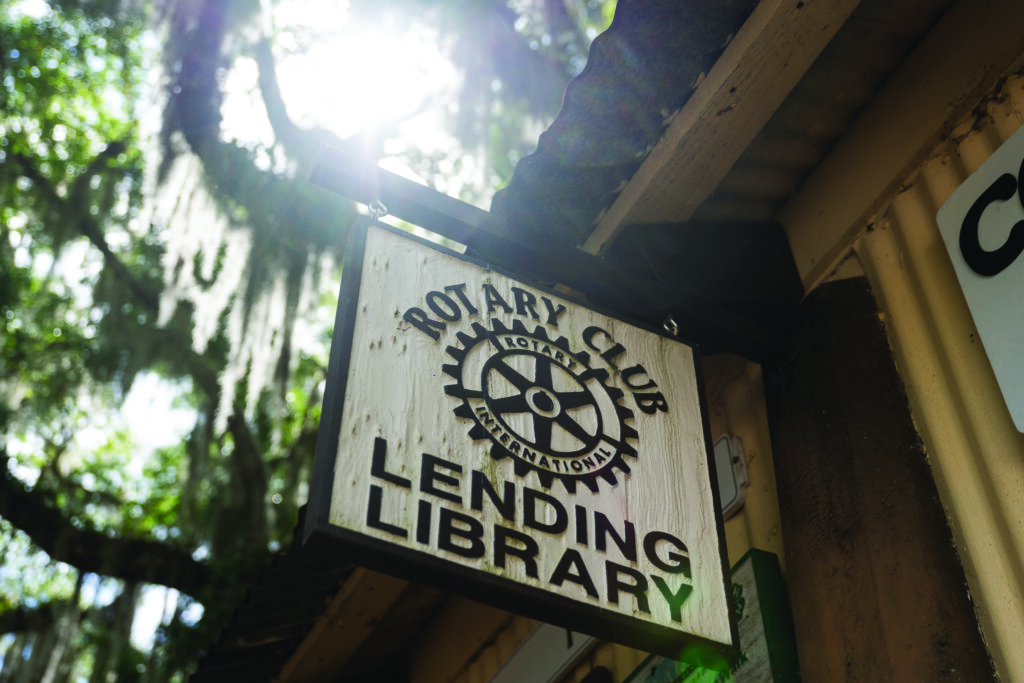 "As chief engineer, I'm constantly looking after the Jekyll Island Club," says Hilimire. "It's my duty to maintain this giant historic national monument."
Hilimire is a tinkerer by blood. His father owned a vending machine business in upstate New York. Hilimire remembers watching his dad perform surgery on the gears and springs to get the broken machines back up and running. That love of mechanics filtered into young Hilimire's hobbies by way of building plastic models and racing remote-control cars and, as he got older, restoring old gumball machines in his father's warehouse. As a young adult, he graduated to fixing up classic cars, vintage motorcycles, and an Airstream. Whether it was a gumball machine or a travel trailer, Hilimire says he has always relished the satisfaction of breathing life into an object and bringing it back polished, vibrant, and in working condition.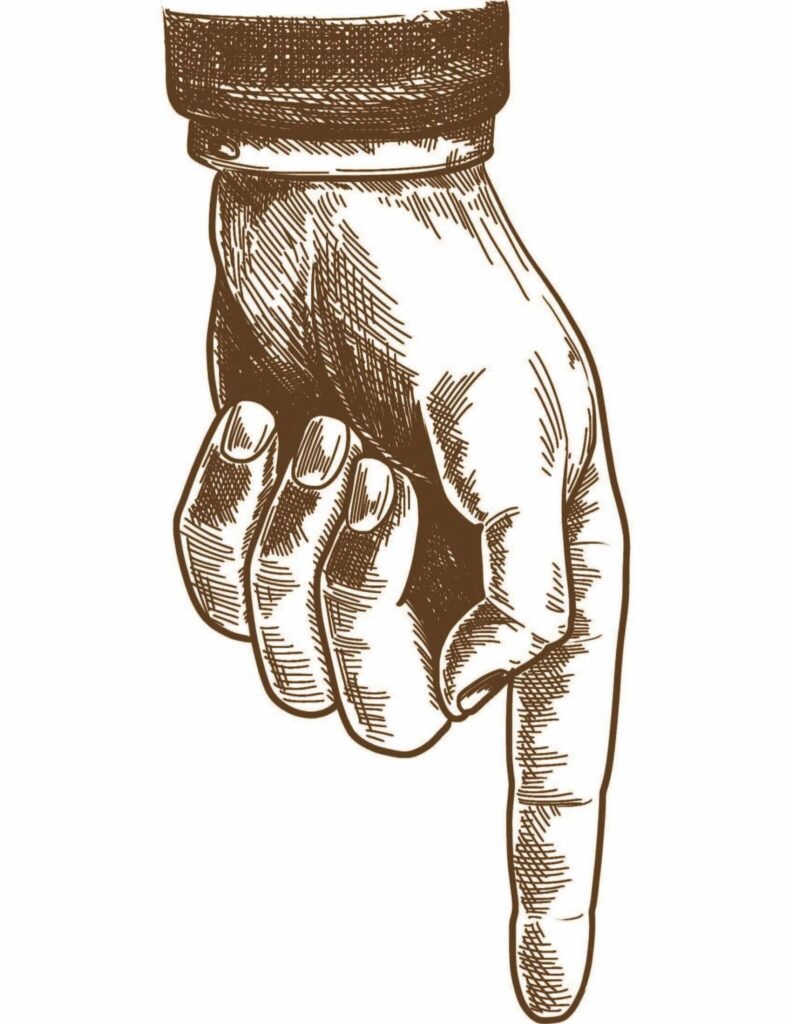 "What has that sign seen through the years? What if
that sign could talk?"
-Josh Hilimire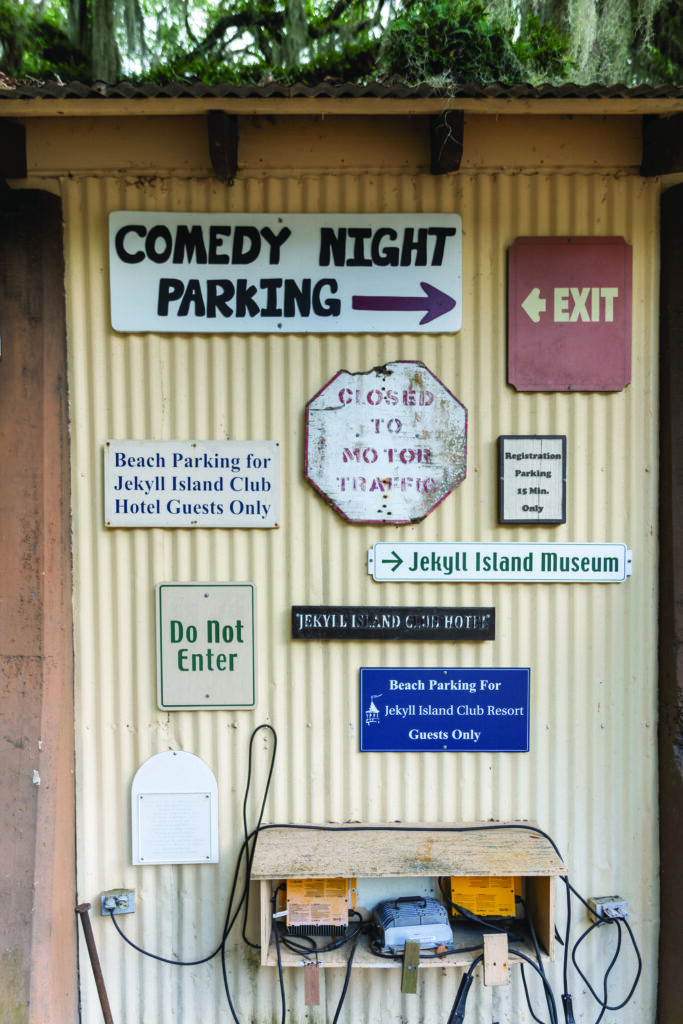 The exclusive Jekyll Island Club, which first opened its doors in 1888, became The Jekyll Island Club Hotel upon reopening in 1987, then Jekyll Island Club Resort. The Jekyll Island Museum became Mosaic, Jekyll Island Museum in 2019. The restaurant known as Courtyard at Crane (see sign next page) has closed, open now only for special occasions at Crane Cottage. Red Bug Motors Pizza is still around, though, on Beachview Drive next to Jekyll Island Mini Golf.
He was a natural fit for his job when he first
came to Jekyll in 1995. His uncle worked at the Club and told Hilimire there was an opening as a painter with a path to work his way upward. After Hilimire was finished putting new coats of color on historic buildings, he moved to landscaping, worked as a valet, and then did a stint as a bellhop. Along the way, he learned many of the ins and outs of the hospitality business. But with Hilimire's mechanical background, it wasn't long before he was an engineer, repairing ice machines and performing general maintenance. When the chief engineer retired in 2009, Hilimire took the helm.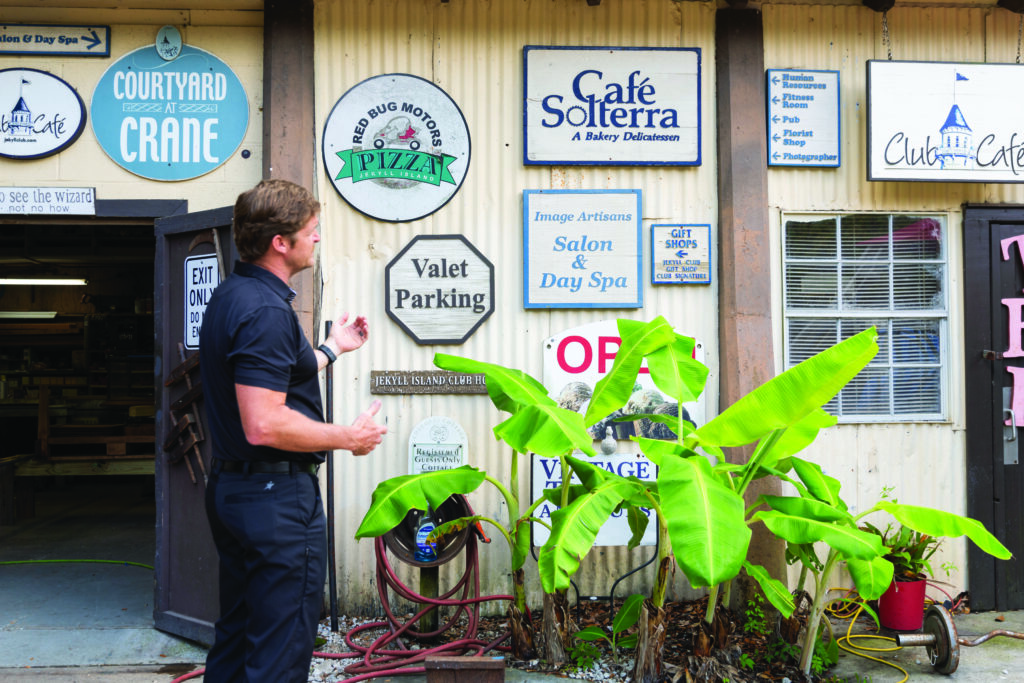 Throughout his time at the Club, Hilimire has had ample opportunity to work on irreplaceable structures and artifacts from Jekyll's history. But the signs he'd occasionally have to replace, either due to a closing or relocation or a Club-wide redecoration (as happened in 1986), always have held a unique place in his imagination. They were much more than the typical reclamation project. "I don't actually care about the tangible sign as much as its history," he says. "What has that sign seen through the years? What if that sign could talk?"
As Hilimire gradually amassed a glut of the artifacts inside the maintenance barn behind the Club, word got out. People started bringing him dusty or rusty signage that had been taking up space in garages and attics. Finally, a couple years ago, he felt like sharing his trove with the public and bolted the signs to the outside of the barn's sheet-metal walls. It's now kind of a makeshift museum that doubles as an advertisement for even more signs.
With the Club undergoing an ownership change in 2021, Hilimire soon could be seeing an influx of additions to his exhibit. "The last thing I'll ever do is let someone take a sign home," says Hilimire. "It needs to be showcased for a long time to come.
That barn is a collage of the island's history."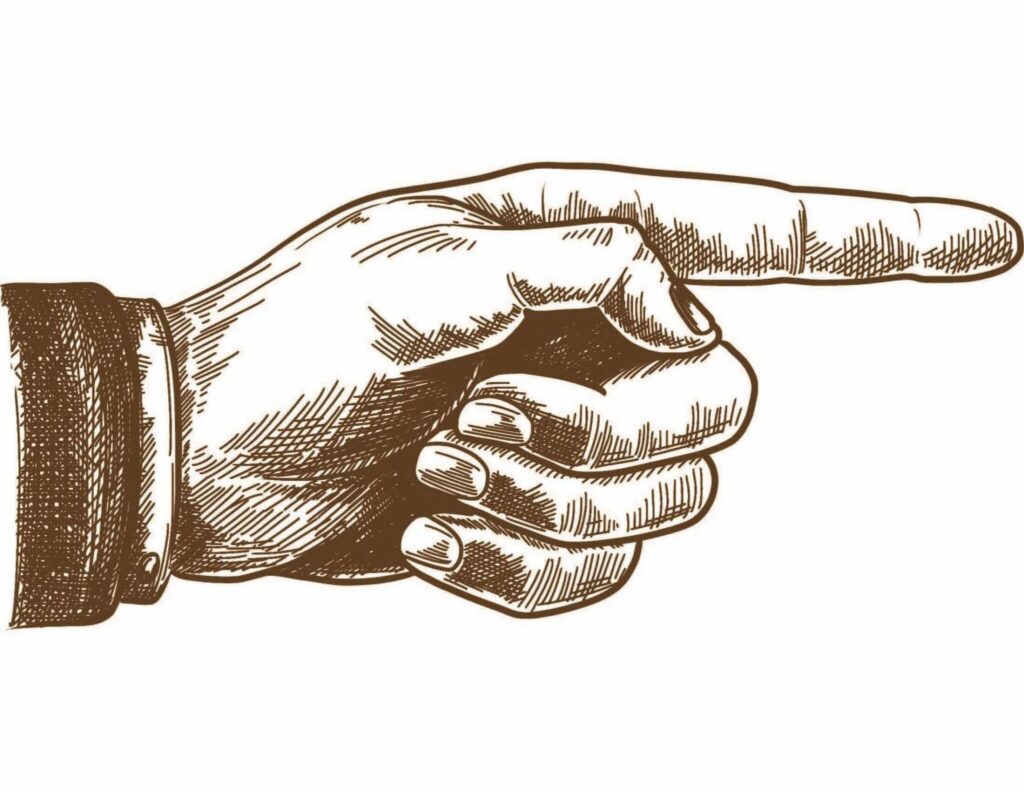 Signs of the Times
One person on Jekyll Island who understands the historic significance of the island's signage is Faith Plazarin.
She's the archivist and records manager at Mosaic, Jekyll Island Museum, charged with collecting documentation that tracks the island's history. While she deals mostly with letters, papers, and maps, she says signs are part of her purview, too, a more visible public document. "Each sign," says Plazarin, "is a snapshot of what once was here."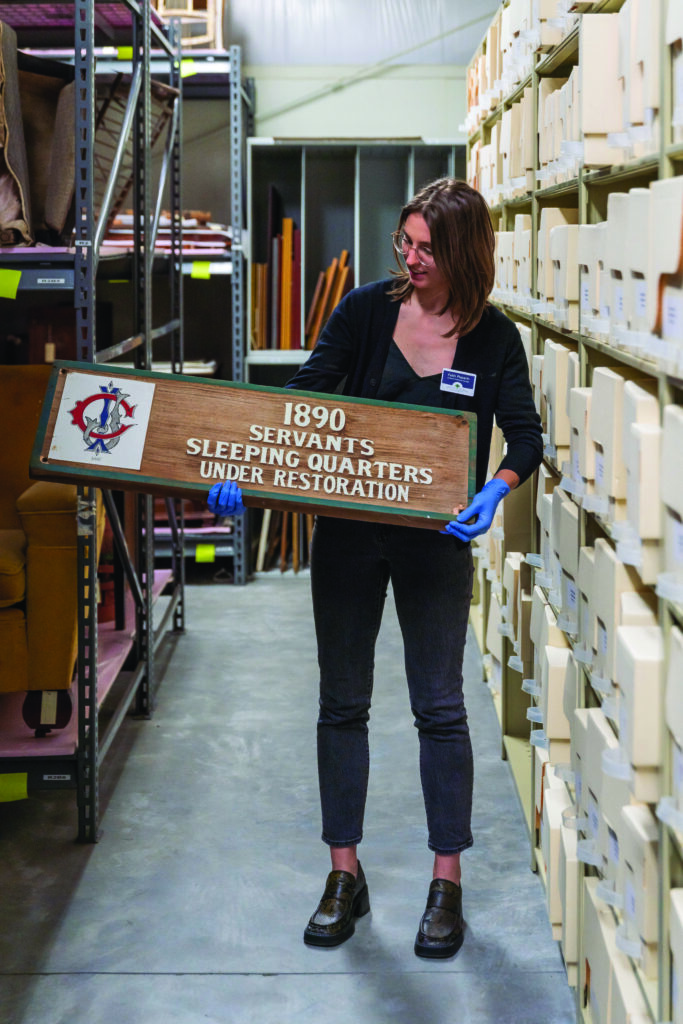 Even the museum for which she works has seen the name on its sign evolve from The Jekyll Island Museum to Mosaic, Jekyll Island Museum. Many of its exhibits feature signs, like one from a tennis tournament held in the 1920s.
Signs do more than simply identify places, and preserving them is more than simply collecting them. Plazarin points out that, on Jekyll, signs protect the island's habitat by instructing visitors to stay off the dunes and to be mindful of the turtle and plover habitat. Wayside panels placed throughout the island literally teach the history of Jekyll, from its Native American origins to colonization to the Club Era to segregation to the present.
From an archivist's point of view, Plazarin says that restoring and displaying the original signs that directed and informed visitors is more than just a nostalgia fix. "They provide the components that show the evolution of the island," she says. "Keeping these old signs is a good way to document what was here after it's gone."