Now shrouded in overgrowth, two mysterious cannon emplacements offer a glimpse into Jekyll's past
By Charles Bethea
In 1965, a pair of surveyors stumbled across two cast-iron Civil War–era gun mounts—also known as emplacements—jutting out of the dunes along the southwestern side of Jekyll Island. The southern inlet between Jekyll and Cumberland islands was once a "point of wartime concern," according to the Jekyll Island Authority's director of historic resources, Bruce Piatek. Long-since-lost cannons were fitted to these surviving emplacements and pointed at enemies we can now only imagine a half mile offshore, just within range.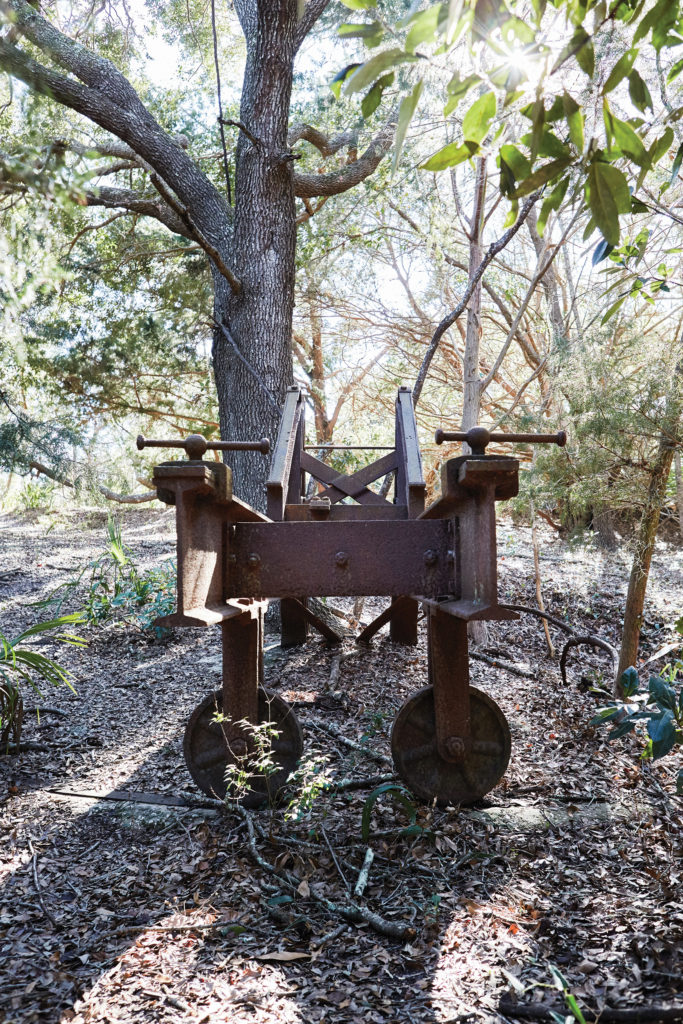 Though of Civil War vintage, the emplacements were installed during the Spanish-American War at the end of the nineteenth century. "My guess," Piatek says, "is that these may have been installed to discourage or fire upon any Spanish vessels that tried to attack the mainland." But if the strategic goal was to protect Brunswick Harbor, there was a slightly less strategic perk. In his autobiography, President Teddy Roosevelt complained about the pressure to protect "everything everywhere," writing: "One Congressman besought me for a ship to protect Jekyll Island, off the coast of Georgia, an island which derived its sole consequence because it contained the winter homes of certain millionaires."
There's no evidence that the emplacements and their cannons were ever used, except for practice, which would have worked this way: A spotter offers a compass heading for a target—say, forty-two degrees east of south. The soldier manning the cannon muzzle-loads a bag of powder and some wadding and places the projectile inside. "Finally," Piatek says, "some brave lad lights the touch hole and the thing fires and sends the projectile flying!"
Each of the emplacements was equipped to mount both 100- and 200-pounder muzzle-loading seacoast artillery. (Translation: ridiculously big guns for coastal use.) The guns themselves are long gone; the government ordered them removed on May 17, 1898, soon after the Spanish Pacific Squadron was defeated in the Battle of Manila Bay.
Likewise, other accessories—like magazines needed to supply powder and shells—are missing. Shelter, too. "There's not much point in having gun mounts," Piatek says, "if they're not manned. So one would think there was somebody living in the vicinity."
Today, the emplacements are far removed from the beachfront—some 800 feet from shore—due to the slow and steady accretion of sand. (Here, they don't seem particularly useful to the casual observer.) Piatek and other Jekyll experts believe there are more mounts to be found. Campground manager Ronnie Douglas discovered an identical set farther east of the known pair while walking around one day many years ago with his father, Lloyd. "They said, 'Oh yeah, we should probably come back and take a look at that'—and then, the next time, they couldn't find them," laughs Piatek. So the next time you take a walk on the island, keep an eye out for rusted steel; you never know how the sands will shift.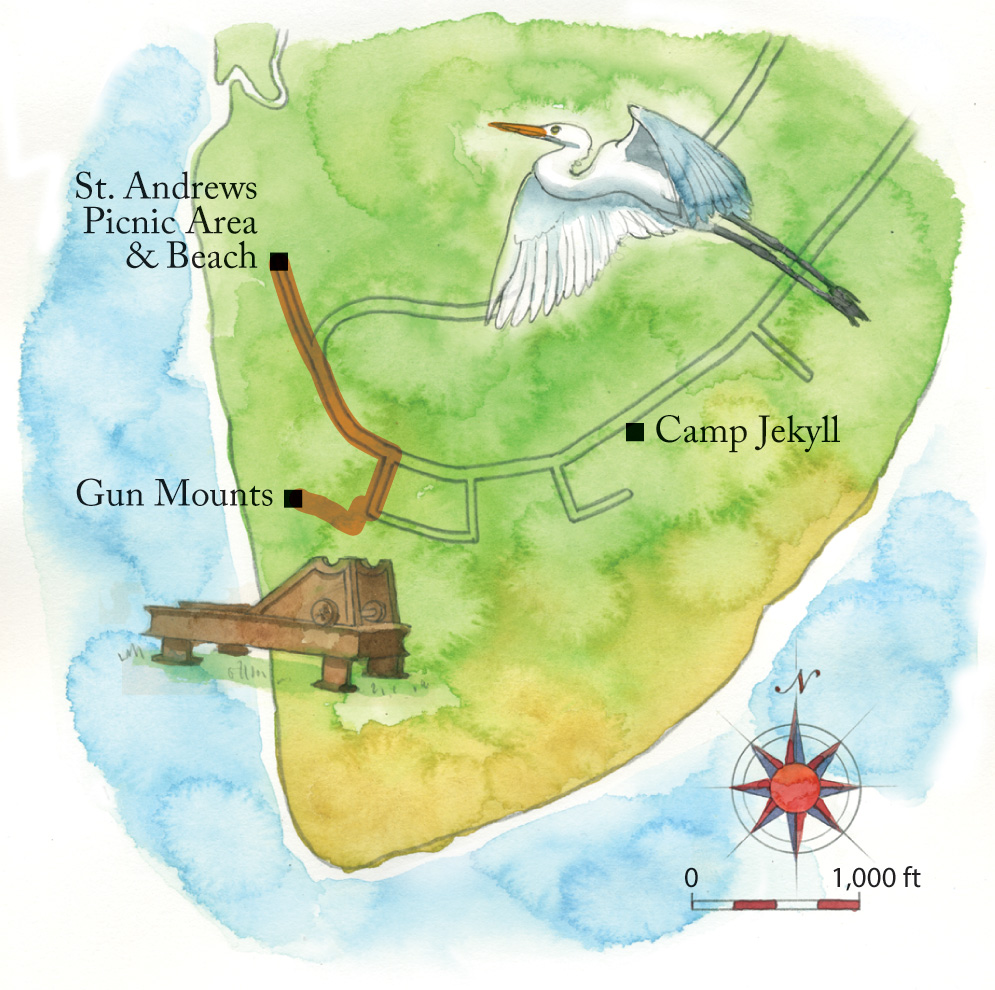 Getting There
The gun mounts are tucked in the woods about a half mile from St. Andrews Beach. Bring bug spray and a sense of adventure.