A small and talented team crafts an island wonderland for the Holly Jolly Jekyll season
BY JACINTA HOWARD
PHOTOGRAPHY BY BRIAN AUSTIN LEE
Jekyll Island brims with natural beauty, but one of the most dazzling attractions is a decidedly human endeavor; the annual holiday light display.
Every year, a crew of about 10 welders, carpenters, and other craftspeople who work in the roads and grounds department engineer a massive light display that spans the island, capturing the attention and imagination of even the Grinchiest of passersby during the annual Holly Jolly Jekyll season. Phillip Kidney, the roads and grounds superintendent for the Jekyll Island Authority, has lived in the area for 40 years. He took over the light display project about 11 years ago. It's since become an integral part of the holiday season, with its appeal rooted in the sheer magnitude of the glowing, jovial displays—more than 350 total, and counting. Add that to the 600 ornaments and more than a million light bulbs used to illuminate the island during the festive season, and you have a truly magical wonderland.
"The people are just amazed," Kidney says of the reaction to the elaborate holiday displays. "They're more amazed by the volume than anything. I don't know that the public realizes that we actually fabricate all of these, by hand, on the island. Every now and then I have a conversation with someone who's here visiting and they want to know where we got them from, and I tell them that we actually craft them here, and they're blown away by that."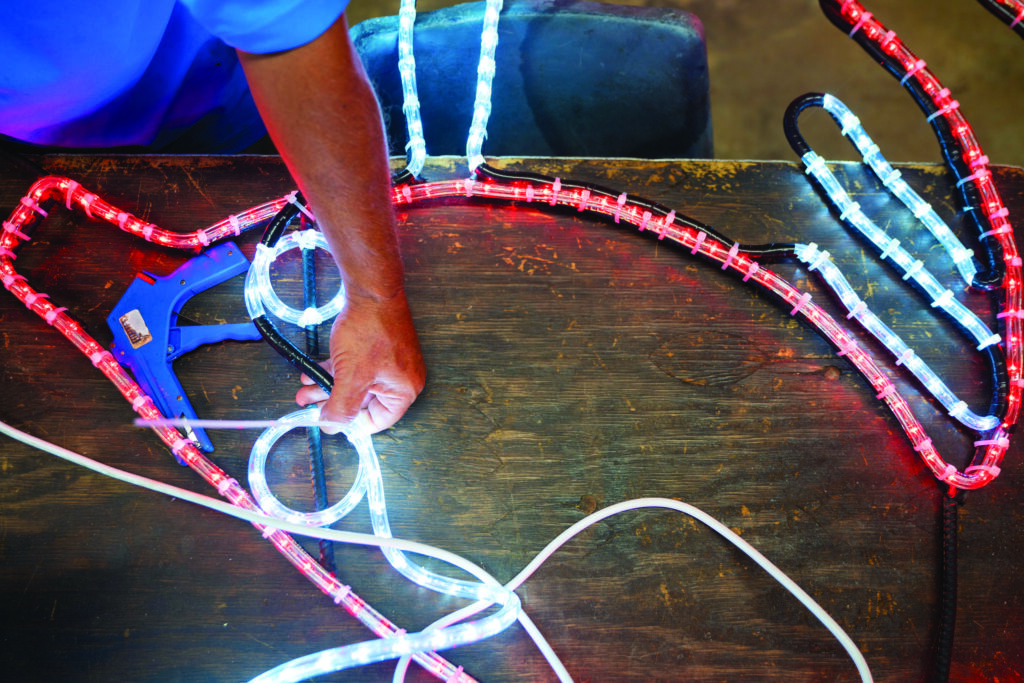 The team works practically year-round brainstorming new ideas and determining their feasibility. By September, they're beginning to get everything up so that it's ready for the Holly Jolly Jekyll season, which begins on the Friday after Thanksgiving and lasts until the Sunday after the first full week of the New Year. While there are lights all over Jekyll Island during the season, the majority of the hand-crafted displays are in the Historic District, where guests can explore the lights via self-guided tours or trolley.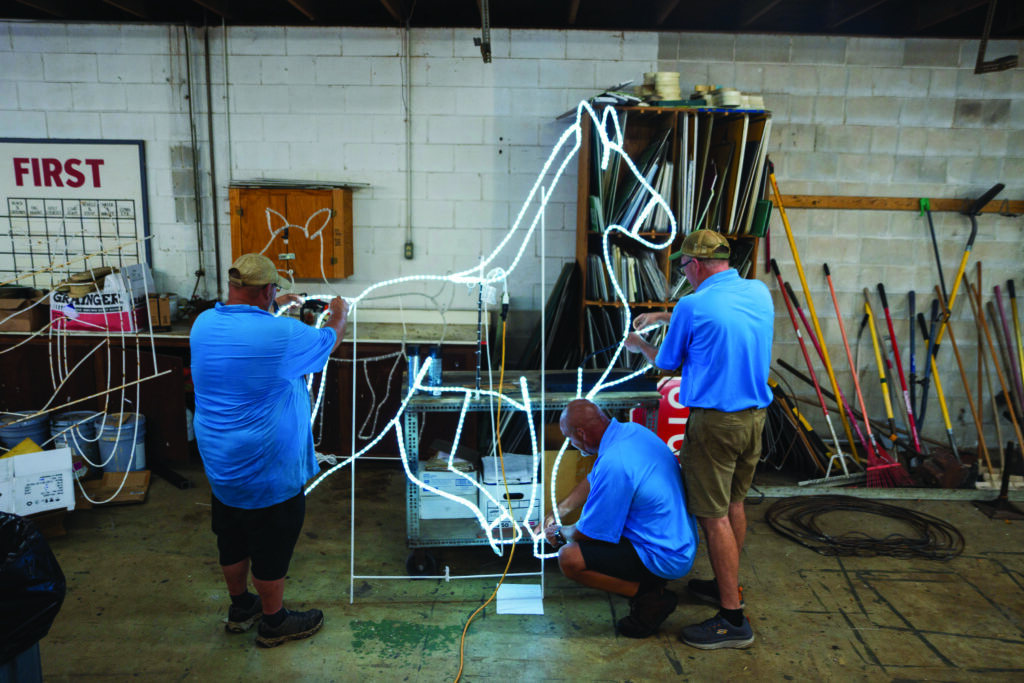 Innovative and enchanting, the intricate displays have become a holiday staple. Some of the standout installations include a large replica of J.P. Morgan's yacht (the Corsair), peacocks, flowers, sea turtle ornaments hanging from live oaks, and even three custom bear cubs hidden within the 12 Days of Christmas light display. This year, a small troupe of shrimp will join the collection.
"We're constantly trying to come up with something," Kidney says, adding that it's taken them several years to build up the volume of displays they have now. He also says the crew tries to simplify their ideas, so that they can be easily replicated. "You have to cut [the displays], paint them, bend them, weld them and then put lights on them … it's a process."