The Georgia Sea Turtle Center celebrates a decade of healing animals and spreading The gospel of conservation
By Elizabeth Florio, Christine Van Dusen, and Muriel Vega
Photographs by Jeff Holt and Gabriel Hanway
Step inside the Georgia Sea Turtle Center, and you are greeted by the massive skeleton of the prehistoric Archelon. Suspended from the vaulted rafters of a 114-year-old brick building, the bygone sea creature spreads his mighty flippers over rows of colorful T-shirts and plush turtles.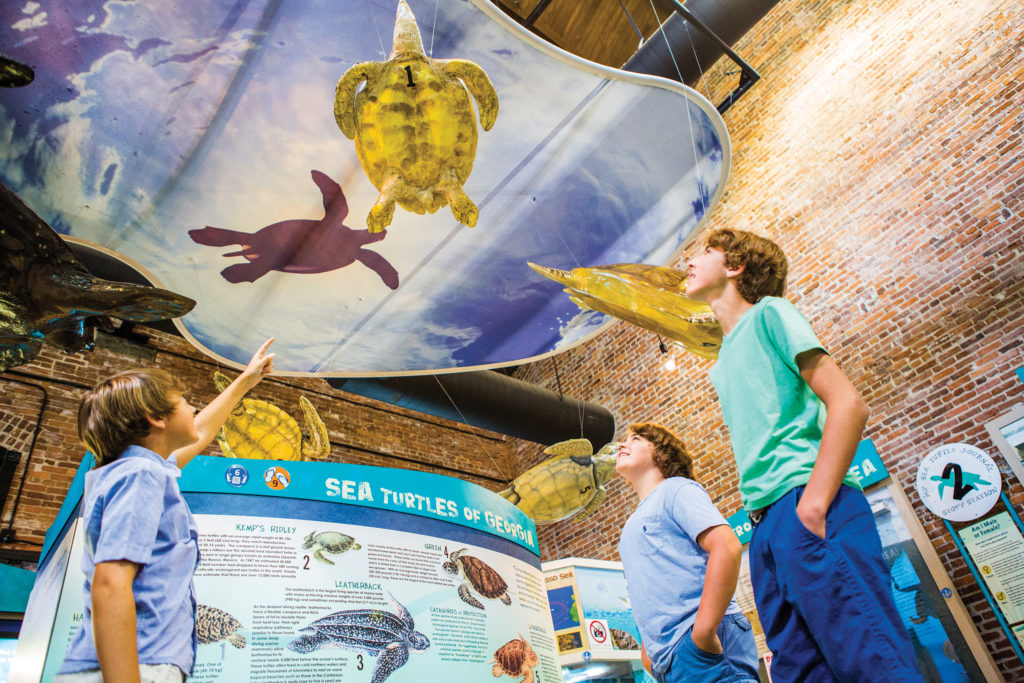 But this is no museum or aquarium, a fact driven home by the large glass window in the exhibit gallery. On the other side of the window, in a room the staff calls the "fish bowl," sick and injured sea turtles undergo routine exams and complicated operations. Onlookers might see veterinarian Terry Norton and his techs tend to a laceration on a 200-pound loggerhead, or clean barnacles off the shell of a debilitated green sea turtle. The team uses state-of-the-art medical equipment and sheer muscle. It's like watching an episode of sea turtle E.R.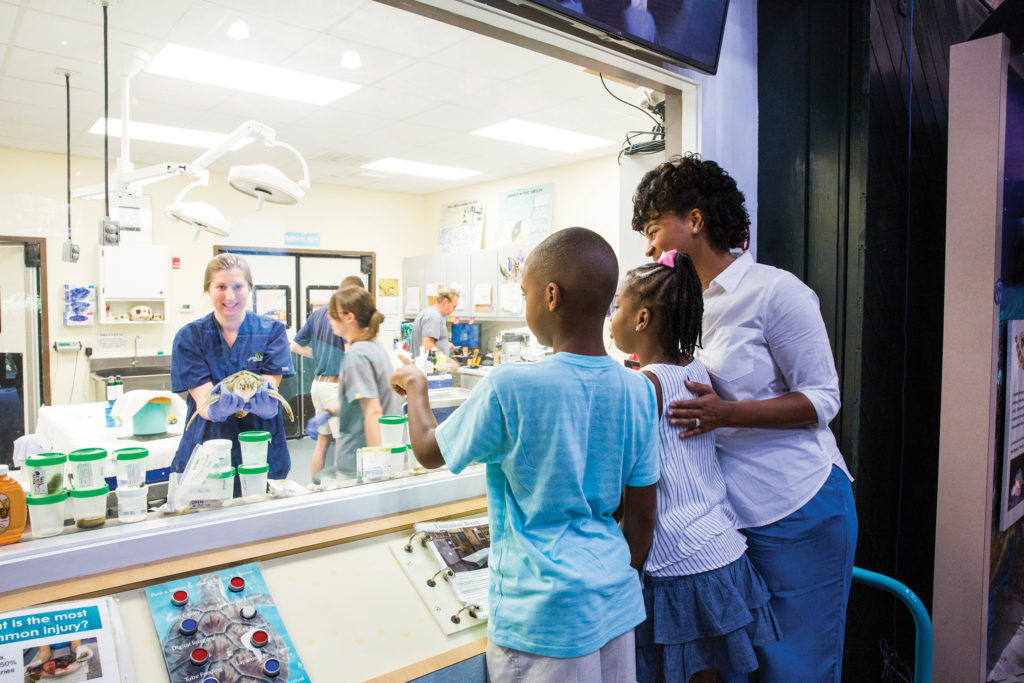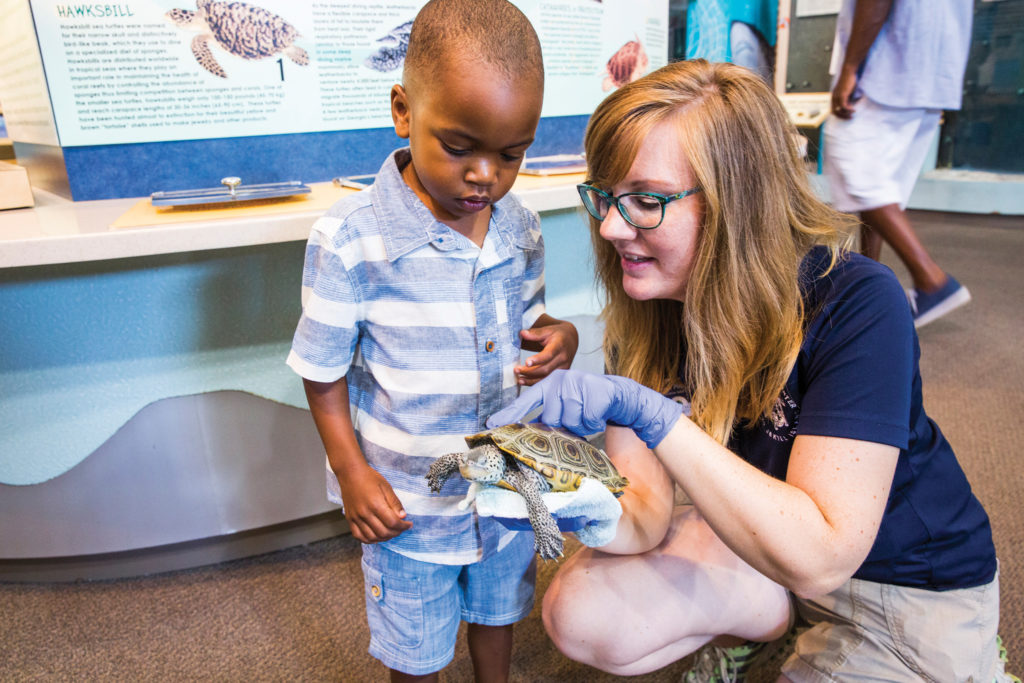 On the elevated walkway in the Rehabilitation Pavilion, schoolchildren look down on reptiles—some decades older than they are—gliding around in open tanks on the road to recovery and, hopefully, a return to the Atlantic. Patient sheets outside each tank explain what brought the animal here: boat strike, cold-stunning, debilitation.
"We're really known for our integration of rehabilitation, education, and research," says Dr. Norton, who along with the Jekyll Island Authority founded the Georgia Sea Turtle Center in 2007. Before that time, turtles stranded on Georgia's coast had to journey to neighboring states for treatment. "If it were just rehabilitation, we wouldn't be impacting the population of sea turtles," he says.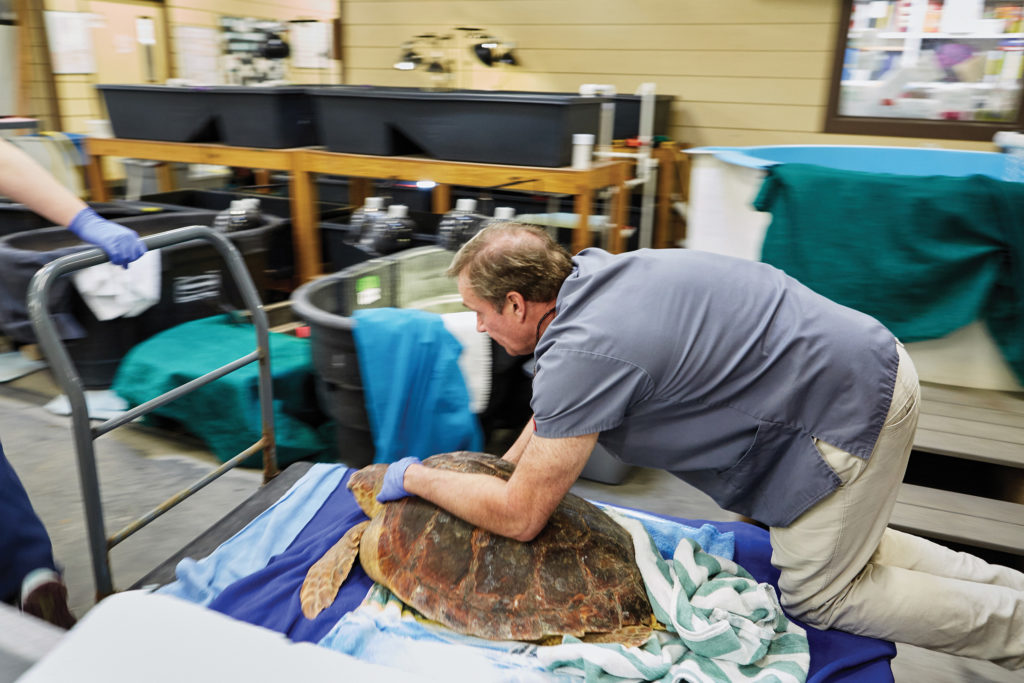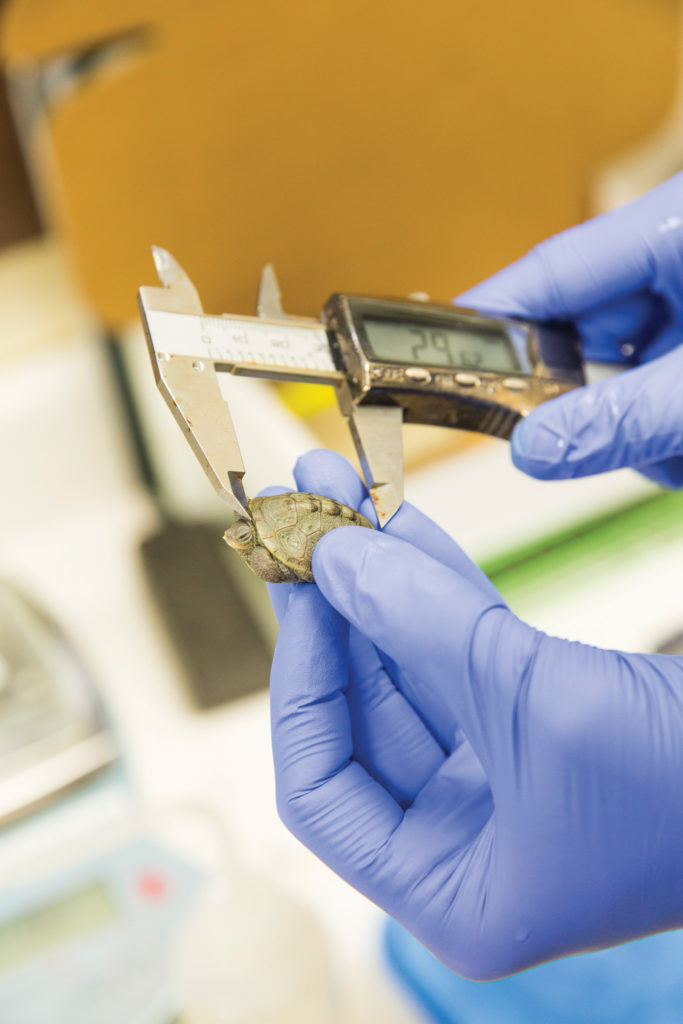 All three pillars are critical to the center's overall mission of protecting coastal wildlife and promoting environmental stewardship.
1. Rehabilitation: Since its inception, the GSTC has treated more than 1,500 injured, stranded, or sick animals—not just sea turtles but also gopher tortoises, diamondback terrapins, box turtles, snakes, alligators, and birds.
2. Research: Staff members routinely publish in peer-reviewed journals, and the center partners with universities and zoos to advance the body of research on turtles and other coastal wildlife. The Georgia Aquarium, for example, contributed $21,000 for the development of the ideal tube-feeding formula for weakened loggerheads. The center is currently leading a study on terrapin mortality on the Jekyll Island Causeway.
3. Education: The GSTC hosts school groups, a summer day camp, and numerous open-to-the-public programs like "Turtle Walks" or "Gatorology 101." Veterinary students, college interns, and AmeriCorps members serve at the center, gaining vital experience. But more than that, the GSTC educates simply by existing, by letting people look in on a very real hospital. Some 100,000 people visit the center each year—and they see firsthand that the biggest threats to sea turtles come from humans: entanglement in or ingestion of plastics, drowning in fishing nets, collisions with boat propellers, habitat destruction.
"Every single person who visits our facility can do something small that can have a big impact—like recycling, or thinking twice before they drop that piece of trash or use that fertilizer," says Lori Hunt, the GSTC's administrative coordinator. "If we change one mind out of 100, that small behavior change has a big impact."
In conjunction with broader conservation efforts around the state, the GSTC appears to be making an impact. The Department of Natural Resources began tracking the nests of threatened loggerheads (the only sea turtle species to routinely nest in Georgia) in 1989. In the last five years, their numbers have roughly doubled—helped by GSTC patrollers who mark and sometimes relocate nests at risk of human or tidal interference. In 2016, loggerheads broke the state record by laying more than 3,000 nests along Georgia's coast.
Despite the uptick, the fate of the species remains fragile, inexorably at the mercy of humans. And the dedicated staff and volunteers at the Georgia Sea Turtle Center will continue their life-saving work, animal by animal, person by person.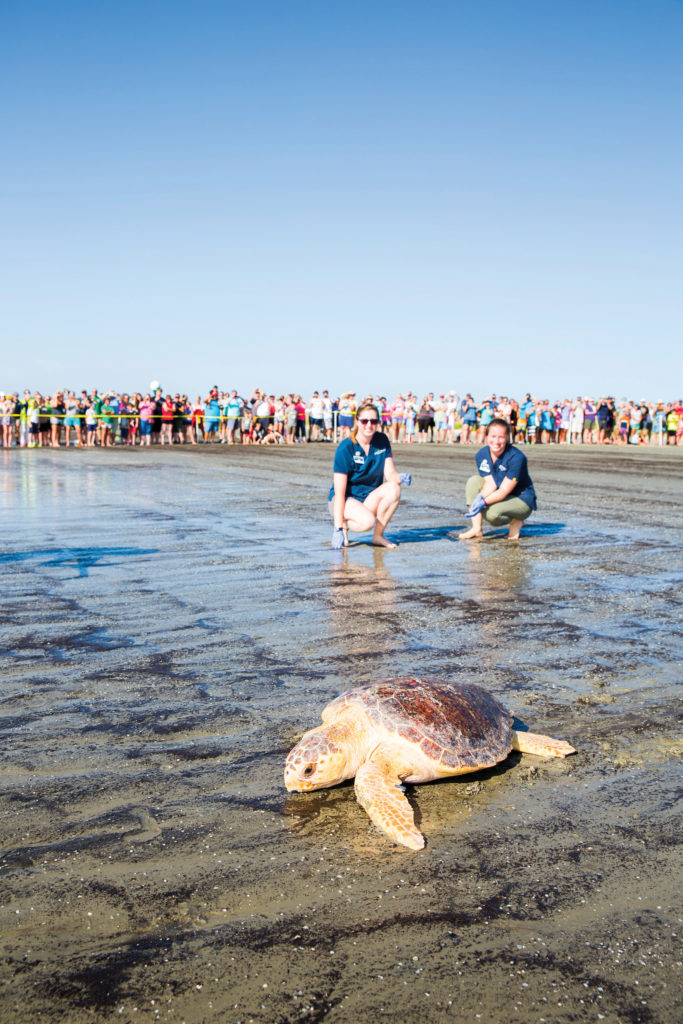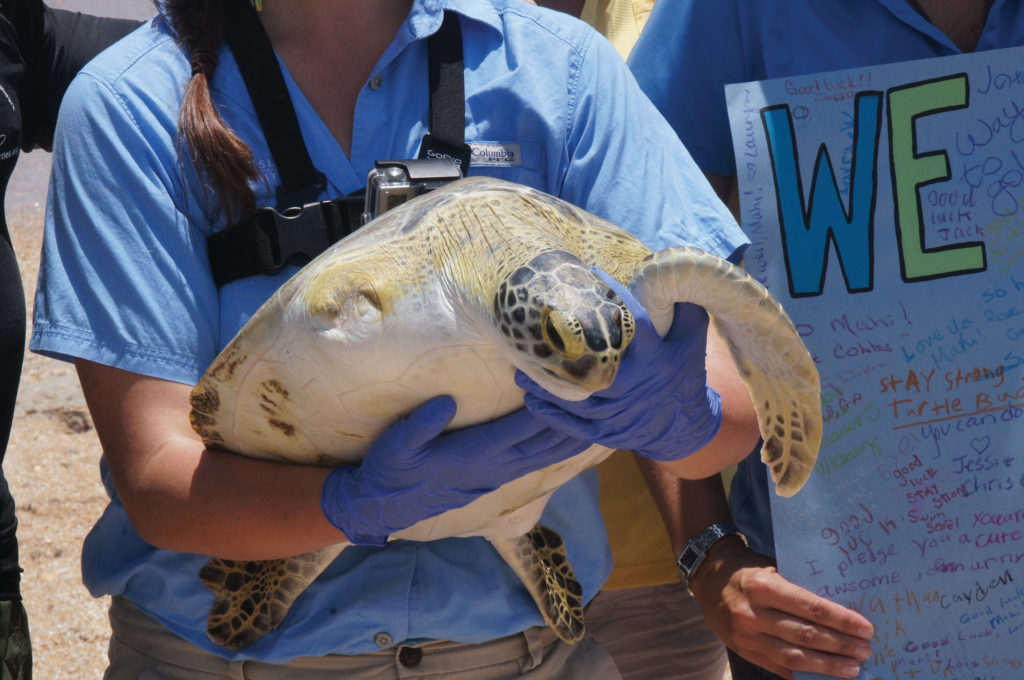 The Comeback Kid
Meet Mahi, the Three-Flippered Turtle
In January 2013, a juvenile green sea turtle was found attached to a picnic table on Florida's Vilano Beach, tangled in fishing line. At the GSTC, she underwent surgery to remove fishing line from her stomach and right flipper, but the damage to her flipper was so extensive that doctors decided to amputate.
Within days of the operation, Mahi, meaning "very strong" in Hawaiian, regained her appetite and started swimming in a deeper tank. Her full rehabilitation took two years and included learning to dive again and practicing foraging behaviors. During that time, she became a star of the GSTC's symbolic-adoption program, Adopt-a-Turtle. Her 1,200 adoptive "parents," each of whom donated $50, made her the most adopted turtle in the center's history.
"Mahi went through so much but thrived through it all," says GSTC director Dr. Terry Norton. "Rarely did she miss a meal. It was hard to tell Mahi was a three-flippered turtle. She moved through the water gracefully."
By May 2015, Mahi had regained enough strength to attend sea turtle boot camp at Panama City's Gulf World Marine Park, a long-term marine mammal rehabilitation facility. Two months later, more than 500 spectators watched as she was released back into the Atlantic. If researchers ever encounter her again, a tracking tag will reveal her as the little turtle who made a big splash during her stay on Jekyll.
Animal Ambassadors
Sometimes an animal cannot return to the wild or must stay at the GSTC for an extended period. These creatures give visitors a close-up of the uniqueness and fragility of their species.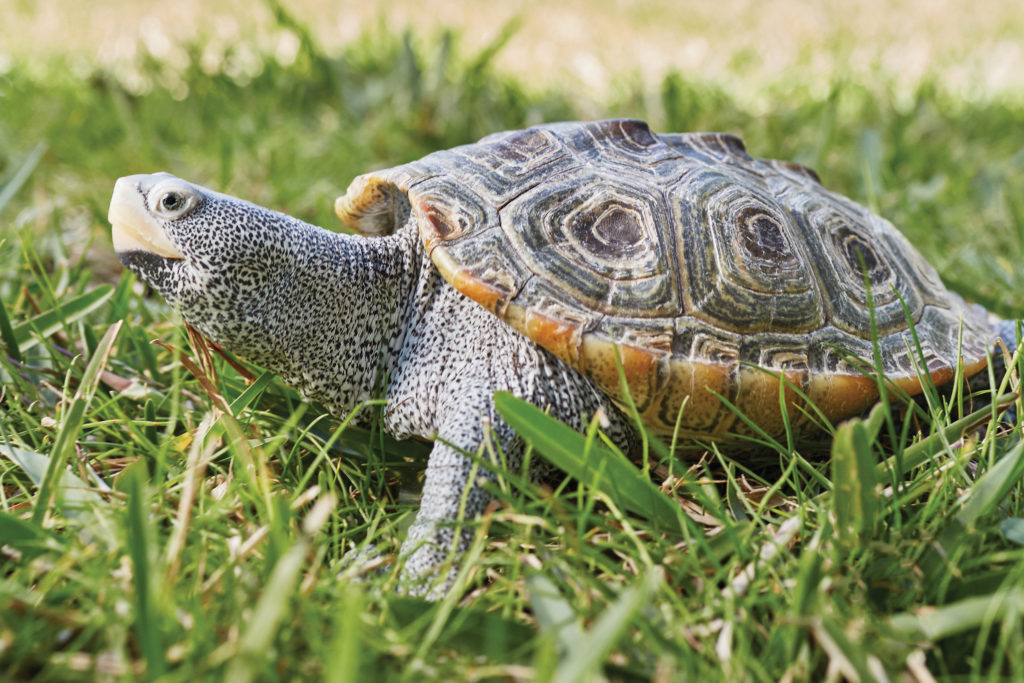 Minkus
Diamondback Terrapin
After a student brought a sickly Minkus to show-and-tell, a savvy teacher brought the animal to the GSTC. Minkus's eyes were terribly swollen from being kept in freshwater instead of brackish. As a former pet, Minkus cannot return to the wild, but the "diva" turtle relishes attention (and food) as an educational animal.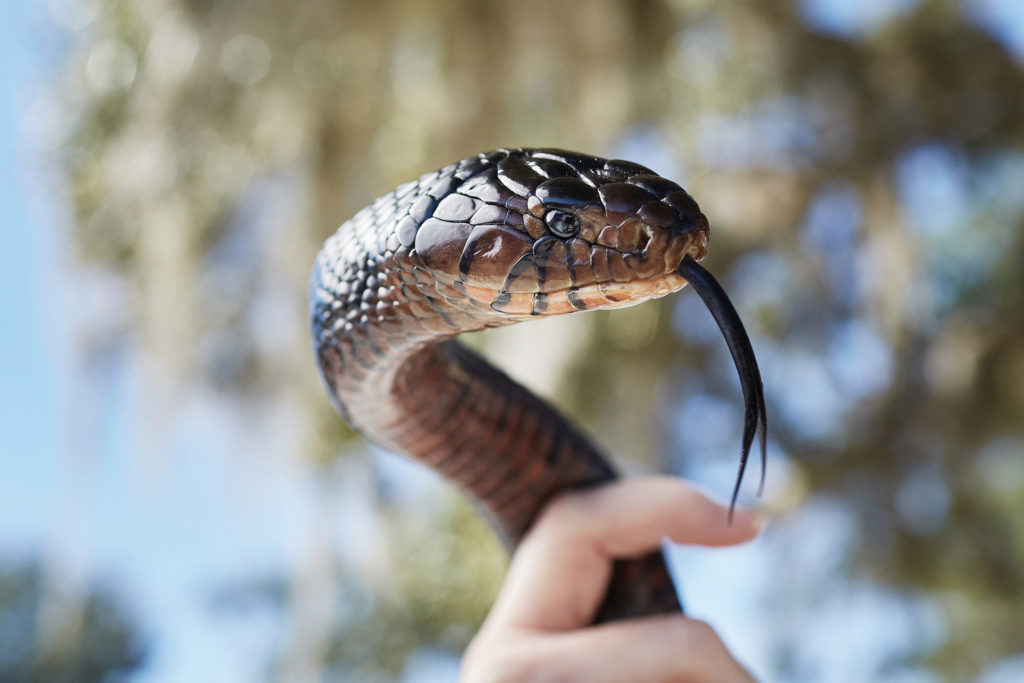 Indy
Eastern Indigo Snake
Before coming to the GSTC, Indy served as an educational ambassador with the Savannah River Ecology Lab Herpetology Program. Approximately twenty-two years old and nearly blind, Indy is a voracious eater of mice.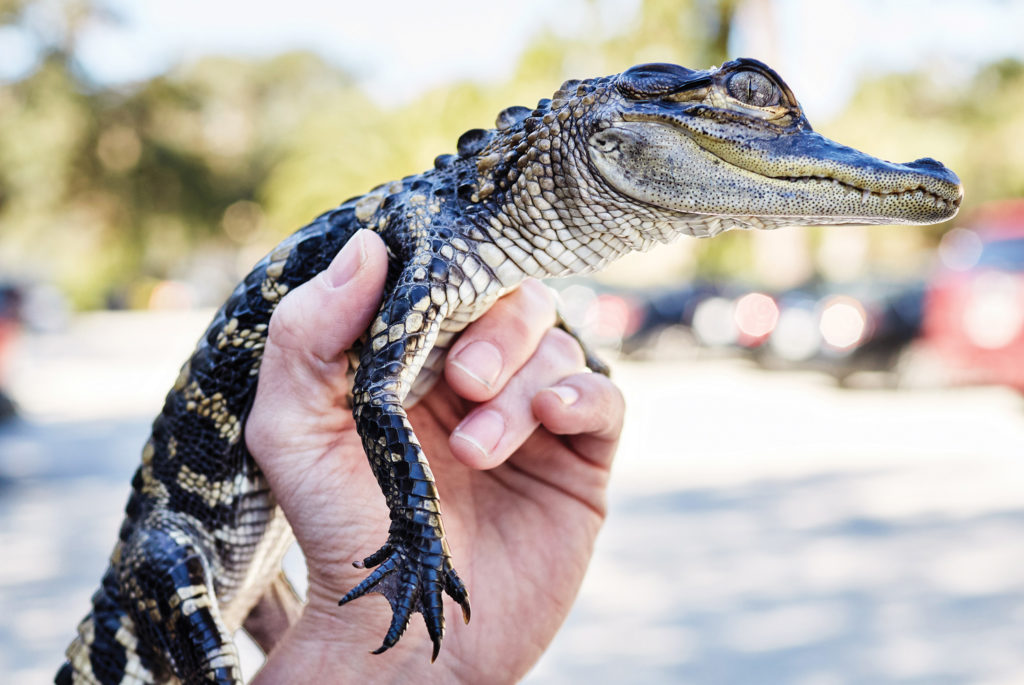 Tiny
American Alligator
Tiny was found inside an abandoned egg on Jekyll's Pine Lakes golf course in 2013. Since alligators require up to three years of parental care, the GSTC adopted Tiny, who now serves as an educational animal for the center's Gatorology 101 program.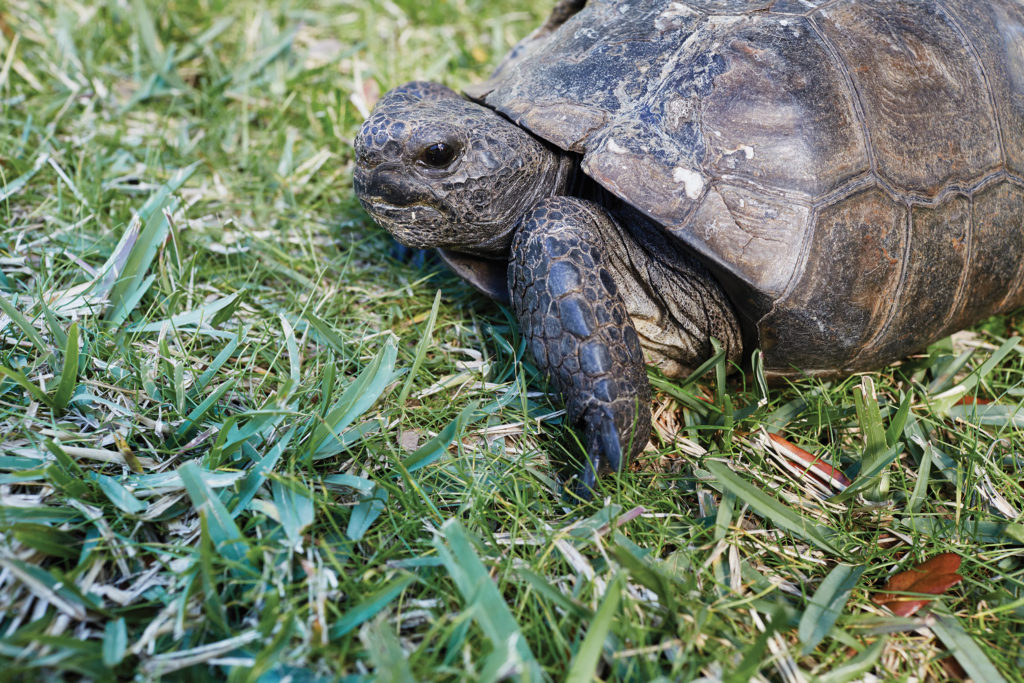 Dan
Gopher Tortoise
Dan was hit by a vehicle but made a full recovery. A first attempt to reintroduce him to the wild, on St. Catherine's Island, failed when Dan stopped eating and moving. (He bounced back at the GSTC.) A second release is planned for spring 2017. Dan enjoys a good stroll in the grass—and is surprisingly quick.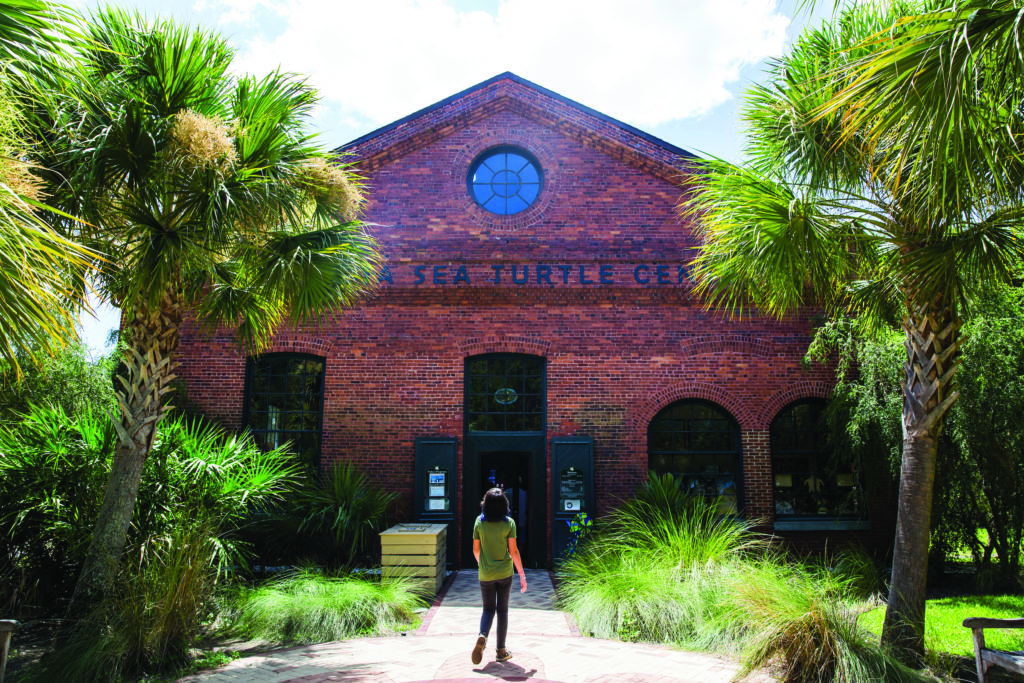 Ten Years of Second Chances
A look at the Georgia Sea Turtle Center's impact
It all started with a sick loggerhead named Georgia. With no place to treat the animal, Dr. Terry Norton wheeled her to a dock in a Rubbermaid tub to change out her salt water. In 2007, with $3 million in funds raised by the Jekyll Island Foundation and the Robert R. Woodruff Foundation, Norton and the Jekyll Island Authority founded the Georgia Sea Turtle Center—the authority's single-largest investment in conservation. Since then, the center has treated and rehabilitated more than 3,000 turtles and other animals.
Rehabilitation: 1,125 turtles treated
Education: 104,496 field trip and outreach participants
Research: 1,411 turtle nests monitored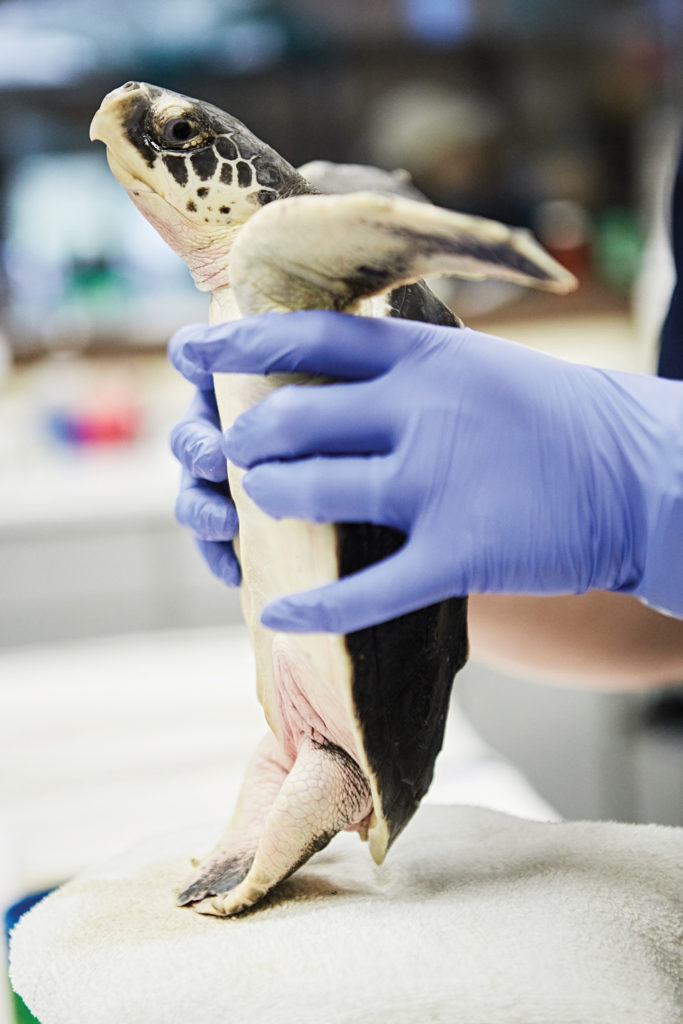 Five Ways to Give
Saving sea turtles is a group effort
Annual membership: Buy an annual membership or make a donation
Purchase a brick*: Purchase a brick in the "Walkway to Wonder" leading to the center
Adopt a turtle: Adopt a turtle or become a Nest Tracker to receive a personalized certificate, emailed updates, and more
Purchase a license plate: Purchase the Georgia Sea Turtle Center license plate; a portion of the proceeds go back to the center
Volunteer! Opportunities range widely, from working in the gift shop to clearing marine debris from beaches
*Not currently available.
Get more details at gstc.jekyllisland.com.