Taylor Davis and team protect everything from ancient tombstones to opulent cottages
By Josh Green
Photography by Brian Austin Lee
The disheveled dining room smells like a high school woodshop and looks like a Bob Vila set, all sawhorses, table saws, and jagged collections of reclaimed heart pine and moldings made to look really old. Still, Taylor Davis doesn't hold back in extolling the virtues of the under-renovation Hollybourne Cottage, a gorgeous 1890 example of Jacobethan architecture, on the north end of the Jekyll Island National Historic Landmark District.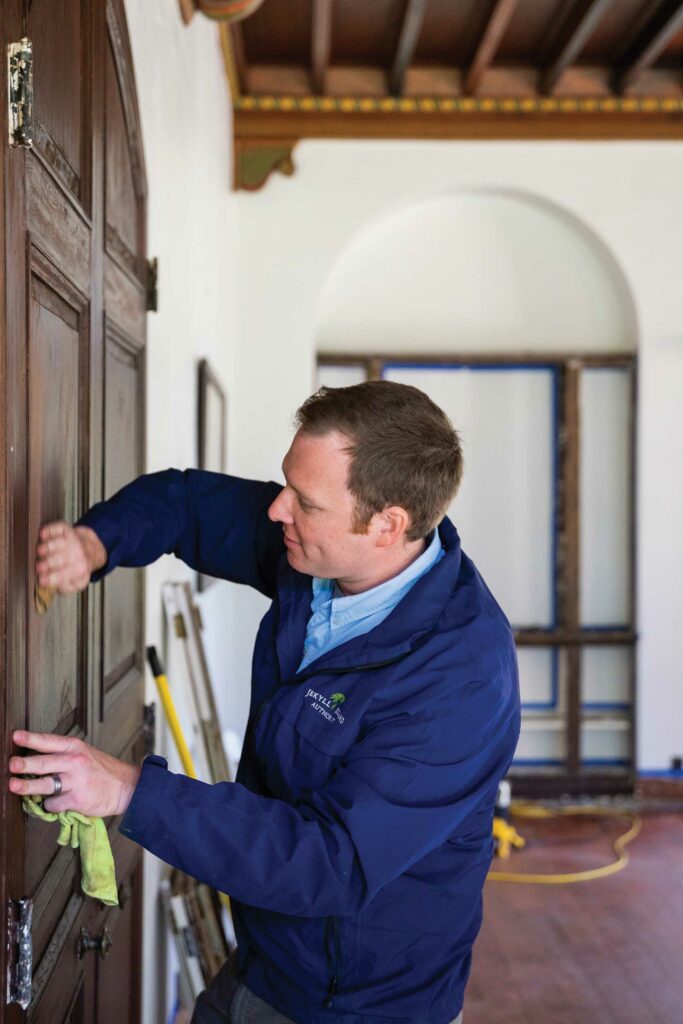 "We're standing in the most important structure, in my opinion, on the coast of Georgia," says Davis, 37, hired in 2017 as the Jekyll Island Authority's historic preservationist and charged with ensuring that the island's manmade treasures are not just standing, but shining, for decades to come. "That's not to say all the other buildings in our district aren't important—they absolutely are—this is just near and dear to my heart, where my preservation career started in 2004, working as an intern on this building."
Davis grew up on neighboring St. Simons Island with a fondness for Jekyll's architecture, including the midcentury beachfront hotels and the Aquarama, a 1961 modern indoor pool facility.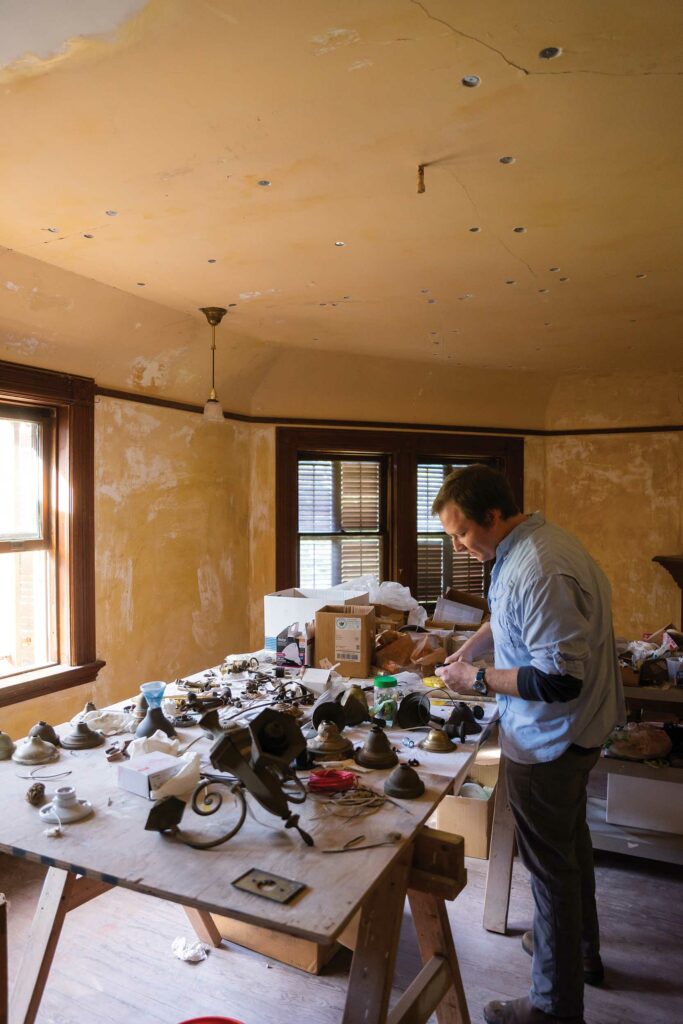 The historic district—the "millionaires' village," as Davis called it as a boy—was a particular source of wonder. His 1990s youth happened to coincide with a renaissance of historic preservation in the district, when high-level restorations led by early champions like Warren Murphy, a former JIA museum and preservation director, lent new life to landmarks such as Moss Cottage.
"When it comes to this, I'm standing on the shoulders of giants," Davis says. "They were able to save these buildings, essentially."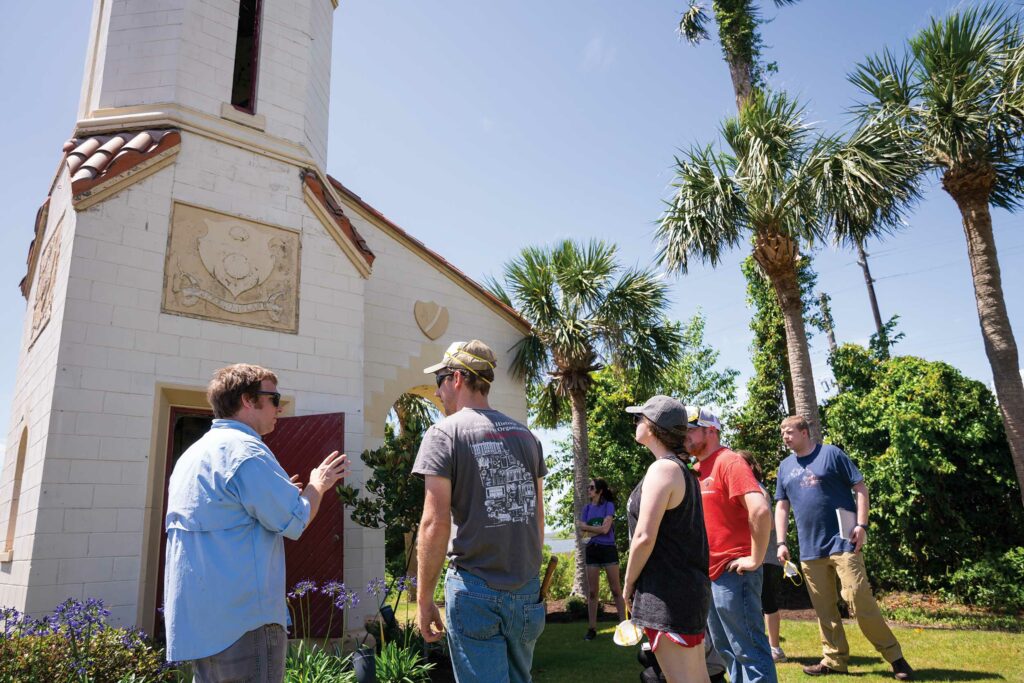 As Davis studied historic preservation at the University of Georgia, the Hollybourne Cottage remained shuttered and derelict, intriguing him even more. Hired as the JIA's first official preservationist in a decade, he's helped lead an exterior renovation that replaced cancerous, rusted iron lintels with bridge-grade concrete, made from molds of the originals. He's hired local suppliers to make special knives in order to reproduce moldings that will match the originals. That same meticulous process—using a single historic photograph—has been applied to a bench in the foyer, too, recreated by two of the dozen volunteer craftsmen that Davis leads.
Retirees and part-time Jekyll residents are crucial to Davis's preservation efforts, especially one devotee of two decades, retired electrical engineer Dick Tennyson of New York, whose service to Hollybourne earned him the Georgia Trust's Preservation of Service Award last year.
"What you see here, the majority of this work has been done by these artisans," says Davis. "They're doing this incredible stuff."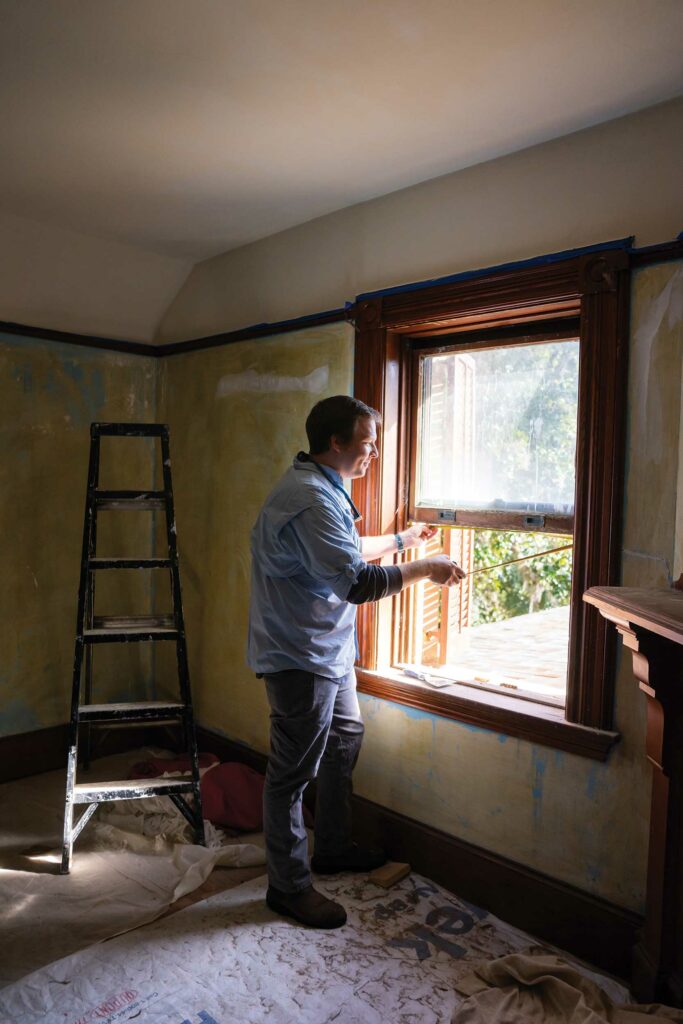 Davis bristles at the idea that Hollybourne would ever be "complete." Guardianship is perpetual. As the JIA's marquee preservation project, it consumes much of his time, but any given day might see Davis involved in less-glamorous undertakings: remedying a termite invasion at Moss Cottage, figuring out plumbing problems at another spot, or monitoring saltwater's wrath at Horton House or DuBignon Cemetery. It's all funded by island revenue; the admission you pay at the Mosaic, for instance, or that toll to cross the causeway.
"My focus is to try to keep the integrity of everything," says Davis. "We need to make sure these things stay around for future generations."