The man behind Jekyll's most scrumptious sweets
By Jennifer Rainey Marquez
Photography by Brian Austin Lee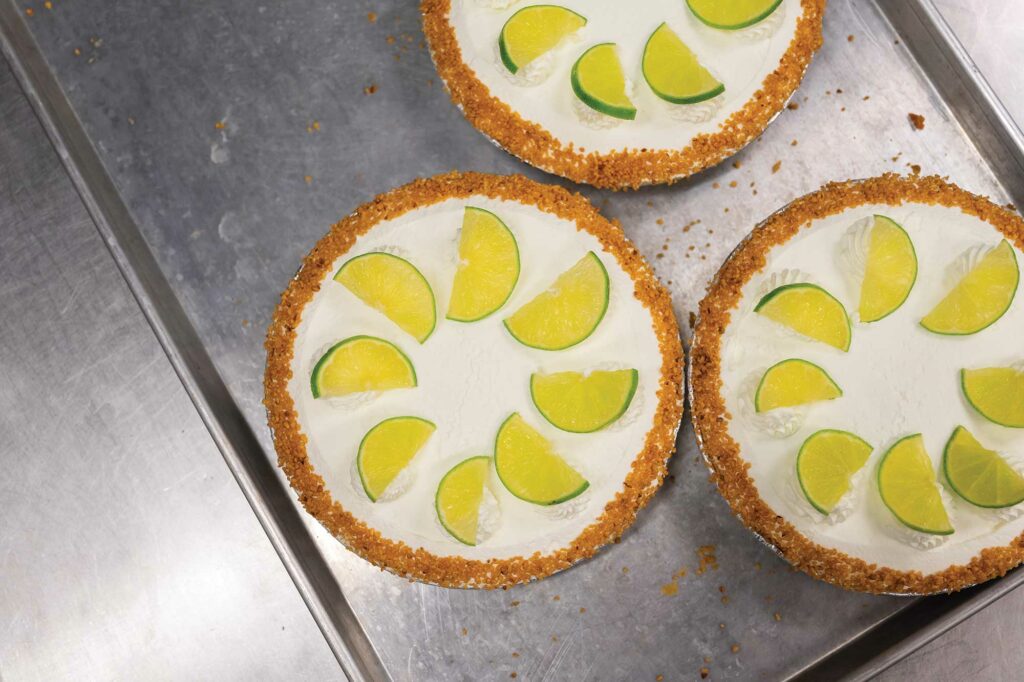 The Jekyll Island Club's key lime pie contains just three main ingredients: sweetened condensed milk, egg yolks, and key lime juice.
It may sound simple, but the tangy, creamy dessert—perhaps the island's most famous dish—is what keeps many guests coming back year after year
(or, for those nearby, week after week).
"The hotel has been serving it since reopening in 1987," says pastry chef Carl Sears. "I've never changed the recipe. I think if I did, I would be shot."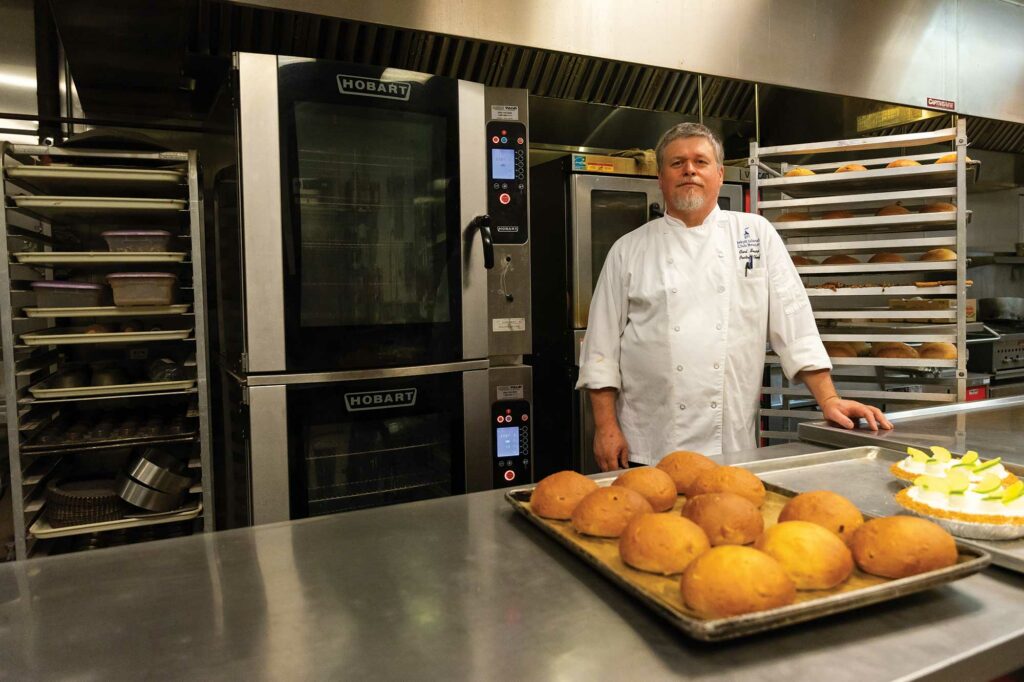 Sears has been at the Jekyll Island Club since a culinary school internship 23 years ago. Cooking is his second career. He started out working for IBM in Atlanta after earning a degree in mathematics from Georgia Tech. But he grew bored with desk work after a few years, and he'd been baking since he was a kid, helping his mom roll out Christmas cookies when he was barely tall enough to reach the counter.
In some ways, Sears says, being a math whiz was a natural prerequisite for his career in the kitchen.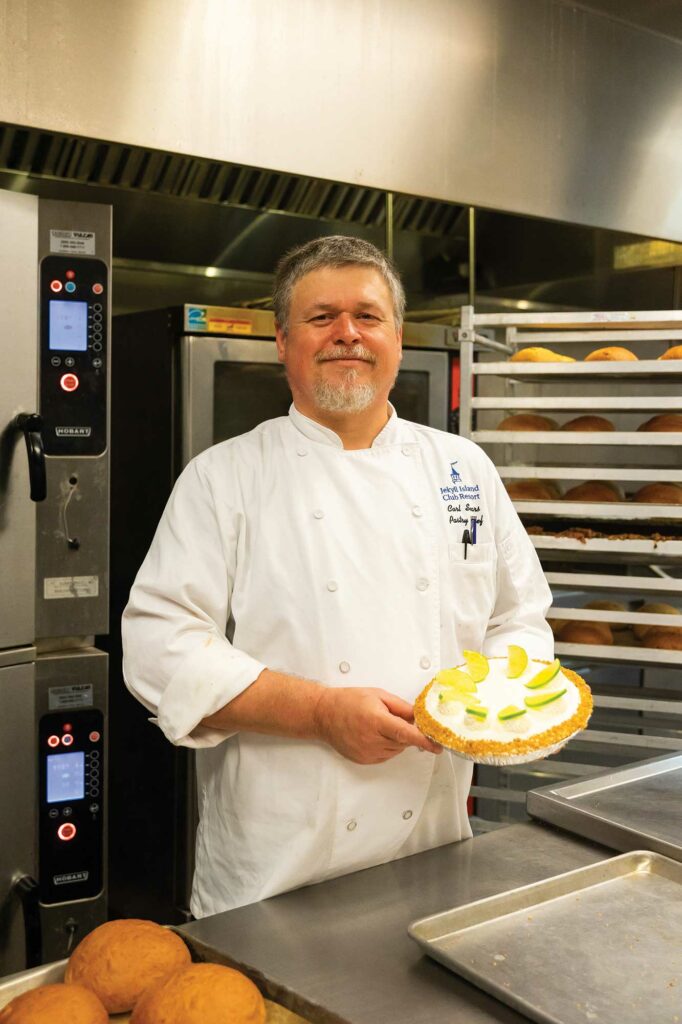 "Baking is a precise art," he says. "You can't taste and change the recipe as you go. You have to do it by the book, every time."
Sears is constantly testing and perfecting new desserts for the Jekyll Island Club's four restaurants. The menus change seasonally with the exception of a few mainstays, like that key lime pie. (A recent favorite: a s'mores torte with homemade marshmallows.) But the best part of the job, he says, is creating wedding cakes for the more than 100 couples who get married at the resort every year.
"The craziest one I ever did was probably a scale model of the hotel, in cake form," he says.
Grooms' cakes often provide an opportunity for some fun. Sears has sculpted a cake bust of Mr. T and an Arkansas Razorback. Last year, one of his cakes made news when Josh Reddick, an outfielder for the Houston Astros who grew up nearby, hosted a Spiderman-themed ceremony. One half of the tiered wedding cake was traditional white fondant, the other half decorated like the front of Spidey's suit.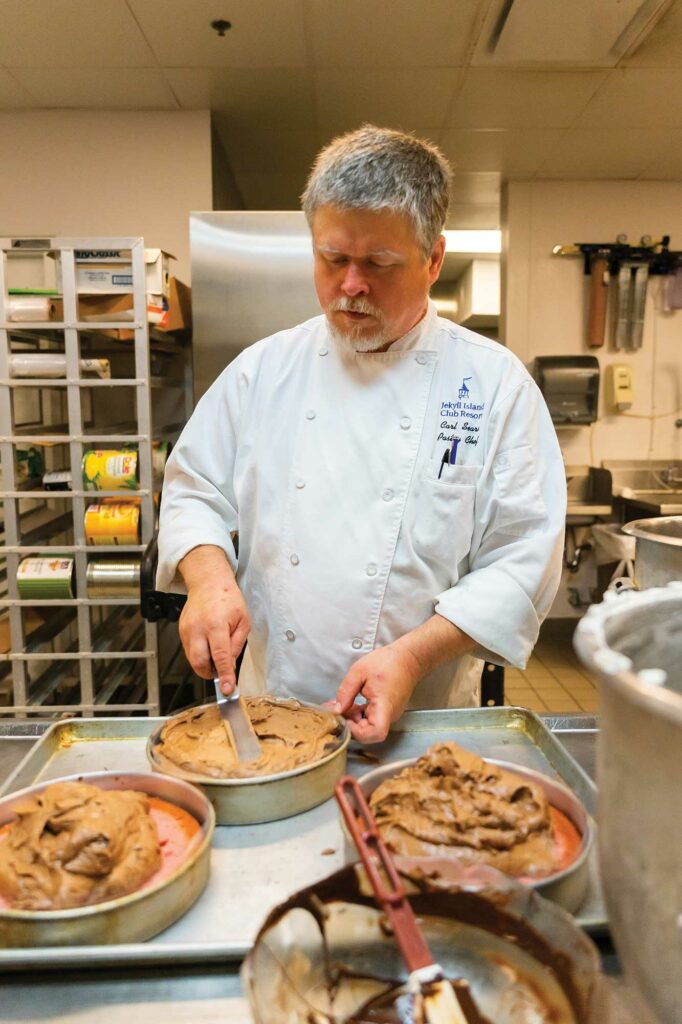 After nearly a quarter-century at the Jekyll Island Club, Sears has no desire to hang up his spatula and move on. He loves uncovering new bits of history about the resort (which dates to 1888), trading ghost stories with hotel workers, and strolling along Driftwood Beach when his shift is over.
"Coming to work here every day, you never get over how beautiful it is," he says. "The island becomes almost ingrained in you. I came for an internship, but it turned into family, and I never wanted to leave."