What's it like living on a tiny barrier island that happens to be a state park? Old and new residents share their stories.
Jekyll Island is a small town—some 1,000 people occupying a cozy 5,700 acres. That's not to say everyone knows everyone, but there's an inherent neighborliness that comes from sharing such a small and special place. Whether they are permanent residents, part-time snowbirds, or expats who have moved away, the people who have called Jekyll home are connected to the land. And to each other.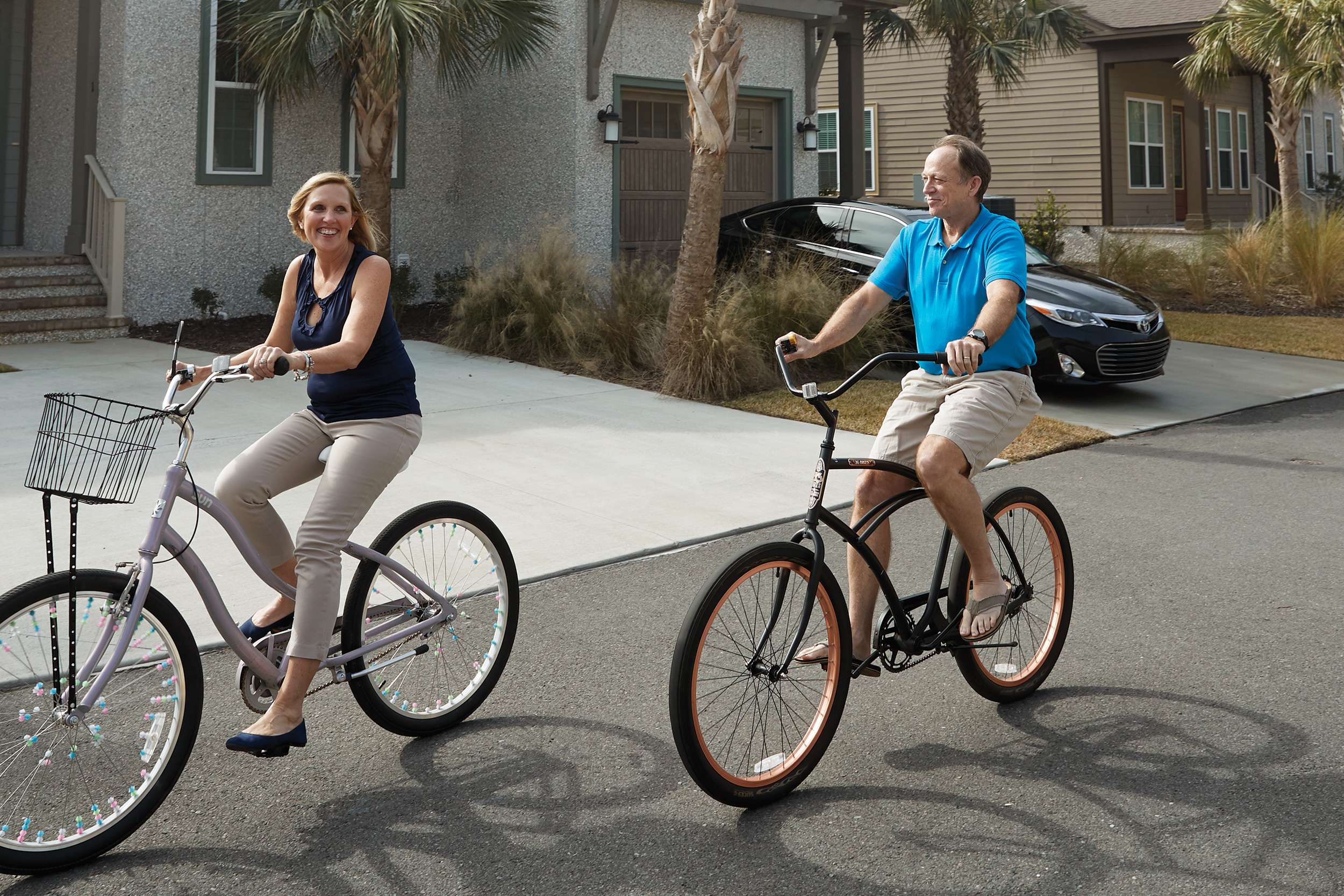 Meet the Zerkuses
Instant connections
Maggie Zerkus had only ever dreamed of becoming a Jekyll Islander. she and her husband, Chris, gradually fell in love with the golden isle as regular vacationers from metro Atlanta and other homes throughout the Georgia mainland, but the idea of one day putting down roots in the barrier sand had always seemed out of reach.
That is, until August 2016, when a unit in the new shoreside Cottages on Jekyll Island development went up for sale, and the couple decided to take a chance. Maggie, a writer who works from home, had eagerly anticipated many aspects of being a full-time Jekyll resident—the comfortable climate, the peace and quiet of the day-to-day, and the ability to jump on her bike and breathe in the island's abundant natural beauty. But not knowing a single one of her new neighbors, she didn't expect to be initiated so swiftly into a tight-knit community. "Some of our neighbors who have been here a long time were practically on our doorstep welcoming us," she says.
Jekyll is home to so many part-time seasonal residents, plus a constant stream of vacationers, that a person might go months or even years without encountering the owners of the house next door. But residents find a common bond in coexisting with tourists—and alligators and turtles. Says Maggie, "It's been an adjustment to live someplace where you become protective of the beach and the alligators and bobcats and the driftwood even. You become protective of the environment around you. You have the alligators and the wild animals here that are just as important as the people. Most places they haul the alligator off. Here, you're told to live with it. It's their home and you're living in their home."
When Hurricane Irma hit last September, residents helped board up each other's windows and checked in on absent owners' damages when the winds had subsided. Facebook groups keep snowbirds and summer vacationers in the loop, but for full-time residents like the Zerkuses, there are plenty of opportunities to social network the old-fashioned way. Maggie attends dinners and high tea at the Jekyll Island Club Resort's Grand Dining Room "to feel like part of the history of that building." Chris is a member of the Rotary Club, and they both go to church at Jekyll Presbyterian Community Church. She is part of the Jekyll Island Arts Association, the historical society, and the Cottages neighborhood association.
During the day, when she can't focus on her writing, Maggie can also just hop on her bike and explore the island, bumping into neighbors along the way. "People here are happy to be here," she says. "So many people are in places because of their jobs. Almost everyone is here because they've chosen to live here."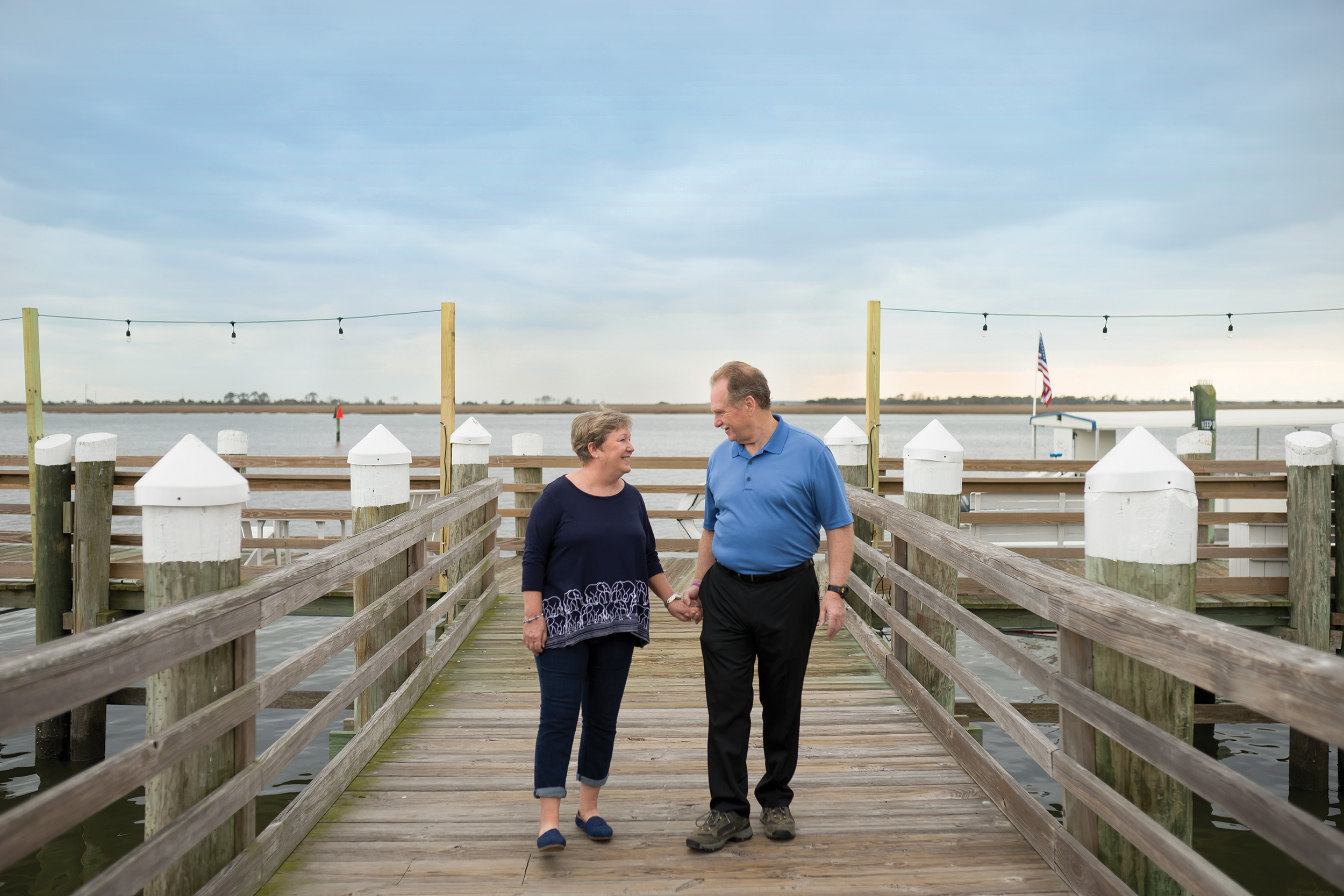 Meet the Culpeppers
Sticks and bricks
Wanda Culpepper is a retired teacher splitting her time between Athens and Jekyll—but her heart is always in the latter. She and her husband, John, own a two-story brick home that was built in the 1950s as part of the construction boom of the early "state era," when the State of Georgia first opened the island to public development. Where once only wealthy barons of industry could afford to boat to their mansions on Jekyll, the new causeway welcomed middle- and working-class families to erect more modest ranches and bungalows—like the Culpeppers' four-bedroom, tucked between the beach and Jekyll Island Golf Club. The state initially distributed lots via lottery; John's father came along a little later and bought their house in 1966. It has remained in the family ever since.
Wanda remembers visiting the island at that time, when everything was new and gleaming, from the (now "old") convention center with its pristine blue swimming pool to the shopping centers and restaurants. But the modernization was not rampant. After all, Jekyll was now a state park, and the state mandated that development be held in balance with the natural world—no more than 1,675 developed acres (to 3,920 undeveloped acres), by statute. Residents don't technically own the land, just the "sticks and bricks" erected in and above the ground. "We have a ninety-nine-year lease from the Jekyll Island Authority," says Wanda. "We won't have to worry about it—our children can take care of that."
However, the Culpeppers and other residents must adhere to the guidelines of the Jekyll Island Authority, a landlord of sorts. When the Culpeppers wanted to add on to their house, they had to submit the plans, get the necessary permissions, and make three $150 payments to plant trees that would replace the three they felled in their expansion. "They are very particular about what goes on, but I think that's good," says Wanda. "This is our piece of heaven, and we want it to stay that way."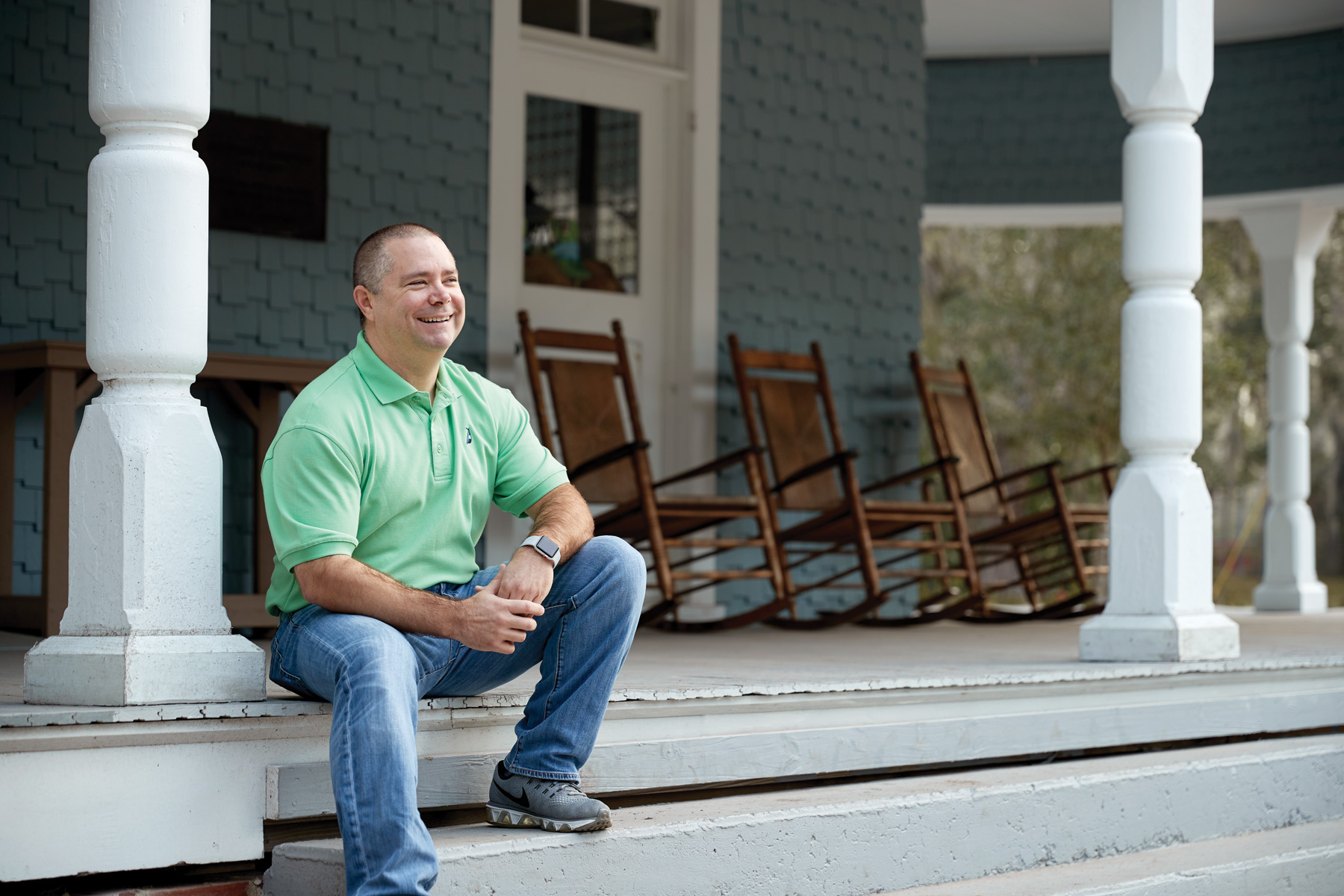 Meet the Harrisons
Living with history
Joey Harrison grew up on the island, raised by his grandmother and his grandfather, who was director of services and development for the Jekyll Island Authority in the 1980s. The family lived in the Walter Furness Cottage, a stately Victorian built in 1890 for Furness, an architect and one of the founders of the Jekyll Island Club. The wood-framed building, once owned by newspaper magnate Joseph Pulitzer, served as the infirmary for wealthy guests of the private hunting club. Beyond that historic link to some of the land's earliest blue-blood inhabitants, Joey is connected by his own memories, forged in the freedom and solitude of the barrier island. "It was amazing because at ten years old, I could just walk out of the house at 8 a.m., hop on my bike, and be gone the entire day," he says. "There was no check-in. No feeling of insecurity. No crime, really. Everybody knew everybody."
At the time, he says, Jekyll was a tourist destination stuck in the 1950s, with development that lagged behind. But with no cable TV, no mall or arcades, he and his band of friends rode bikes on dirt trails, shot basketball at the Wanderer Motel, played pickup football or softball on the 4-H Center fields, or hit the water skis at the old Ski Rixen Pond—places that no longer exist as they did thirty years ago but whose names are currency among longtime residents. Animal encounters were an unremarkable fact of life. "I literally shared space with gators and deer and never thought twice about it," he says. "I would fish a lot on the golf course lakes, and gators were everywhere. As long as they were in the water I didn't worry much. If they were on land I just made sure to keep my distance."
Joey left for the mainland after high school, but he eventually returned to live in nearby St. Simons with his own family. When they visit Jekyll, they now get to see the extensive revitalization efforts of the last decade. Gone is the isolation from society that once, for better and for worse, defined the island. But even now, residents don't have to venture too far from the developed areas to lose themselves in the bottomless black of nighttime or come face-to-face with deer and foxes and sea turtles.
Today, when they need to escape, Joey and his children return to Jekyll, where he can share his boyhood memories and return to some of that solitude. "My kids are amazed by some of my experiences," he says. "They love Jekyll Island."