In Memoriam
Printmaker: Her inspired etchings combine a naturalist's curiosity with an artist's eye for beauty
by Candice Dyer
Photography by Brian Austin Lee
If you are motoring around Jekyll, don't be surprised if you find yourself behind a slow-poke car that moseys along and stops occasionally; please don't honk your horn and startle the wildlife. That's just Lydia Thompson, who is doing her omniscient best to notice every flicker of a feather around her.
"I drive really, really slowly around here," she says. "There might be a wood stork in the marsh, and I might need to stop and snap a photo before it flies away. I am always hungry for inspiration. I am an image junkie."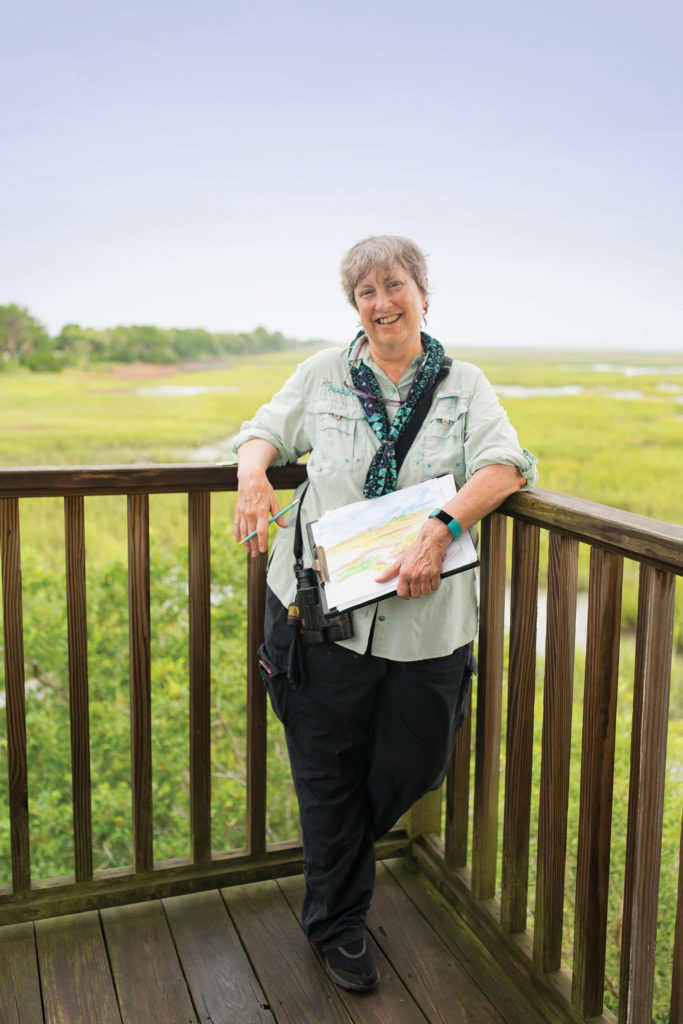 Thompson is a renowned printmaker who employs her meticulous, time-consuming art in the service of conservation. Her primary subject is birds. "I'm a traveler, a wanderer, and birds inspire wanderlust," she says. "Why? Because they fly!"
An avid birder since she was a child growing up, often riding on horseback, in Natchez, Mississippi, she still speaks about these creatures with awe. "Birds lend definition to a place," she says. "I especially love shorebirds such as the Wilson's plover."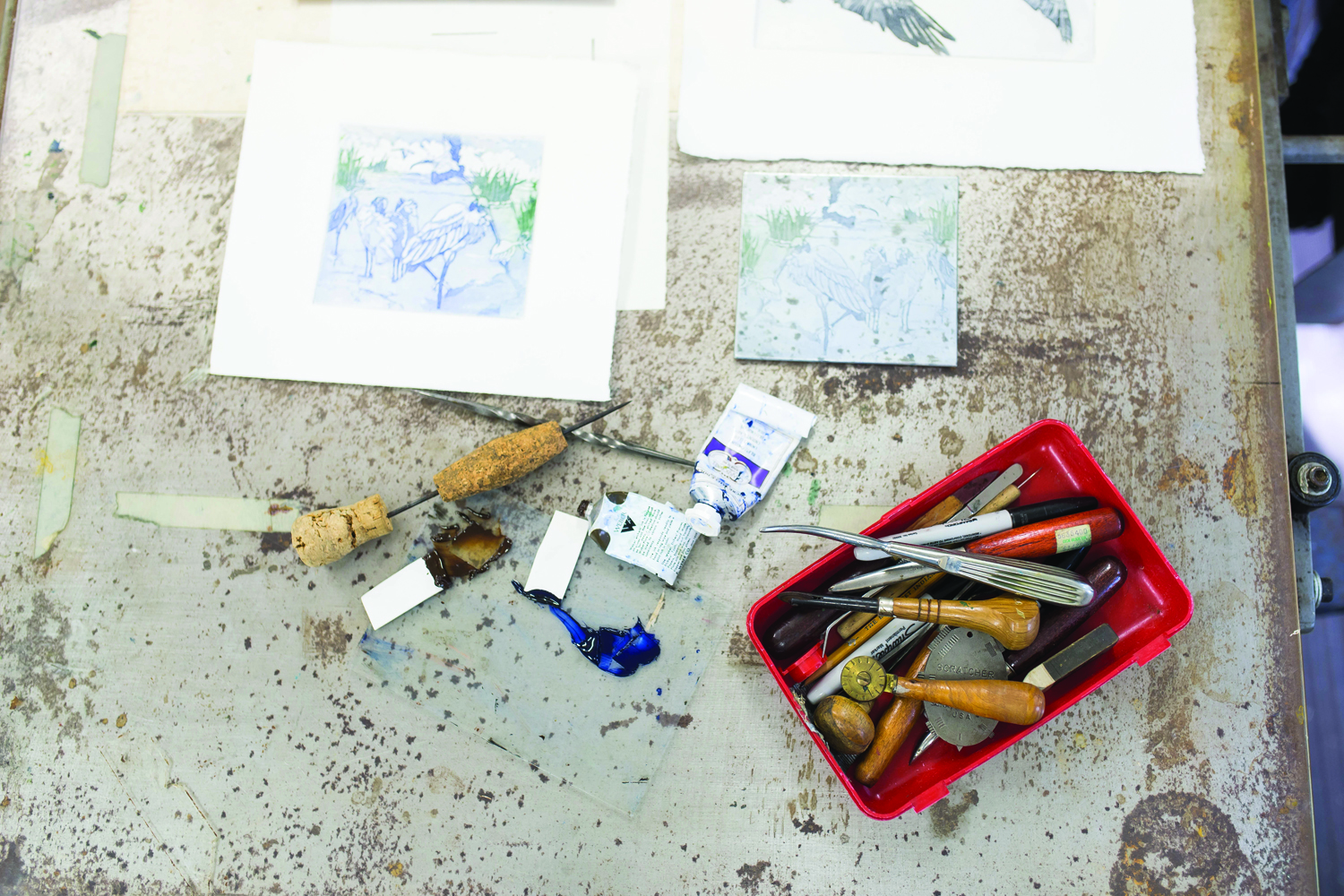 Thompson, who has traveled through all fifty states on the trail of various avian subjects, captures their enviable freedom and flight in printmaking, an ancient art that involves etching a subject onto a plate to create a relief, running it through a press, and in her case, hand-coloring the end result.
"Lydia's work is extremely intricate and distinctly beautiful," says Susan Wiles, executive director of the Glynn Visual Art Association, which displays some of Thompson's creations. "Her knowledge of birds is incredible, and her ability to capture them in her art is such an asset to our community."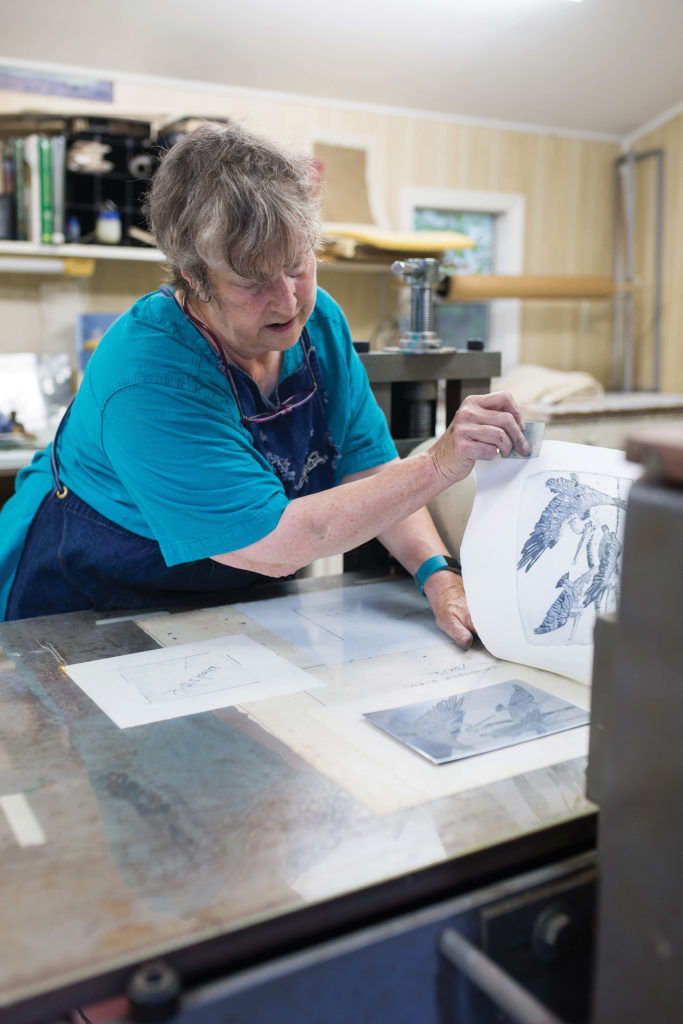 It is not easy, Thompson says, to render the wispy, wind-borne tines of a feather in an etching, but she thinks of her work as simple drawing. "I was born to be a printmaker," she says. "As soon as I met other printmakers, I knew this was what I was meant to do."
Thompson earned a degree in commercial art from Mississippi State and then worked for a while in advertising in Atlanta. "It wasn't satisfying," she says flatly. In 1977, she discovered Jekyll Island, relocating there permanently in 1985. "This is a place of quiet, a place of healing, a place that offers birds both freshwater and saltwater, so there is great variety."
Those salutary qualities figured into her battle with breast cancer in 2014. "The treatments were brutal," she recalls, "but my friends would take me to the sanctuary where all of the painted buntings would gather in the birdbath. That was solace, and inspiration."
Some of the old-school printmaking tools such as nitric acid are toxic, she says, and she currently is employing "green" soybean-based inks in her work. "It's new for me, but I'm excited to explore with different materials."
One of the feathers in Thompson's cap is the Earle R. Greene Memorial Award from the Georgia Ornithological Society. "I am humbled," she says, "by everything I see around me, and art helps you look outside yourself. It's amazing what you can see if you really look."