By Tony Rehagen
Revisiting some of Jekyll's most memorable forgotten attractions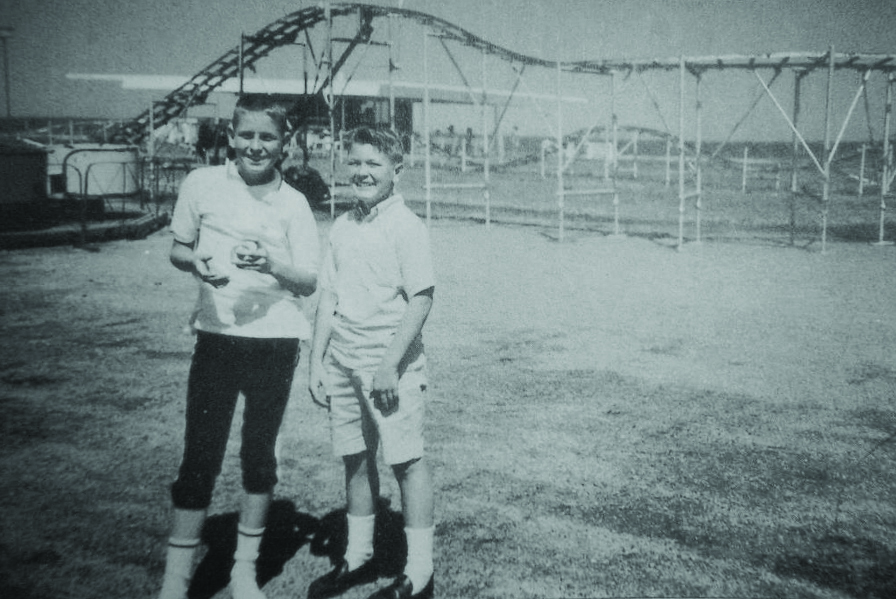 Jekyll Island has long been a vacation destination. Wealthy snowbirds flocked to its natural grandeur at the turn of the twentieth century. When the state took over the island in 1947, the goal was to lure the masses. It didn't take long to realize this would take more than just sand, surf, and sunshine. On its way to becoming the serene refuge for families and sea turtles it is today, Jekyll saw several parks and amusement rides come and go. And while these attractions ultimately were razed, replaced, and largely forgotten, longtime island guests still have fond and funny memories—fading echoes of a time when Jekyll was still searching for its modern identity.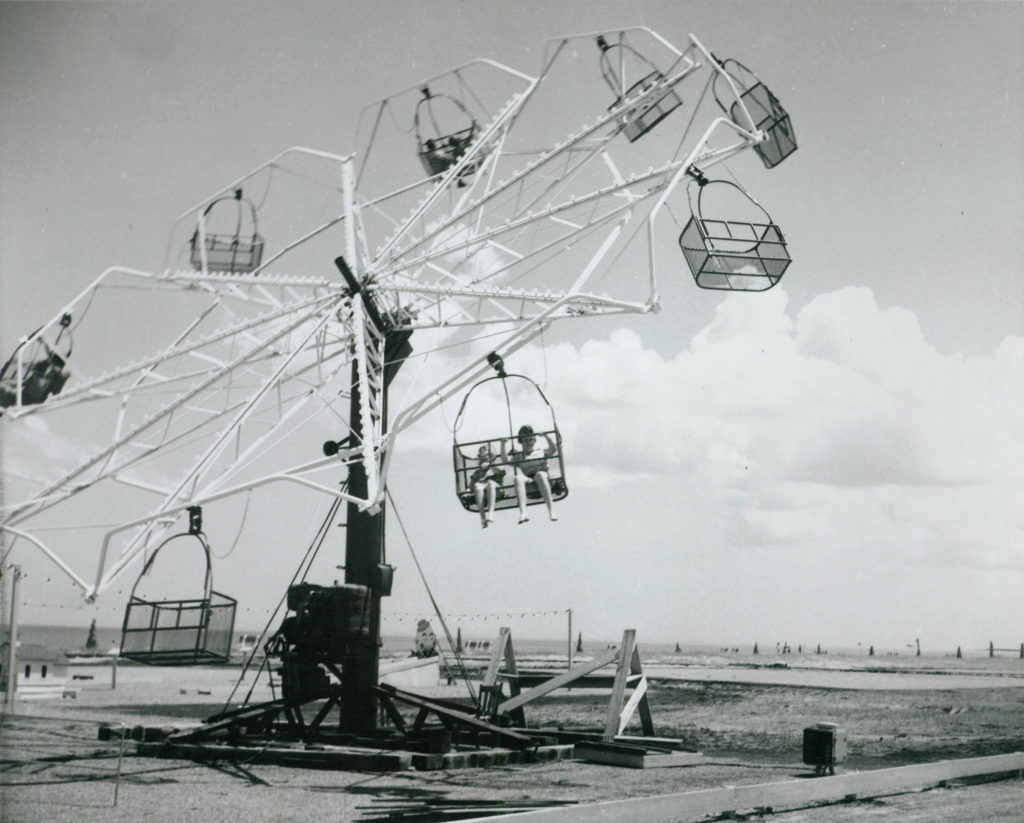 An amusement park . . . for turtles
In April 1956, Georgia businessman Harvey Smith built Peppermint Land, Jekyll's first amusement park. Located on the ocean side of the island, just south of where Tortuga Jack's currently stands, the red-and-white-striped theme park featured a small Ferris wheel, a low-riding roller coaster, a miniature train, and go-karts. That last element was a big draw for local boys like Skip Adamson, who first moved to Jekyll in 1963, at age twelve. "At that age, being able to drive something with an engine was fun," says Adamson. "They went pretty fast."
The oval track of asphalt was lined with wooden rails to keep wayward speed demons on course. Each run of several laps cost 10 cents. "My dad owned the laundromat and he always collected the coins," says Adamson. "One time I 'borrowed' a whole roll of dimes. I got in trouble. I've regretted it ever since." The object of Adamson's shame was shuttered and torn down in 1965, when Smith failed to secure a favorable lease with the state.
According to Adamson and other residents at the time, few people lamented the closing of the park, which had fallen into disrepair. But one surprising group of visitors surely missed it. In 1962, the park had to shut down several rides when a bale of baby loggerhead turtles squatted on the train tracks. It was August, hatching season, and the hatchlings were drawn to the park's bright lights.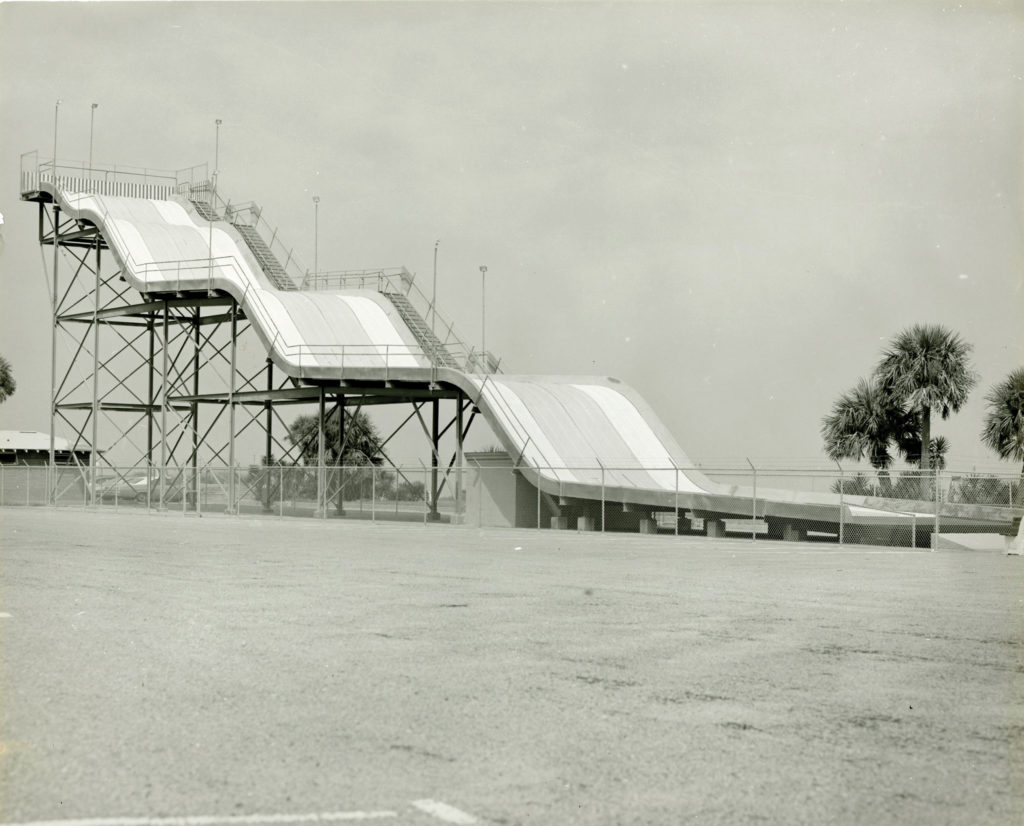 The ride that went downhill fast
Not long after Peppermint Land closed, the same beach-view area just across the road from the miniature golf course was host to a thrill ride that was way too swift for turtles—and many humans.
In the 1960s and 1970s, gunny-sack slides were all the rage. Riders would climb to the top of a steep, multilane slide, slip into or onto a burlap bag, and send themselves screaming straight down. Jekyll's Super Slide was several stories tall and made of metal. "It was silver and blue—an ugly thing," says Lloyd Douglas, who moved to Jekyll in the mid-1950s and worked for the Jekyll Island Authority for forty years. Adding to the eyesore were giant overhead lights that allowed sliders to embrace gravity late into the summer nights. "The lights were so huge," says John Neidhardt, who has lived on the island since 1970, "you could probably see them from space."
However, the Super Slide's ultimate demise was due less to being hard on the eyes than being hard on the body. The salt spray from the ocean made the thing even more slippery, and the dividers between the eight lanes were short and less than effective. Sliders rocketing some fifty feet downward side by side would almost always bump into one another before the first hump, which often slammed their backs and heads into the unforgiving surface. It was quite a cost for a joy ride that lasted just a second or two. "Several people got hurt," says Adamson. "I think they closed it down pretty soon after that. It was crazy even for back then. It was dangerous—but it was fun."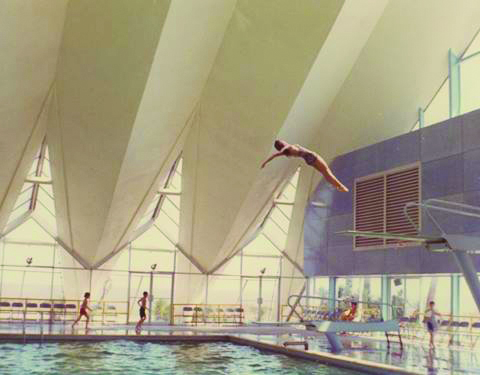 The only indoor pool around
In the late 1950s and early 1960s, many people on Jekyll believed a convention center would help bring in visitors. But the state legislature, thinking the island wasn't quite ready for that, wouldn't appropriate the funds. The government did, however, relinquish the money for a recreation center.
In 1961, construction of the Aquarama was completed on the southeastern side of the island, not far from where the current convention center now stands. The period Art Deco exterior, punctuated by its iconic triangular glass entry, covered what was billed as an Olympic-sized swimming pool—although locals knew that the dimensions came up a foot or two shy of the required fifty feet due to a shortfall in funding. Nevertheless, the pool was the first heated indoor pool in the region, and it attracted swimmers from all around the state. There were one-meter and three-meter diving boards at one end for the more adventurous, along with a kiddie pool for little waders. At the time, more families lived on the island, with enough kids to form a local swim team—which at one time included Neidhardt.
"Having been in such a big room with that triangular roof, I can still smell the chlorine," says Neidhardt. "It was heated so you could swim year-round. There was always a loud echo of people talking loudly bouncing off the concrete beams."
The din of splashing and shouting wasn't the only thing that grew beneath the steamy Aquarama ceiling. "With it being closed in, the place didn't get a lot of sun," says Douglas. "Algae grew pretty fast on the concrete. You'd have to scrub it with [cleaner]. The Aquarama was quite a chore to maintain."
In the end, perhaps cleaning and heating and maintaining the huge facility became too much of a chore. Summer Waves opened in 1987, providing an alternative water-play destination for locals and tourists. In 1992, after three decades of service, the Aquarama was closed. It was torn down three years later.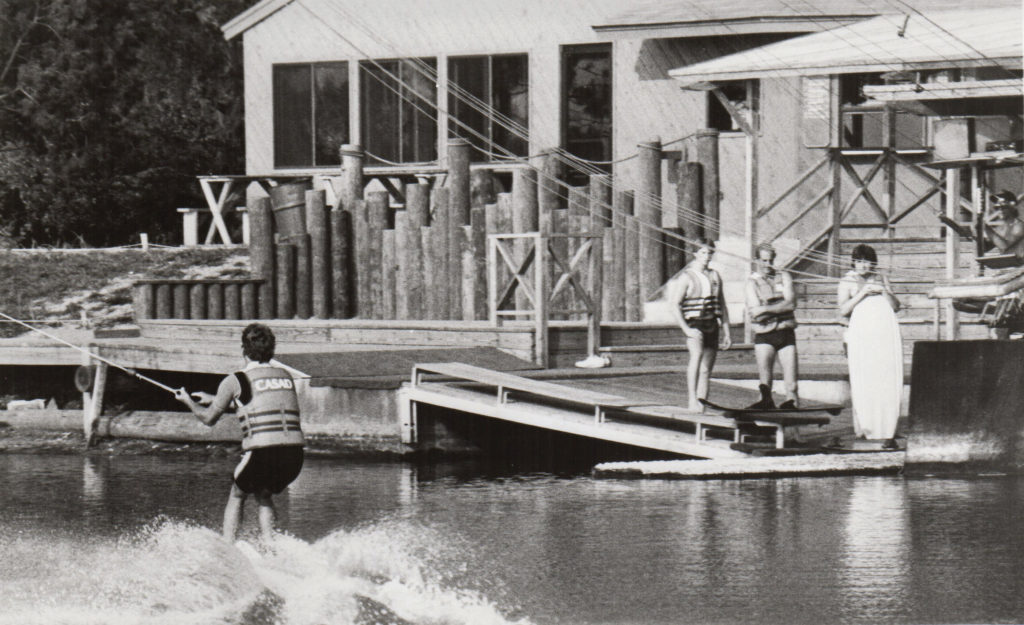 What the heck is Ski Rixen?
Any beach town worth its weight in sand is going to offer water sports. Jekyll's unspoiled beaches have always hosted swimmers, boaters, boogie-boarders, and the occasional surfer. But the ocean tends to be a bit choppy for water-skiing.
In the early 1980s, the solution was Ski Rixen, a European system of electrically powered metal cables that pull skiers. A twenty-three-acre pond was dug on the southwestern side of island, right behind where the 4-H Tidelands Nature Center now sits, adjacent to Summer Waves. Cables ran in a rectangle across the pond, about thirty feet above the water. Every few feet a skier, perched atop two skis or a wakeboard, would be thrown a rope that was hooked to a carrier and pulled one way or the other across the pond at speeds upward of sixteen miles per hour. "It was a lot harder to do than most people thought," says Adamson. "It was slinging people off all the time. A few people I knew got pretty accomplished at it, but not many. I never tried it myself. I knew I'd break something."
"It was very difficult," says Neidhardt. "But once you learned it, it was fun. The cable was always moving; it never stopped. Thekey was to learn how to hold on without flying through the air."
Of course, any Jekyll resident will warn that where there is a relatively calm body of water, there are uninvited guests. "Occasionally you'd hear about an alligator in the lake," says Neidhardt. "But they never had an incident. I'd never seen one—until one was there."
The attraction closed due to gator safety concerns after only a few years. Today there aren't any skiers or cables on the pond, but it's a popular fishing spot.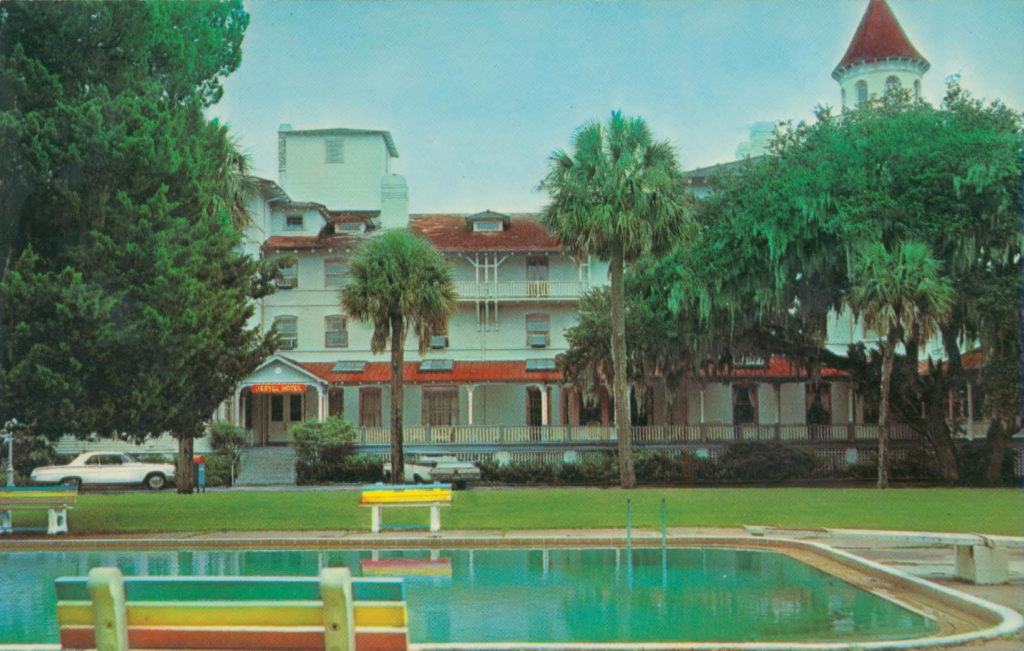 Welcome to the Jekyll Hotel
In the 1960s, the Jekyll Island Clubhouse signage had a distinctly retro look. After sitting out of commission for many years, the sign—including its original bulbs—shines on in Mosaic, the Jekyll Island Museum.