A new project reclaims beachfront land to create a productive, uniquely gorgeous habitat
By JOSH GREEN
The goal, in a sense, is to finish what the X-Men started.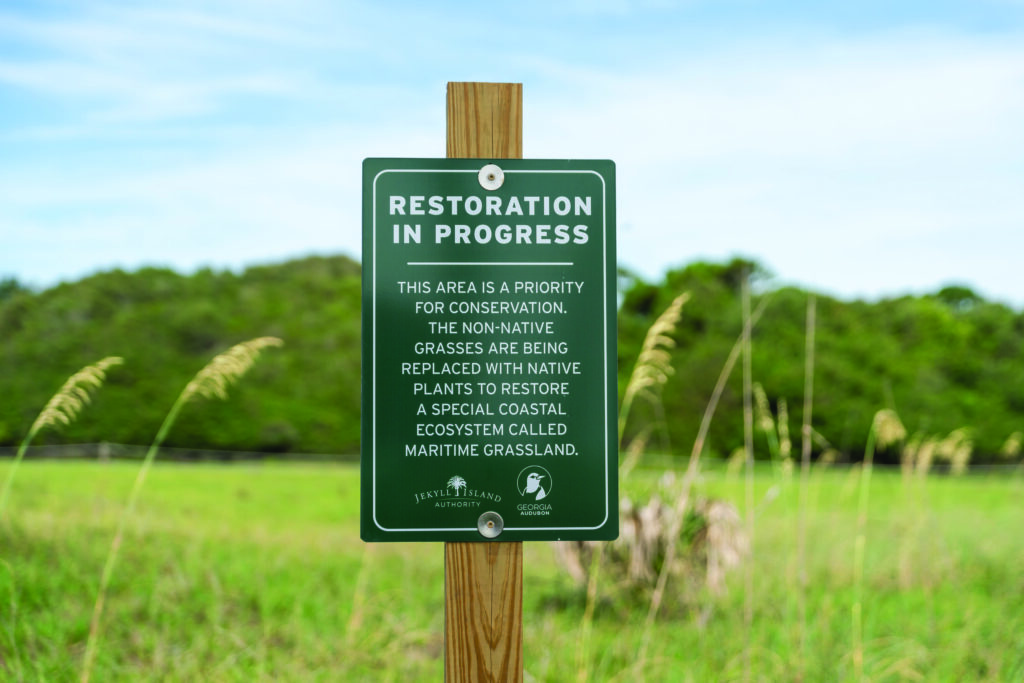 Back in 2011, when the filmmakers behind X-Men: First Class needed a stand-in location for Cuba, they transformed the sands around Oceanview Beach Park, on the eastern side of Jekyll Island, into a tropical, palm-studded paradise, with a few huge chunks of the fictional X-Jet dramatically thrown in. Once filming wrapped and the palms were packed up, as part of the conservation efforts required by the Jekyll Island Authority (JIA), 20th Century Fox planted about 1½ acres of life-sustaining grasses that had become scarce on Jekyll and considered endangered on a global scale. Through a unique new partnership, the JIA will soon significantly expand those ecological efforts and create, if all goes well, a different kind of marvel.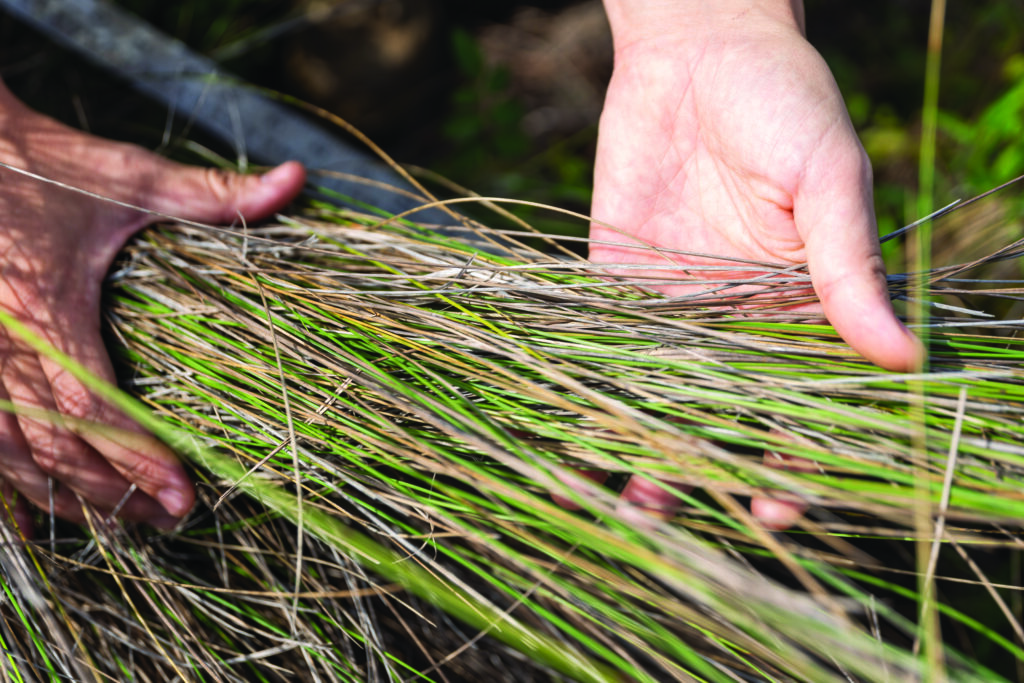 The habitat, now mature after more than a decade, has several different names in conservation circles: beach prairie, muhly meadows, maritime grasslands, dune meadows. The vegetation itself is mostly sweetgrass, or muhly grass. It's the key ingredient of a beneficial grassland found in dune areas along the Eastern seaboard. It's also largely been eliminated in many places by development and other threats, ranging from sea-level rises to changes in the coastal sand-sharing system that can erode shorelines. Jekyll's nascent prairie is located almost exactly in the middle of the island, between Beachview Drive and a bike path, just north of Tortuga Jacks restaurant and south of the Holiday Inn Resort, near a 2-acre parking lot and pavilion. The only other naturally occurring examples of this type of habitat on the island are a few fragmented pieces on the southern end that have been threatened by more frequent inundation from high tides.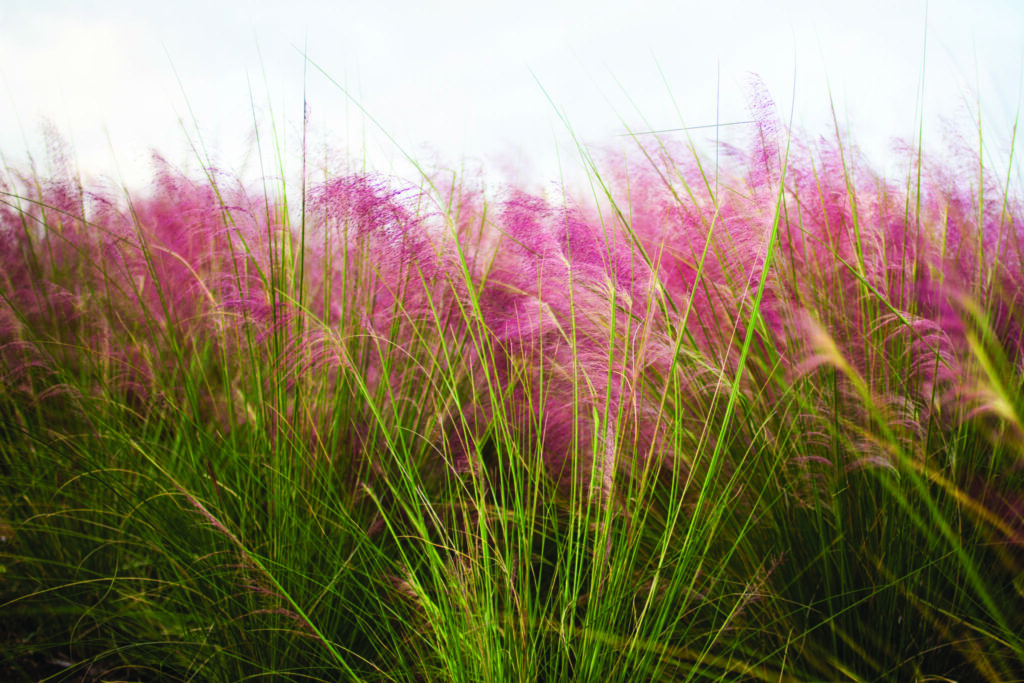 Later this year, a campaign to further expand Jekyll's beach prairie should start to bear fruit on both sides of Oceanview Beach Park. The latest effort—muhly grass has been ornamentally planted at the island entrance and at Great Dunes Beach Park, too—swaps out 3½ acres of non-native turf grass with muhly grass and other flowering plants, adding to Jekyll's mosaic of beachfront habitats while nurturing (and harboring) an array of wildlife species.
"In some ways," says Joseph Colbert, JIA's wildlife biologist, "this isn't only a restoration and exercise in showing people what this looks like, but we're kind of rescuing this habitat on the island as it exists."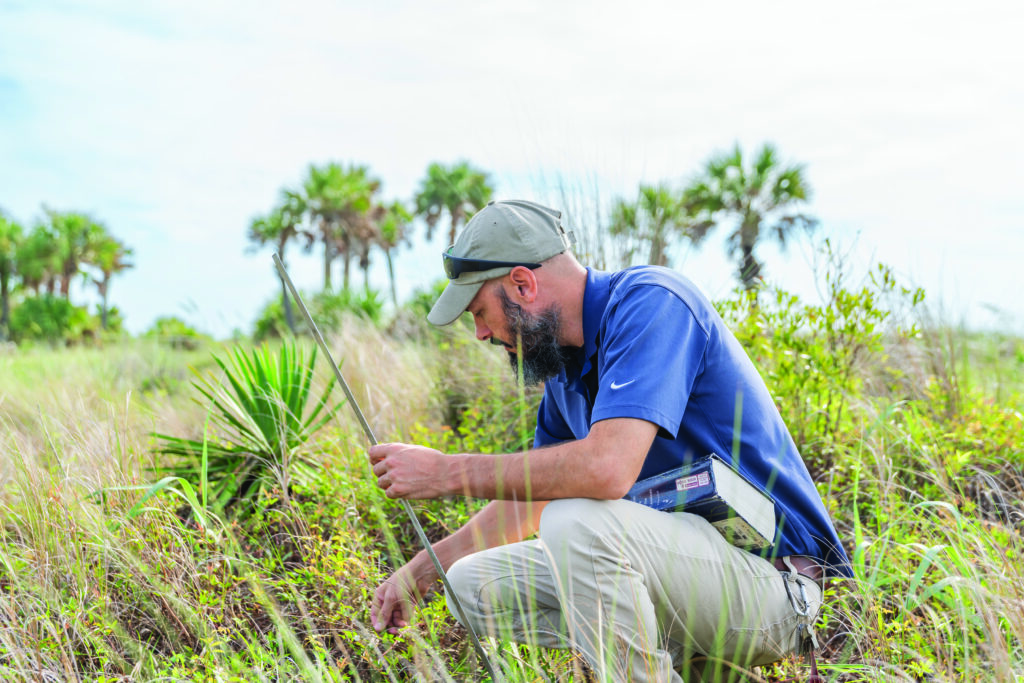 Until 2021, as unlikely as it may sound, this particular beachside acreage wasn't protected. In fact, in previous versions of Jekyll's Master Plan, it had been designated as "developed land," meaning it could have been built upon. Building in that area would have blocked the now-iconic views of the Atlantic from Beachview Road and marred the pristine island experience at Oceanview Beach Park.
The effort to remove the designation and restrict development in the area—an undertaking supported by local and state environmental groups—included a comprehensive staff review at the JIA and approval by the JIA's Board of Directors. The new designation solidifies the balance between natural and developed land that's called for in the state park's Master Plan. By law, only 1,659 acres of the island (of about 5,530 acres total) can be developed. At this point, only 60 acres remain that can be developed, and 40 of those are restricted solely for public use, for things like recreation, utility infrastructure, or public safety.
The footprint of development on Jekyll Island has not expanded by a single acre in more than a decade. "There's a lot of political will for conservation on Jekyll these days." says Ben Carswell, JIA's director of conservation and stability.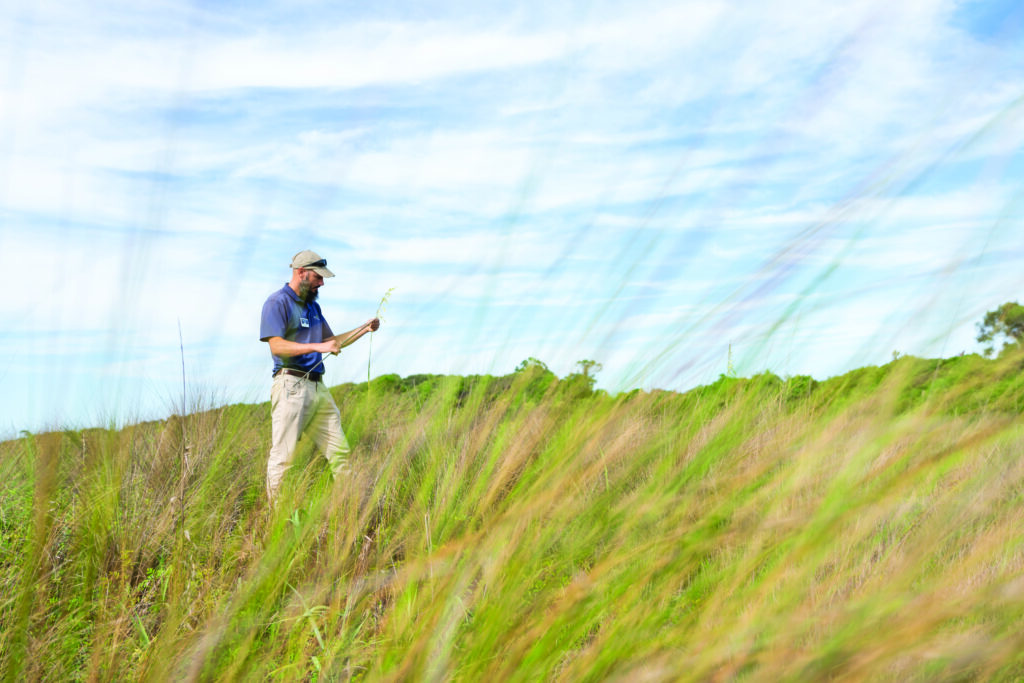 Fortune would have it that, just as JIA was securing protections for the beach prairie, an organization famous for its fascination with birds was looking to, well, spread its wings and branch out of Atlanta.
Georgia Audubon (formerly Atlanta Audubon Society) had grown from a volunteer-run bird club to a staffed nonprofit hoping to conduct outreach, conservation, and education around the state. A natural focus was Georgia's barrier islands. "The coast being such an important part of biodiversity in Georgia makes it extremely attractive," says Gabe Andrle, Georgia Audubon's habitat conservation program manager. "It's the birdiest place in the state."
Andrle and Adam Betuel, Georgia Audubon's director of conservation, met with JIA and Jekyll Island Historic District staff about potential collaborations, and it wasn't long before a beach prairie expansion was pitched. Last year, Georgia Audubon landed a grant from a familiar source—the National Fish and Wildlife Foundation's Five Star and Urban Waters Restoration Program—to cover the bulk of the bird-friendly project's roughly $50,000 cost, with help from JIA matching funds and donations.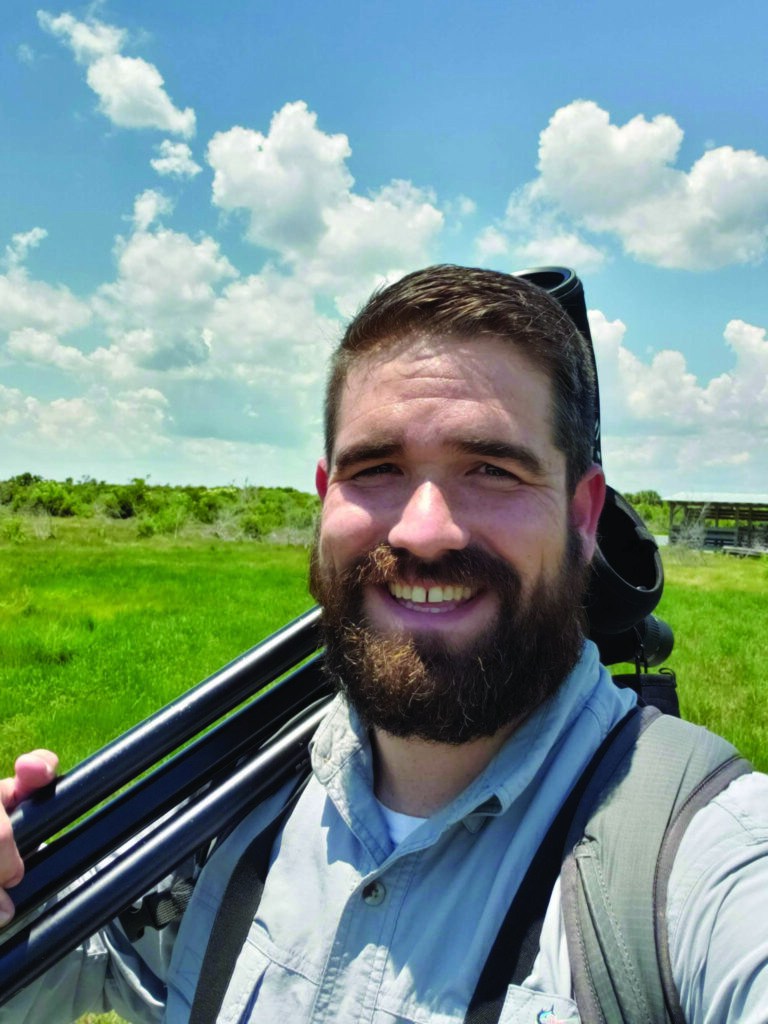 Plantings are expected to begin this fall on what might be the first 3½-acre phase. Georgia Audubon has submitted two more grant proposals, roughly $30,000 each, that could come to fruition next year and allow the beach prairie to grow across 11 acres. The cherished pavilion and Oceanview Beach Park would then be nestled into a long, contiguous, natural green habitat with seed-heads that explode into purplish-pink waves in fall.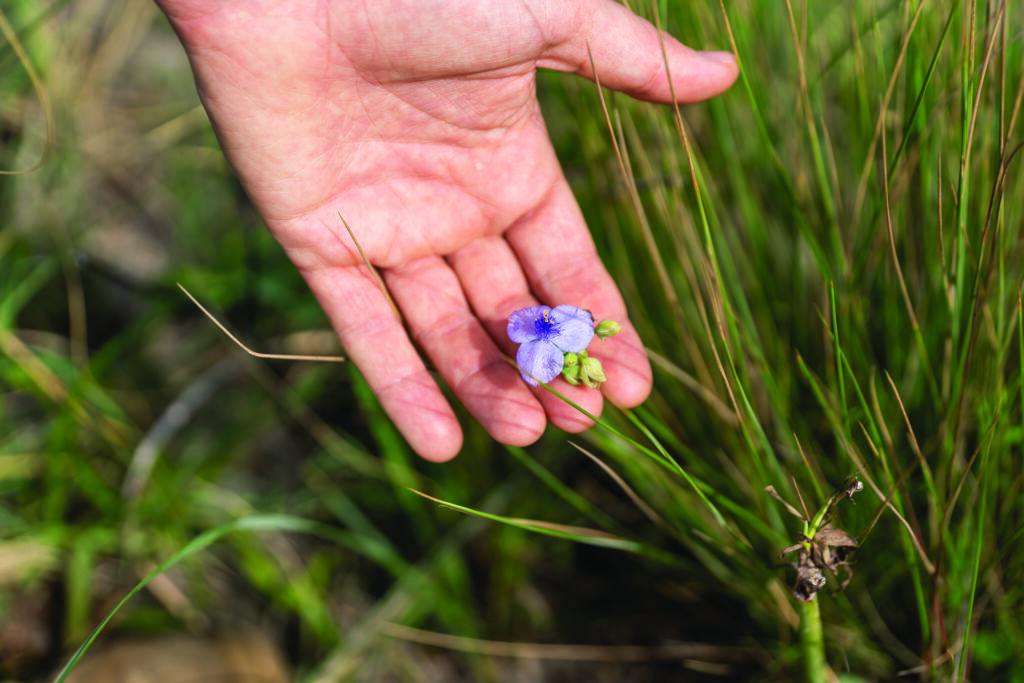 During storms, a vibrant and lush grassland holds the ground together more firmly. Culturally, sweetgrass is an important material in the heritage of Gullah Geechee people, who use it to weave traditional baskets. Once established, the sweetgrass creates a micro habitat by shading the ground and holding in moisture, allowing for smaller flowering plants such as goldenrod and bee balm. That, in turn, attracts pollinator insects like bees and butterflies that boost the aesthetics and summon larger wildlife.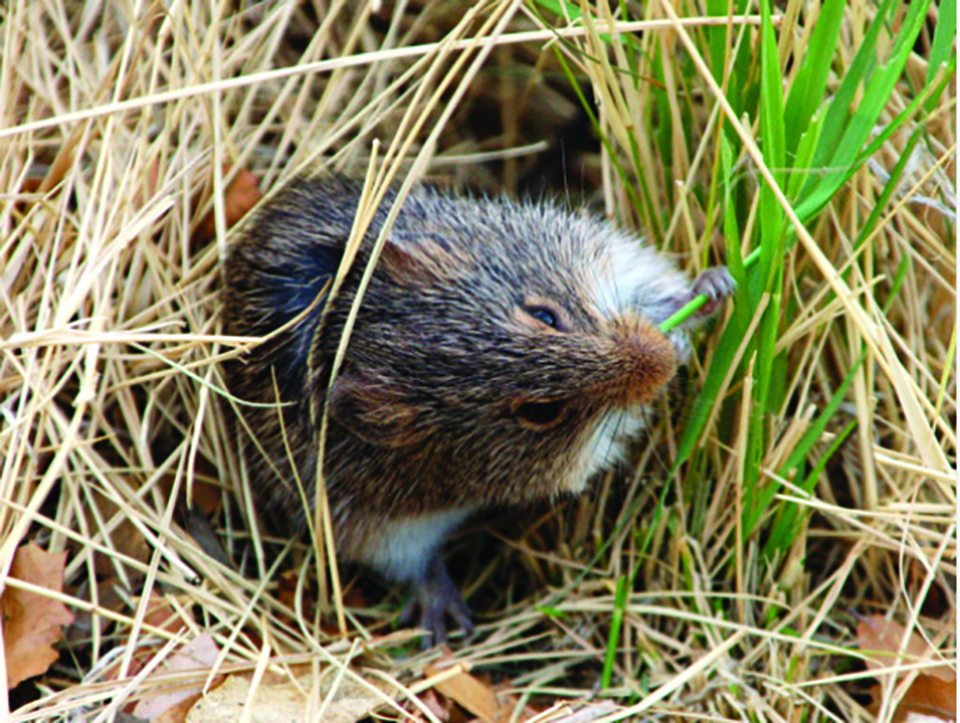 Smaller mammals like marsh rabbits and cotton rats thrive in the beach prairie environment, using the clumped muhly grass as cover from ambush-ready Red-tail hawks.
Ditto for nonvenomous snake species such as coachwhips and kingsnakes. The JIA several times has tracked, via a collar, a bobcat to the existing beach prairie.
Birds to benefit will include brightly plumed Painted Buntings, Yellow Warblers, swallows, Savannah sparrows, and many others. Georgia Audubon's work is hastened by the fact that bird populations are rapidly declining, with about 3 billion—or 25%—fewer birds around the planet now than were estimated to be in existence in 1970, says Betuel.
Birding boomed as a pastime through the pandemic as people sought connections with nature, and it continues to be a boon for Jekyll's economy with birder tourists trekking to the island and the Georgia Ornithological Society holding its annual meeting here each year.
"We have an amazing coastline for bird life," says Betuel. "There are millions and millions of migratory birds that pass through Georgia in the spring and fall, and they're using spaces like [the beach prairie] to power their journey."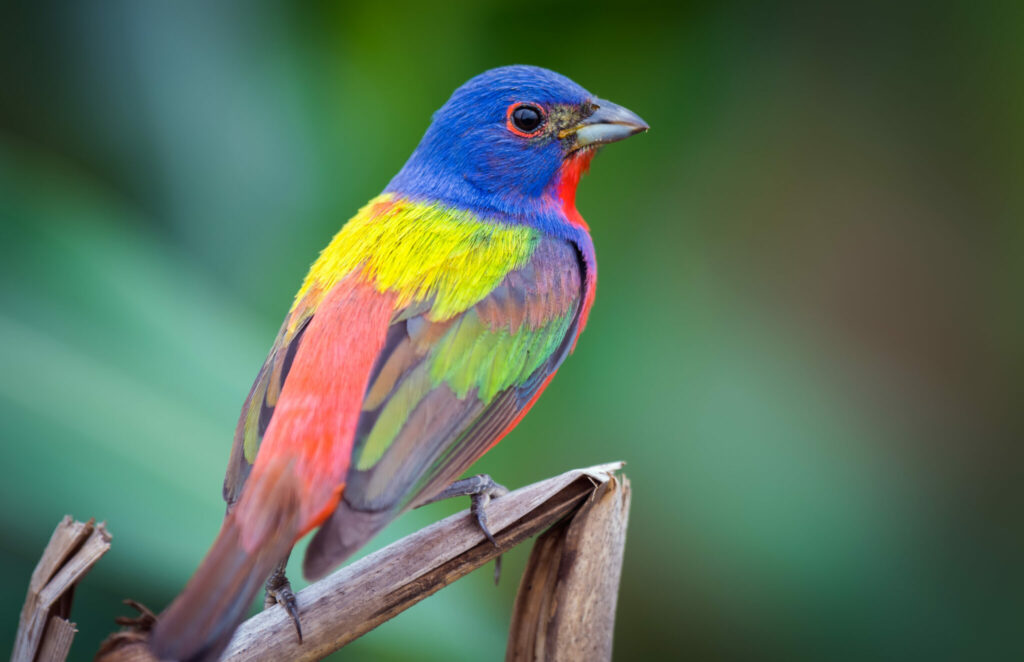 Once the existing turf grass is sufficiently killed for the new project, thousands of plants are expected to be planted this fall, jumpstarting the ecosystem. Afterwards, prescribed burnings—fire is a natural, important occurrence, after all—will follow every three or four years.
"It's a good outcome, if you think about it, because some of the most attractive parcels for development are beachfront property," says Colbert. "Being able to turn that into a natural conservation area is a big win for us."
And it's further proof, as Betuel stresses, that ecologically diverse, environmentally crucial prairies aren't just a Kansas thing.
"A lot of times we think of grasslands as [being in] the central U.S., and more and more the Southeastern grasslands are getting recognized, and this is one of the most niche types that we have," says Betuel. "It's a really unique habitat for Jekyll that I think Georgians can be proud of."