Glassblower: The former nurse embraces an art both delicate and daring
By Candice Dyer
Photographs by Jeff Holt
When she was eighteen years old, Kristen Pickett spotted a classified ad that intrigued her. "It said: 'Glassblower wanted, will train.' I thought why not? There weren't many women in that medium at the time."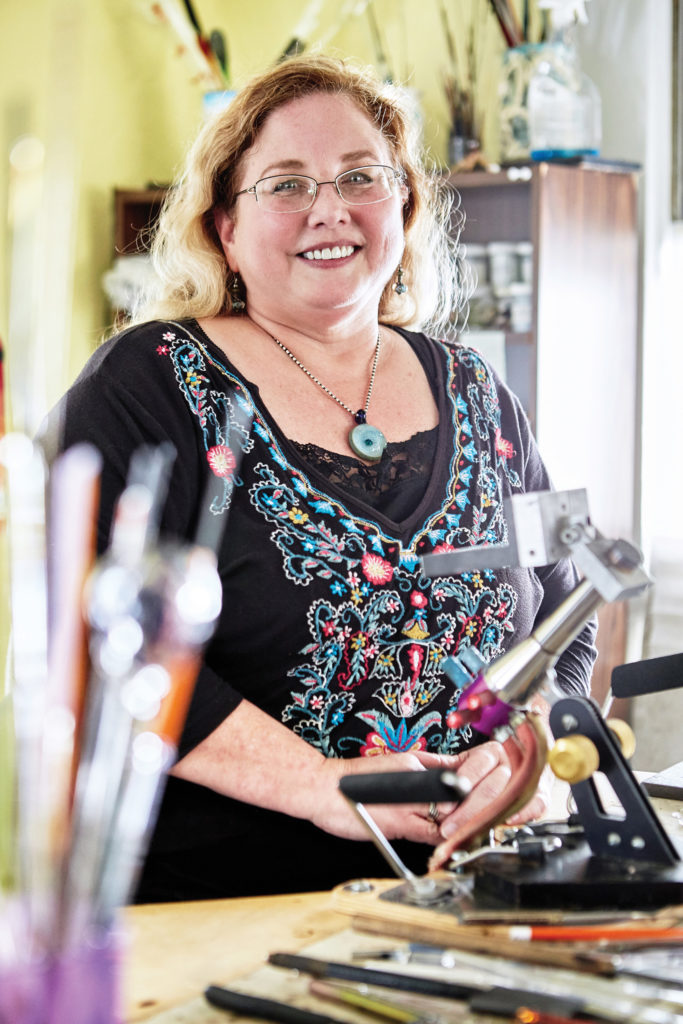 The Long Island native learned to sculpt Pyrex with a torch while also studying pottery, painting, and drawing at Queens College in Charlotte, North Carolina. She set aside those hobbies for twenty-five years, though, to work as a nurse in cardiac care and hospice. "At night I was always dreaming about glassblowing," she says. "I couldn't wait to go to sleep so I could dream some more." Her family owned a summer house on Jekyll, which she had visited every year before moving to the island in 1981. There, she met her musician husband, Eddie, and fired up her torch full time.
At first her glass business grew modestly, at festivals and on merchandise tables she shared with Eddie's band, the WharfRatz. Today, Pickett operates Gypsea Glass, a combination gallery, gift shop, and art studio on Pier Road. Customers can schedule demonstrations to watch her craft jewelry, marbles, and abstract sculptures. After work, she unwinds at the Wee Pub, where she and Eddie are part owners.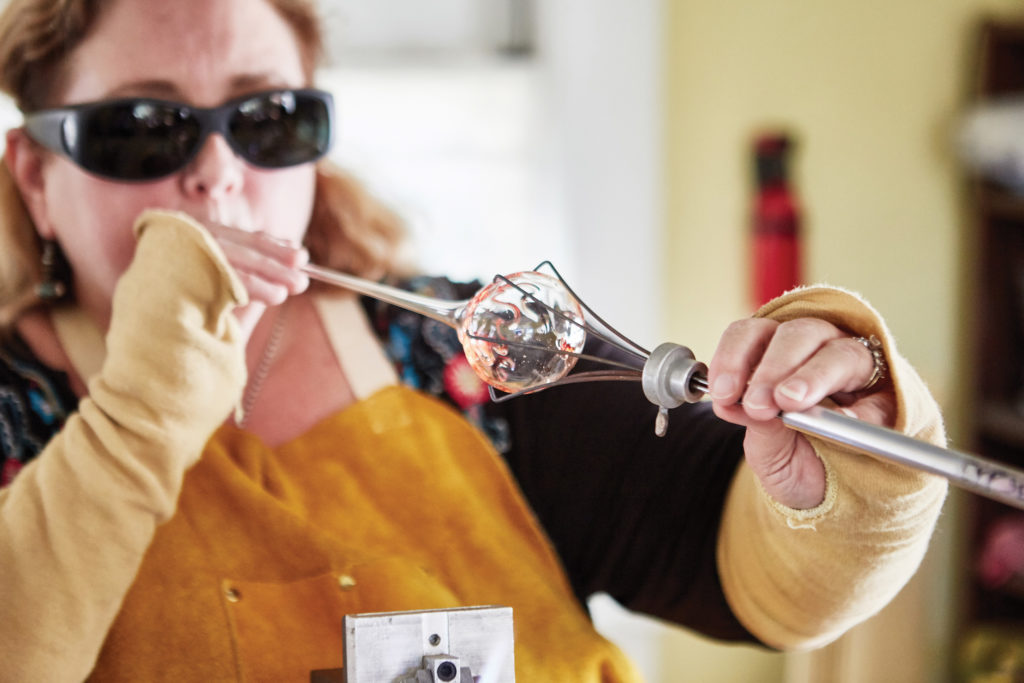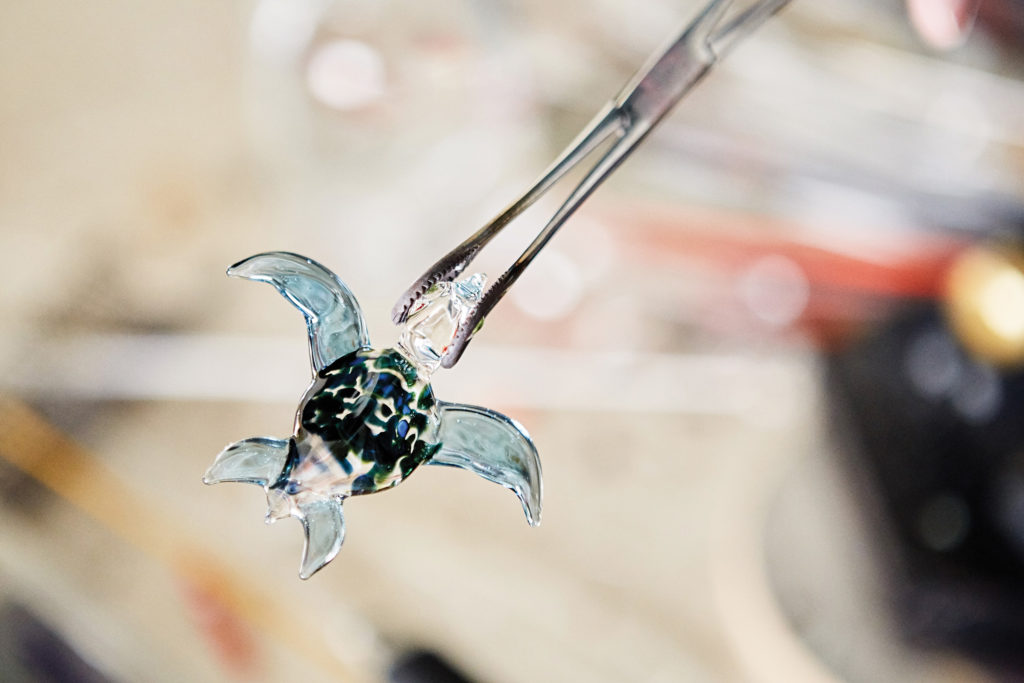 A nurse's sure-handedness has served her well. "Burns and cuts are an occupational hazard," Pickett says, explaining that she typically dons eyewear, Kevlar sleeves, and a leather apron before wielding a flame that reaches 3,000 degrees. "One of my flames is the size of a needle, which I use for detailing on jewelry, but I also have the big, bushy flame for larger projects."
"When I got a chance to watch her work, she was making an angelic cupid," says fellow glassblower Erik Anders. "The strings on the bow and arrow were so tiny and delicate that it really opened my eyes to the world of glass."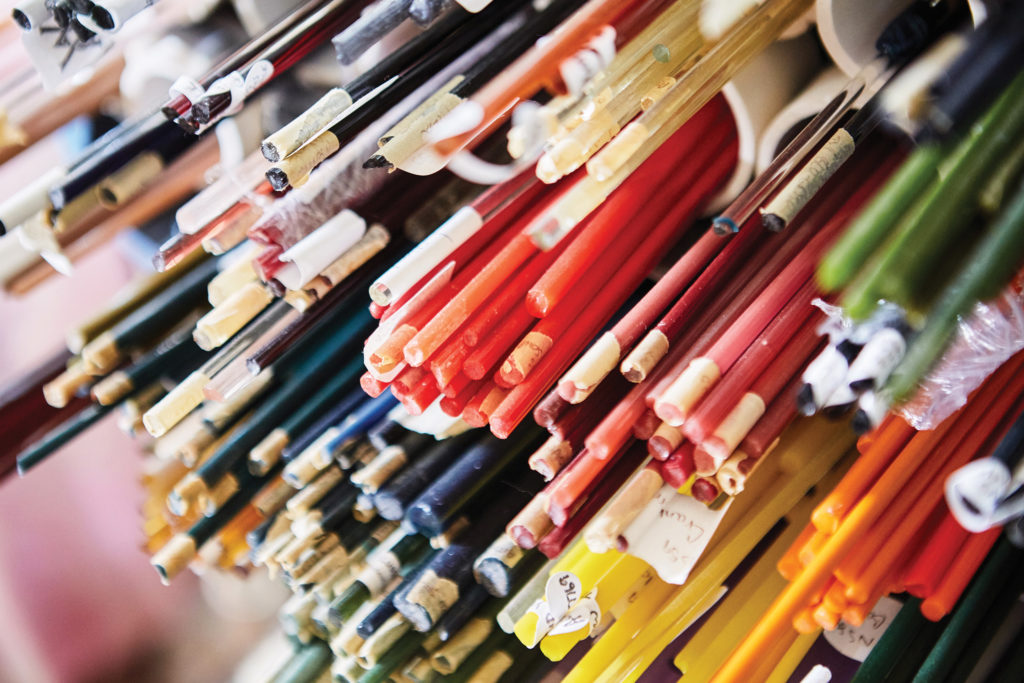 After concocting her colors with tubing, rods, powdered glass, and crushed glass (called frit), she puts her final designs in a kiln to anneal, which relieves the stress of the glass and helps its jumpy molecules settle and strengthen.
Pickett draws inspiration from her island surroundings. "I make seashell pendants and wildlife sculptures such as fish, birds, deer, and alligators," she says. "Right now I'm doing a series of women representing each element: earth, wind, fire, and water. The wind figurine is shaped like the windswept trees on Jekyll, and the water figurine is a mermaid."
Does she still dream of glass? "Absolutely," she says. "In this medium, you never stop learning, and there are always new ideas, new designs, new things to make."