The shops of Jekyll Island carry vacation essentials and one-of-a-kind keepsakes
By Jennifer Senator
Photography by Kristin Karch
You'd be forgiven if you didn't think of Jekyll Island, sea turtle sanctuary and Victorian time capsule, as a shopping destination. But among the tidy storefronts of Beach Village and the quaint cottages on Pier Road are an array of unique businesses. Most are locally owned, and many have had a presence on the island for decades.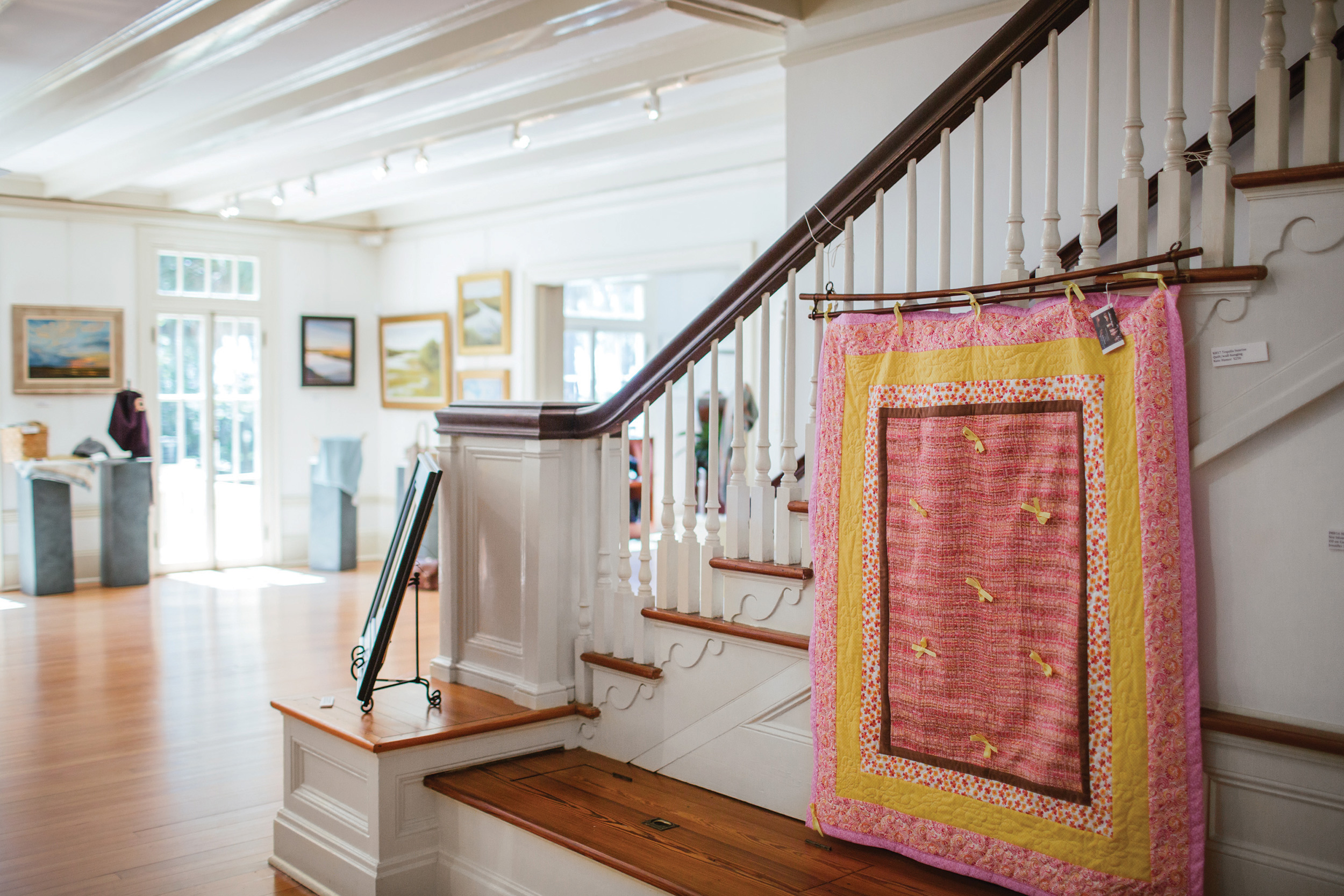 One such establishment is Whittle's Gift Shop, opened on Jekyll in 1964. Owner Nana Ferguson began working at Whittle's—purveyor of saltwater taffy, wind chimes, and other beachy souvenirs—in 1976. She's the type who is "everyone's Nana," according to her son John, and enjoys getting to know customers. "I get Christmas cards from all over the world," she says.
Whittle's and other Jekyll shops temporarily operated out of trailers to make way for construction of the Beach Village retail center, opened in 2015. The complex houses specialty shops and restaurants and a communal village green. One of its busiest tenants is the multipurpose Jekyll Market. It, too, is a family establishment, owned by Steve and Leigh Baumann as well as their daughter, Maggie, and a cousin, Matt McCown. The Baumanns have experience operating community-driven spots; they previously owned a longstanding bookstore in Jekyll's historic district. Now the market "has really become a gathering place for visitors and residents alike," says McCown.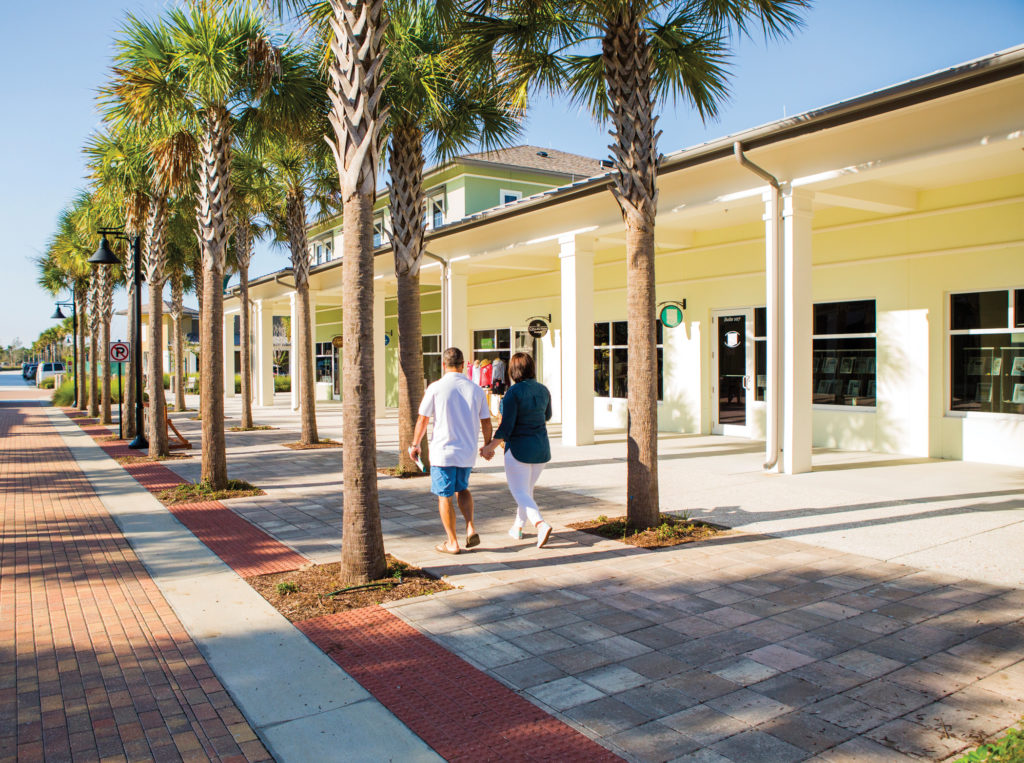 Some of Jekyll's oldest shops are located on Pier Road, an oak-lined promenade in the National Historic Landmark District. The Commissary, which now sells Georgia-made edibles, was built in 1915 as the island's general store. Most of the businesses in this area have an artsy bent, like the Cottage, which stocks American-made and fair-trade gifts, or Just By Hand, dedicated to handcrafted jewelry and art. All are independently owned, so in addition to your keepsake, you're likely to pick up a restaurant recommendation or a story about the island's history.
Shopping on Jekyll is best suited for wandering and discovering, but if you're on a mission, here are a few places to start.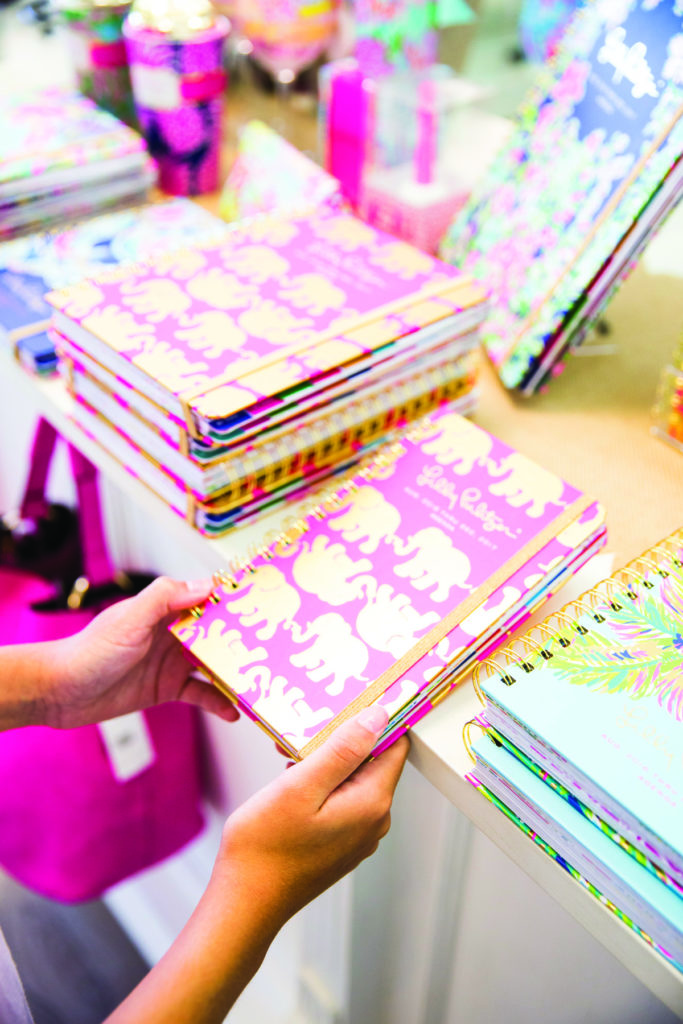 Tonya's Treasures
For girlfriend, wedding,and baby gifts
"People get married on the beach literally every weekend," laughs manager Alexis Lee, "so people are always coming in here for last-minute wedding gifts." She says a recent bride popped in and purchased a Kate Spade notebook in which to write her vows. Others pick up gifts from favorite lines such as Lilly Pulitzer, Bridgewater Candles, Mud Pie, the Naked Bee lotions, Simply Southern tees, and Scout beach bags and coolers. Nearly everything can be monogrammed or embroidered, says Lee, including beach towels, beach bags, and adorable kids' seersucker swimsuits. 21 Main Street, 912-319-2068, tonyastreasures.com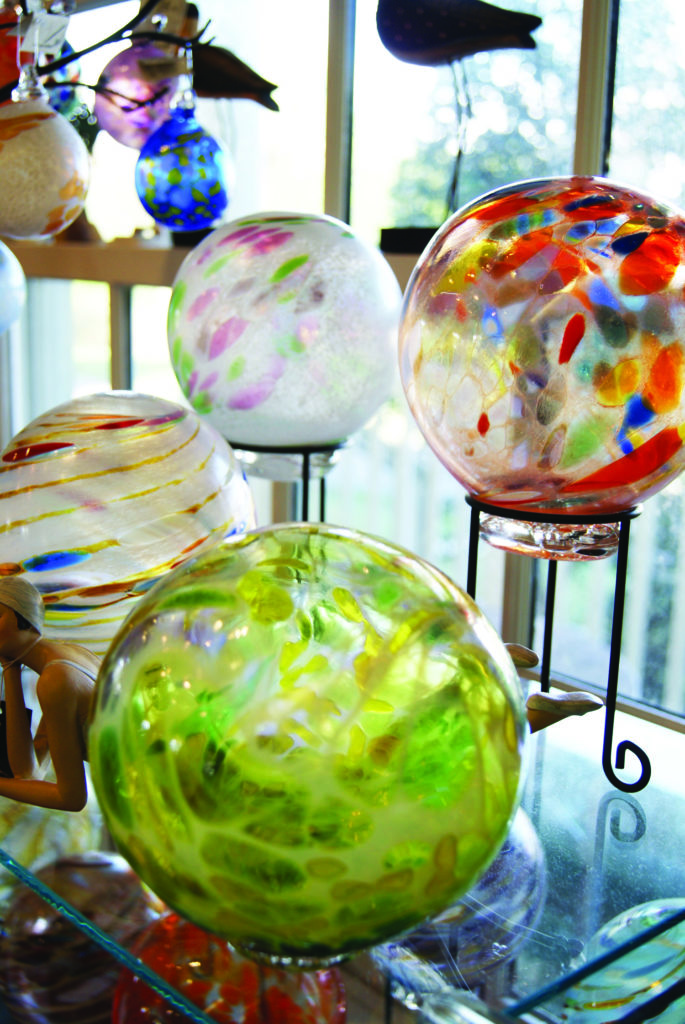 The Gift Shop at the Guest Information Center
Pit stop, coming or going
This cheery yellow cottage near the island's entry gate is an ideal place to pick up a book, T-shirt, or lovely token of handmade art or to chat with a guest information representative. For a truly unique keepsake, the gift shop is the only place on Jekyll selling official "Island Treasures," or hand-blown glass orbs made by local artists for the annual Island Treasures hunt each January. "No two are alike," assistant manager Darek Ikhwan says of the hollow glass balls, modeled after the glass floats fishermen used to mark their nets in the early 1900s. Available in two sizes (think ornament or grapefruit), the Island Treasures sold here are the only ones marked with a commemorative stamp. 901 Downing Musgrove Causeway, 912-635-3636
The Collection
Coastal apparel
Not feeling quite beach-ready? Outfit yourself from covered head to open toe at this Beach Village shop, packed with colorful bathing suits, sundresses, hats, polos, comfy tees, and sandals. Favorite brands for sand and surf include Sperry, Southern Marsh, Havaianas, Panama Jack, Southern Tide, and Scala. Don't forget eyewear from the likes of Costa, Maui Jim, and Ray-Ban. For kids' suits and beachwear, head over to their recently opened sister store, Snappy Turtle. 21 Main Street, 912-319-2056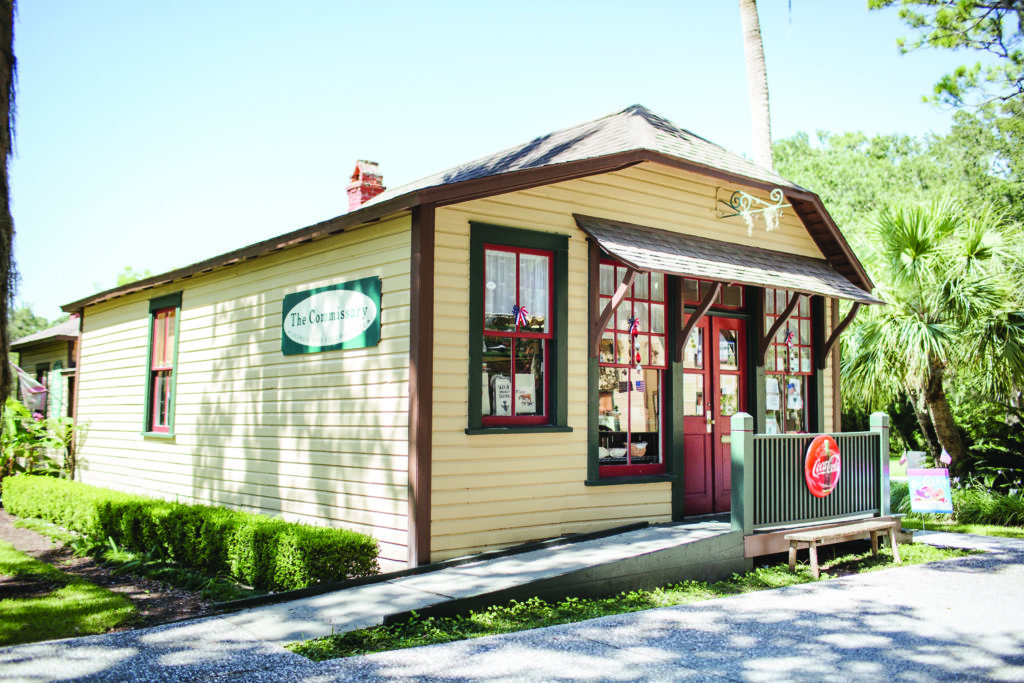 The Commissary
Gifts grown in Georgia
The staffs of Jekyll's wealthiest families once bought pantry staples from this historic cottage; today, owner Juliana Germano continues the tradition by offering locally made specialty food products such as jams, relishes, hot sauces, salad dressings, and pickled items (okra, garlic, dilly beans). Create your own gift basket with a combination of items such as the bestselling Vidalia onion and Georgia peach salsa ("people buy it by the case," says Germano), Vidalia onion barbecue sauce, a regional cookbook, and a bag of flavored coffee, available in "Jekyll Moonrise" and "Jekyll Sunset." 24 Pier Road, 912-635-2878, thecommissaryonjekyllisland.com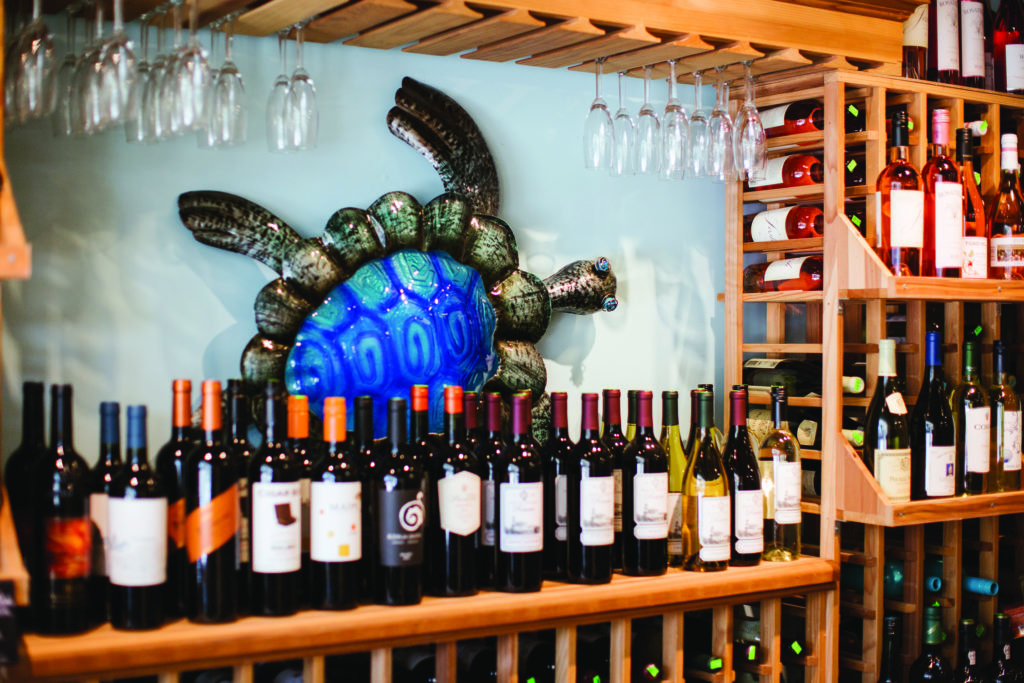 Jekyll Beverage Center
Stock your vacation bar
This isn't your typical liquor store. Instead, shoppers find a thoughtfully curated selection of beer, wine, liquor, and cigars. "We try to be funky, not generic," says manager Athena Jordan. While the shop carries many popular brands, it stands out with its large selection of rosés and Georgia craft brews. For the convenience of vacationers, many wines feature twist-off caps, and since glass is prohibited on the beach, Jordan and her team offer plenty of beverages (including wine) in cans. 31 Main Street, 912-635-2080
Jekyll Island Market
One-stop shop
This 8,400-square-foot food and shopping hub is stocked with vacation essentials. The gourmet market includes grocery staples, fresh produce, a salad bar, and straight-from-the-water seafood—plus a growler-filling station, a wine bar, a sweets shop, and three eateries. For beach supplies and gifts to take home, the straw-market-style Cabana Gift Gallery carries everything from Yeti coolers, T-shirts, and upscale sunglasses to hand-drawn postcards and candles. Owner Leigh Baumann says the cabanas were designed with historic Charleston City Market and gourmet European markets in mind. 11 Main Street, 912-635-2253, jekyllmarket.com
Built for browsing
Jekyll Island is home to some thirty shops and boutiques carrying everything from beach and athletic gear to home accents, art, and cigars. For a full directory of stores, visit jekyllisland.com/shopping. Or just set off and start exploring.