Tallu Fish loved Jekyll so much, she started a museum
By Jennifer Senator
As a child growing up in Waycross, Georgia, Tallulah "Tallu" Fish was captivated by Jekyll Island.
"Her mother would bring her to Brunswick and they would look across the river to where the millionaires were," says Sarah Tallu Schuyler, Fish's granddaughter. "She thought it was a magical place."
Years later, after a career in journalism (she was editor of the Democratic
Women's Club Journal of Kentucky and a columnist for The Courier-Journal in Louisville) and after the death of her husband, Fish found her way to Jekyll at last, hired by the state to establish the Jekyll Island Museum in Indian Mound Cottage, the former home of William Rockefeller.
"They gave her about 20 days to get it up and running," says Andrea Marroquin, Curator of Mosaic, Jekyll Island Museum. Undaunted, Fish moved into the cottage's servants quarters and got to work. She salvaged furniture, decorations, porcelain, and taxidermy from surrounding buildings and cottages to recreate the splendor of Club Era island life. The museum opened its doors on December 11, 1954, the same day the causeway to Jekyll Island opened to the public.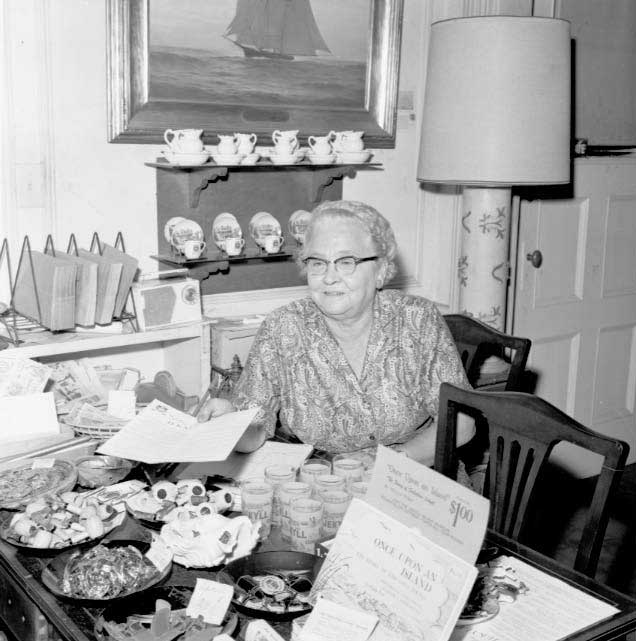 Known for her outgoing personality, Fish "was a woman with great big ideas," says Schuyler. One was to charge visitors to sit in the "Wishing Chair," an ornately carved chair that she may have found in the clubhouse.
"She came up with a story that if you sat in it, your wish would come true," says Marroquin. "It was one of the many ways she raised money for the museum."
Fish also put her 13 grandchildren to work when they visited every year.
"She would have us memorize a spiel about the Rockefellers and give tours to visitors," says Schuyler.
The children also recited Marshes of Glynn, Sidney Lanier's ode to the local salt marshes, and gathered shells and sand dollars to sell in the museum.
"She gave us a nickel for every sand dollar," remembers Schuyler.
Fish, who lived in Indian Mound Cottage (once known as Rockefeller Cottage) for more than eight years until moving into her home on Bliss Lane, helmed the museum through the 1950s and '60s. She compiled the museum's archives and wrote several books and numerous articles about Jekyll Island.
Fish died in 1971, but the Wishing Chair and other items she collected are still in Indian Mound Cottage, along with her portrait, painted by her daughter, Betty Smith. (Her family remains connected to Jekyll as well.
Schuyler and her husband live on the island, and Fish's 12 other grandchildren visit each year with their families.) A street near the beach, Tallu Fish Lane, was named in her honor.
"She loved this island and its stories, and everyone loved her, too," says Schuyler. "You would never forget her if you met her."