The art of doing absolutely nothing on Jekyll Island
By JACINTA HOWARD
Photography by BRIAN AUSTIN LEE
Jekyll Island is the perfect place to bask in the infinite joy of doing absolutely nothing. With its miles of gorgeous shoreline, lush maritime forests, and picturesque salt marshes, the island is ripe with beautiful scenery and natural wonders that inspire relaxed vibes. Whether the plan is to nap, take a leisurely stroll, chill in the shade with a cool drink, or abandon all plans entirely and let the salt air lift you through your day, the opportunities for hardcore R&R are bountiful.
---
Take a drive down the causeway, windows down
Let your worries float away with the breeze as you roll over the causeway, windows down, on the way to your escape on Jekyll Island. Rich salt marshes decorate the landscape, creating a poetic backdrop for a carefree cruise. And while the serene marshes have inspired writers and dreamers, the causeway is also a favorite location for birdwatchers. You'll have a good chance of spotting a soaring bald eagle, white pelican, or sea sparrow as you cruise. Remember, though: It's a chill 55 mph when you first roll past the Spanish-style entrance towers of the Causeway toward the island, but speed limits change as you get closer.
---
Relax at Driftwood Beach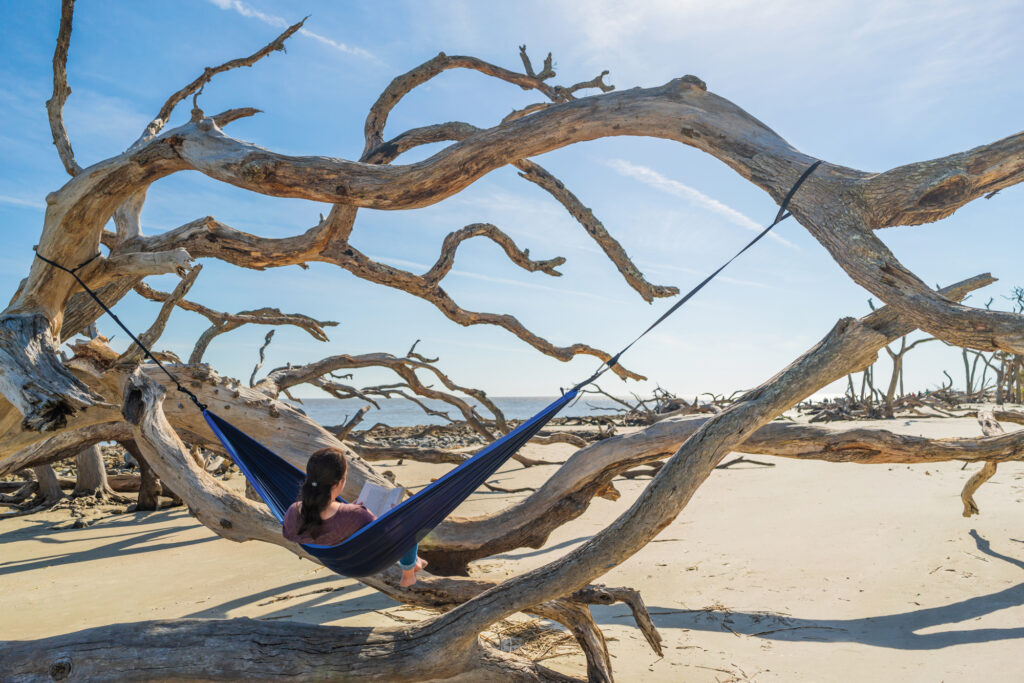 Allow the soft lull of ocean waves to coax you into complete tranquility at Driftwood Beach, known for its iconic fallen trees, carved and shaped by decades of erosion. Take a chair along to kick back and soak in the picturesque landscape, once a maritime forest but now lined with ancient tree trunks and weathered branches displayed like art on a sandy canvas. It's a stunning spot, a favorite for weddings and world-renowned photo shoots. Curl up with a book, or simply enjoy the rich splash of colors colliding in the sky at dusk. Tuck your toes into the sand, or make space to lay out a blanket on a balmy night, where clear skies, bright stars, and the smell of saltwater provide an intoxicating air of calm.
---
Get 'lost' on a maritime forest trail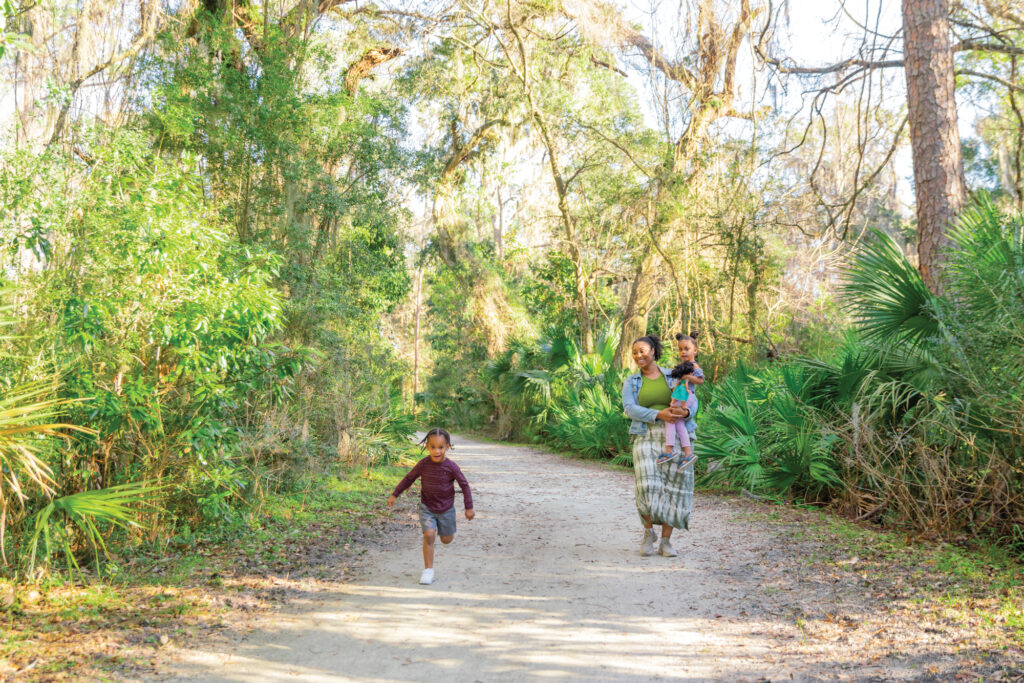 Wander the paths of the maritime forests, where sunbeams stretch through the canopy of towering oaks and southern magnolias. Take a leisurely stroll on one of the many trails to discover teeming wildlife, historic ruins, and lush vegetation. With more than a thousand acres of forest featuring miles of trail systems—including routes appropriate for any age—there's plenty of opportunity to lose yourself in all the leafy beauty.
---
Sit on the porch at the Jekyll Island Club Resort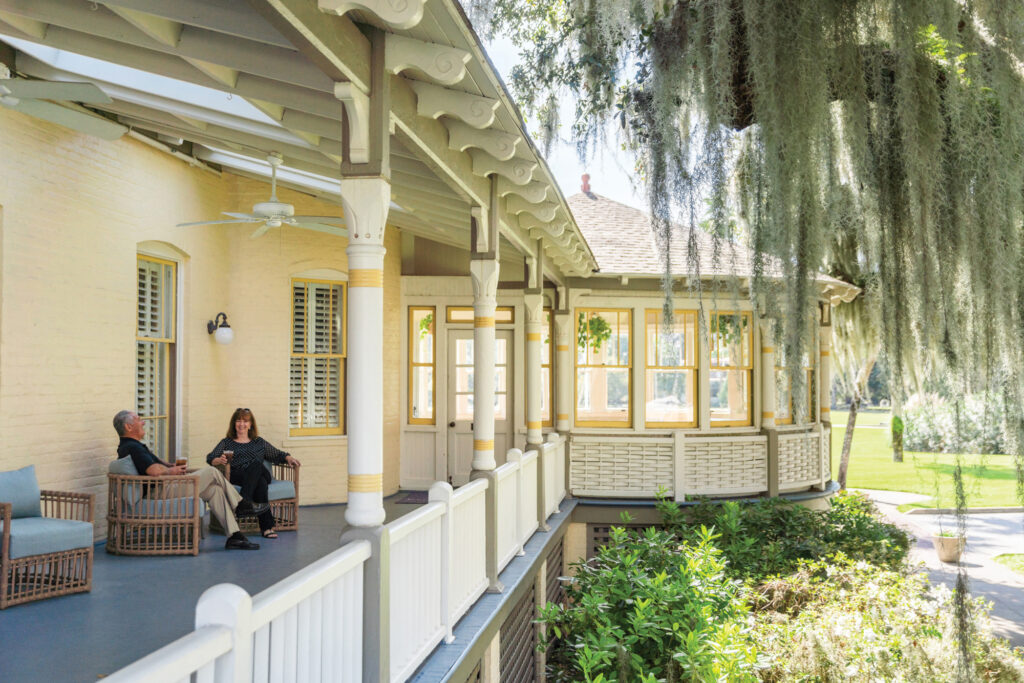 Gilded Age opulence and an historic charm make Jekyll Island Club Resort a must-visit for those who need to unwind. Once a retreat for some of America's wealthiest families, the original Jekyll Island Club opened in 1888 and was inducted into Historic Hotels of America in 1994. Its storied history and tasteful romantic ambiance have made it a popular haven for anyone seeking an escape. Disconnect and settle in on the porch rocking chairs while you sip your favorite cool drink and watch the breeze stir through the Spanish moss-draped oaks.
---
Snooze on the beach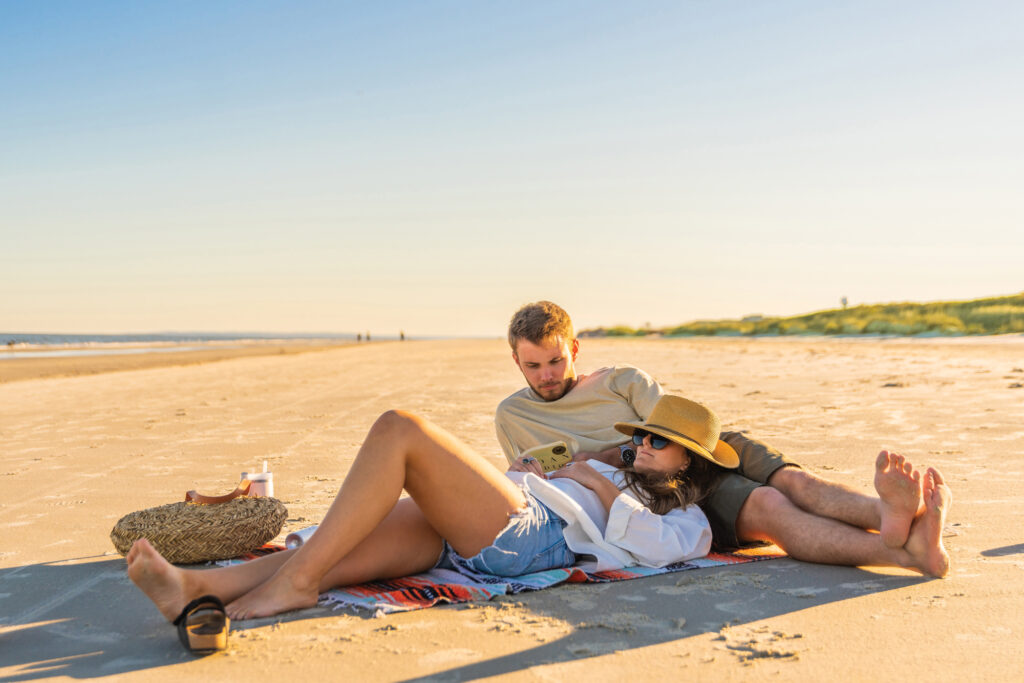 Nothing says relaxation quite like a good afternoon nap. And there's no better place to drift off into la la land than on the beach. With 10 miles of unspoiled shoreline, Jekyll Island beaches are a veritable sanctuary for those looking to take a load off. Pop over to St. Andrews Beach to unwind while birdwatching, or take in a sunset. Visit South Dunes Beach Park, where you're more likely to spot a shorebird than another person. Or revel in the wistful sea oats and pristine sand dunes of Glory Beach. No matter which hideaway you choose, soft waves and fresh ocean air provide the perfect ingredients for the ideal daytime doze.