By Josh Green / Photography by Gabriel Hanway
A clueless fisherman from the big city attempts to reel in a feast on Jekyll
I'm not too macho to admit I rarely go fishing because' for one thing' I feel sorry for the fish. Getting caught by the lips can't be pleasant. Another problem is that I have no patience. But the main issue is that I'm as clueless about fishing as an old man at a Fortnite convention. That much was obvious one December afternoon at Clam Creek Fishing Pier' off Jekyll's northern tip' when I baited my hook with dead shrimp (easier than worms) and extended my telescopic rod' a dusty' rusted $20 Walmart contraption I'd found in my garage. It just kept stretching. It was the length of a shuttle bus—ridiculously' embarrassingly long—and meant for hauling in very big fish offshore. To make matters worse' a winter storm was unfurling off the choppy Atlantic. Hardly idyllic conditions.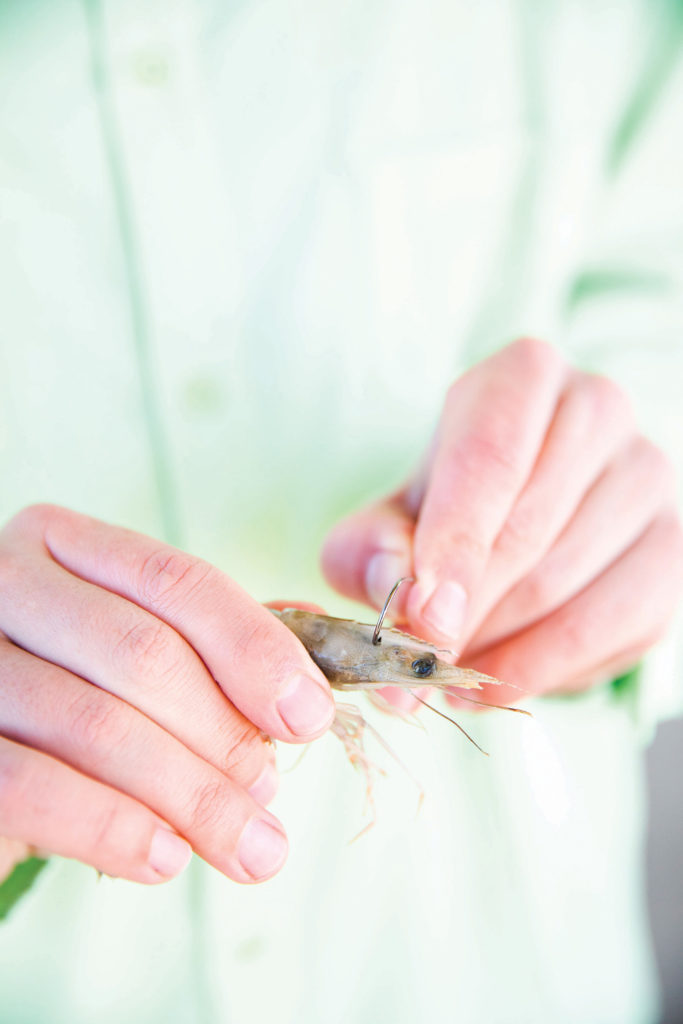 Suddenly' though' I heard a "Bwaaah!" beside me. It was my wide-eyed eldest daughter' Lola' seven' wearing a Santa cap and flowered raincoat, clutching her tiny fishing pole. Through her missing front teeth she hollered' "I think I got one!"
And thus our clumsy' island-wide fishing and crabbing expedition had begun.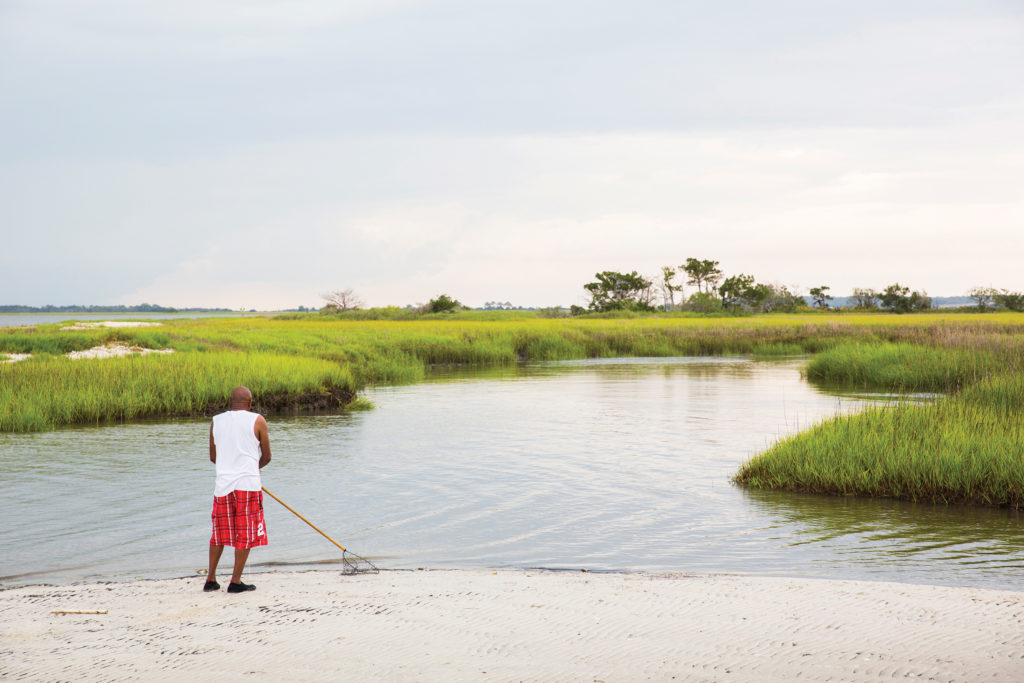 Before hauling my family down from Atlanta for our first Jekyll visit, I'd done some homework. Both Paul Medders' a friendly marine biologist with the Georgia Department of Natural Resources' and Captain Brooks Good of Coastal Outdoor Adventures pointed me to the pier as the island's best spot for crabbing—and where a novice angler might get his bearings and hook a sheepshead' whiting' or flounder before trying the beaches. This barrier island' it turns out' is a treasure trove of wildlife. It's the westernmost point on the Eastern Seaboard' basically due south of Cleveland' Ohio. And as part of the "Georgia Bight'" it's a tucked-away cove of marshes' creeks' and tributary rivers' all richly productive environments for marine animals' fish' and shellfish.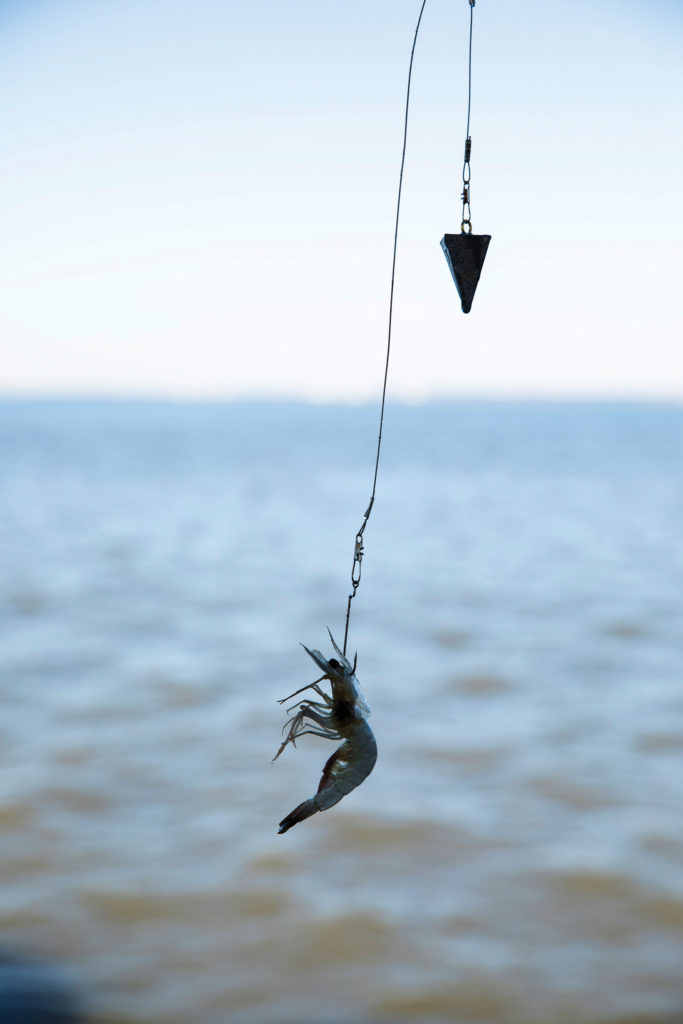 Several Jekyll and St. Simons charter captains are available for offshore excursions. Good's company, for example, offers a two-hour family excursion beginning at $350. For kayakers' fishing (preferably with non-gigantic poles) is popular in creeks and marshes. Options abound' as Medders explained' for shore fishing as well' and it's a "very common thing" for visitors (angling neophytes included) to reel in enough fish' crab' or shrimp to feed themselves. "There's a lot of good eating fish that can be caught at certain times of year in abundance'" Ben Carswell' the Jekyll Island Authority's director of conservation' told me later. But there's a Golden Isles golden rule' so to speak. "The ethical code'" said Carswell' "is just not being wasteful."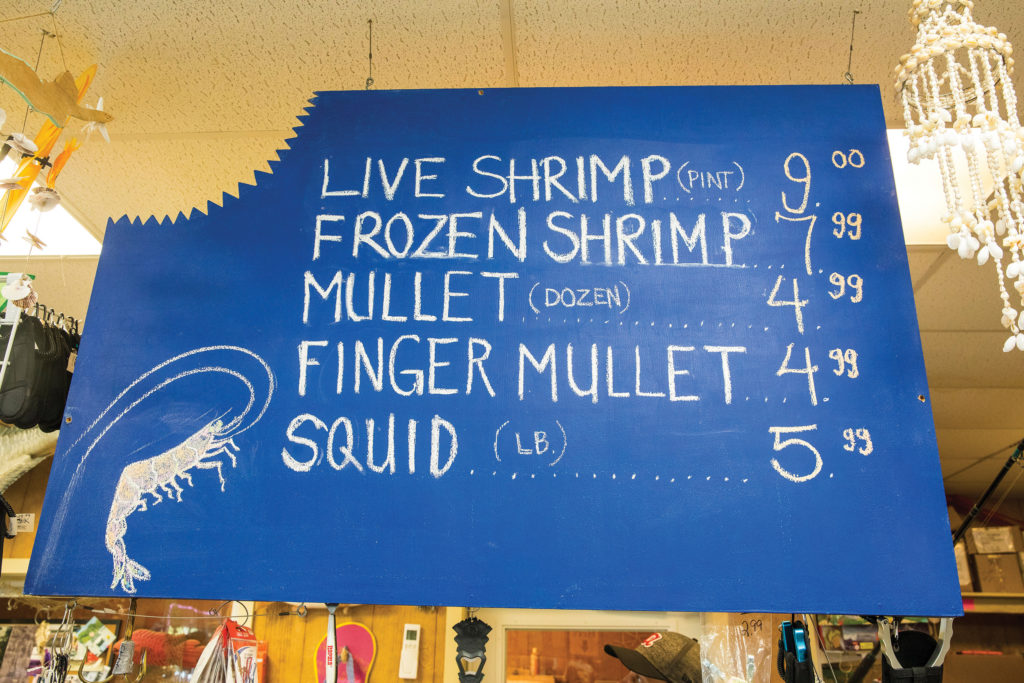 All the supplies we needed cost about $66' including a yearlong fishing license. (Tip: buy the license on your smartphone and take a screenshot so you'll instantly have a copy' in case DNR asks.) Lola and I swung into the Jekyll Island Fishing Center next to the pier and bought the basics: a bucket ($7.99); frozen shrimp bait ($7.99 for a bag that would've lasted two days); filet knife ($7.99); a two-ounce sinker and small hook good for swifter tides (generously attached for me by the staff); a crab basket ($14.99 with weight and strings); and two bags of chicken necks ($2.99 apiece) for luring crabs. In and out in fifteen minutes.
Back on the pier' Lola fought and caught her first fish' lugging it up by herself. My voice recorder captured me sputtering this nonsense to her: "Yes! It's a striper' or sheepshead. No' a pretty fish! A yellow fish!" Before she darted off to tell mom Lori and little sister Marley' four' I asked if she'd like to watch me try to clean it' as the pier has a measuring and cleaning station. Her face pinched at the very thought. So I wrenched out the hook and tossed back what Carswell later confirmed was a croaker' which are less commonly eaten and tough to clean anyhow.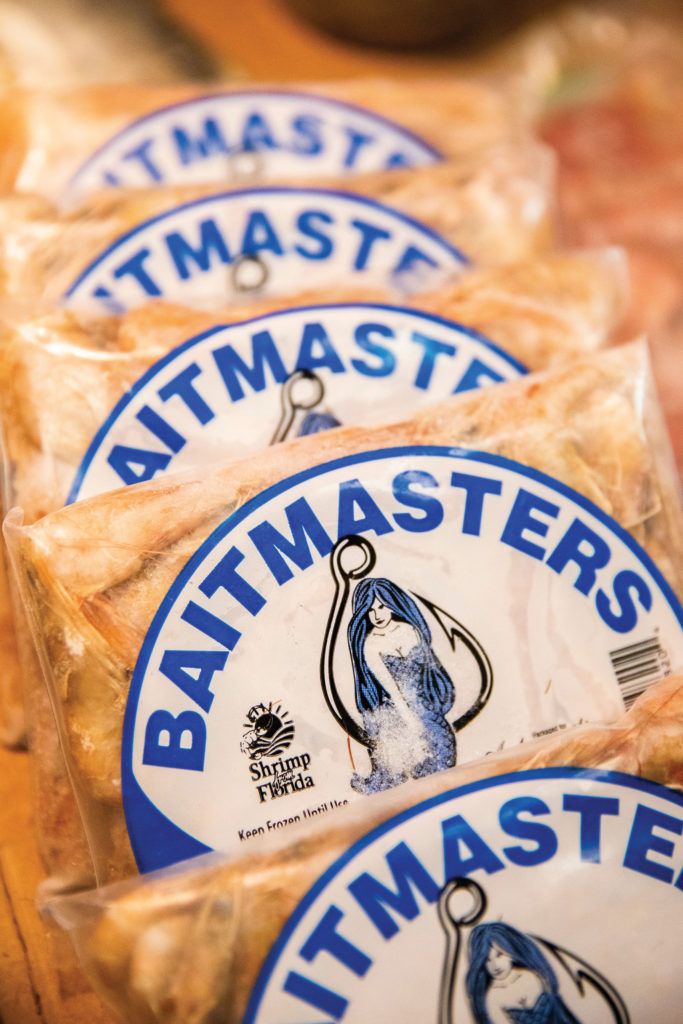 Elsewhere, I'd slowly lowered the baited crab basket into maybe six feet of water near the pier's pilings' checking it every fifteen minutes as advised. (Note: children can't stop themselves from pulling up the basket every twenty-five seconds.) On my third check' a thrillingly large blue crab was down there! But it was on its back with legs not entangled' and it slid off' sadly' halfway up.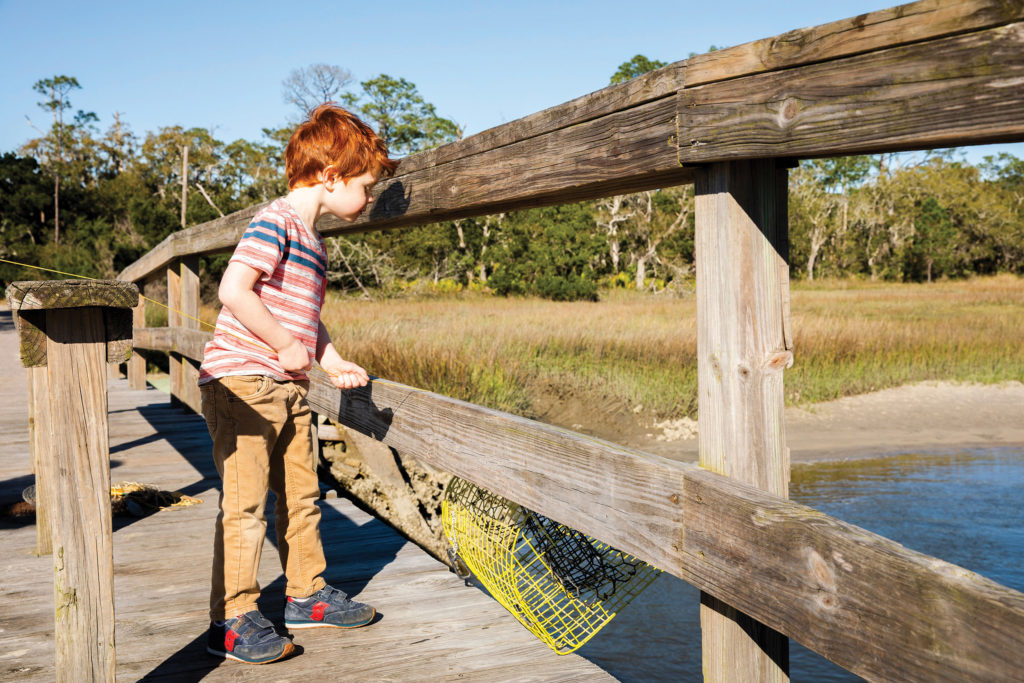 We moaned and moved on to a small bridge over nearby Clam Creek' another hot spot. But we'd missed high tide (check the free Go Outdoors Georgia app for tide schedules to avoid that)' and the water was too shallow. No crabs or fish but a grand view of golden marshes.
With cold rain starting to spit' we darted a few miles south to the brackish pond behind 4-H Tidelands Nature Center' a kid-friendly spot with ADA-accessible docks. Both Medders and Carswell said it's home to surprisingly large saltwater species' including the one-time state record pinfish. Within seconds of casting her shrimp' Lola nailed another croaker' and then another' both purplish and wonderful. Impatient Marley lugged the empty crab basket up and down' skimming her little fingers across the pond's surface. (I later learned this is a known alligator habitat' and little fingers should stay safely out of the water. Oops.)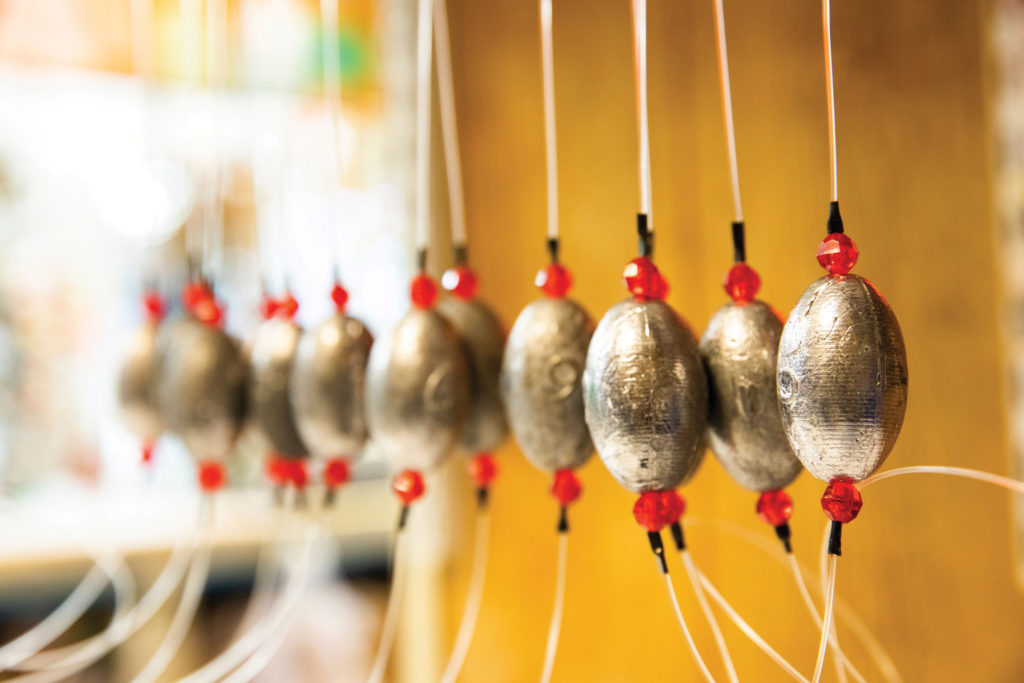 Our last stop' the true fiasco' was at the island's southernmost point near Glory Beach Park' where skies darkened and waves crashed in cappuccino swells. (Tip: shore fishing is easier on days your daughter isn't hollering, "I'm gonna get blown away!") We were resolute to catch just one more fish' and . . . we didn't. Shin-deep in oncoming tide' we laughed at the futility of trying to cast' although my ludicrous rod was finally in its element. When I noticed the girl was starting to really worry' longing for the sunny beaches she'd experienced the previous day while I was working' we tossed the shrimp into the sea and loaded up.
Final tally: Dad' zero bites (renegade crab notwithstanding). Daughter' three fish (enough for a sandwich or two' I'm sure). Six hours of hapless adventure. And one day we'll never forget.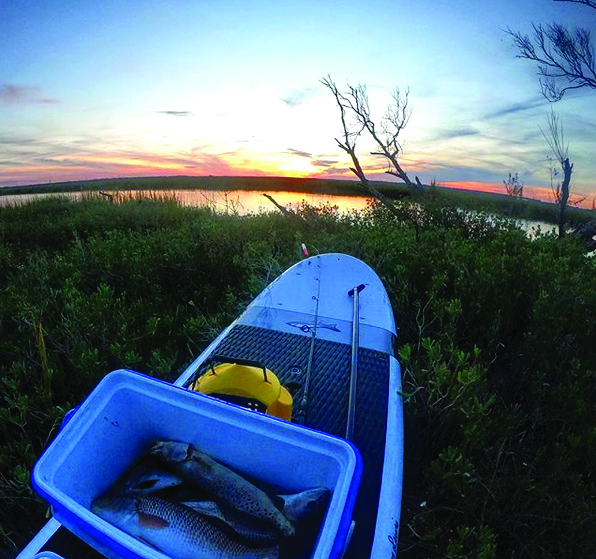 So, What's SUP?
SUP fishing (short for standup paddleboarding) is for Jekyll visitors who prefer to combine adventurous exercise with their casting. Anyone with a basic grasp of SUP fundamentals can take tours offered by Golden Isles native Jason Latham' a professional standup paddle surfer ($65 per hour' all equipment provided). Latham's adept at finding fish around the island's oyster beds' marshes' and manmade structures. He stores the hauls in a cooler that doubles as a seat' and tour patrons typically take home a meal's worth. But the ultimate experience is a "Golden Isles Sleigh Ride"—hooking something big that tugs the board around' which "really gets your blood flowing!" says Latham. For bookings and more info' visit jlaysup912.com.