A chest full of gold doubloons would be sweet, but these real-life finds suit some folks just fine
By DENISE K. JAMES
Photography by BRIAN AUSTIN LEE
Songs, stories, and films have long told of mysterious treasures beneath the surface of the ocean. Some who stroll the shores of Jekyll Island have seen them firsthand. An assortment of fascinating (if not particularly valuable) items—whole boats, a piano, a rubber duck or two—have made their way to Jekyll's beaches, washed up with the tides and into local lore …
---
Chinese Rubber Ducks
The book Moby-Duck tells the story of the 1992 wreck of a cargo ship carrying bath toys from China, including 28,000 rubber ducks. "The Department of Natural Resources [DNR] told us we might find some," says Jeannie Martin, who previously led the Georgia Sea Turtle Center's Marine Debris Initiative. "So when we found the ducks, which is not uncommon, we confirmed their origin with the code on the bottom. They looked like regular rubber ducks!"
The Chinese-made ducks—Martin said only a couple were found on Jekyll—were sent to the DNR, where they are used in research about oceanography and currents, according to Martin. "The ducks could have gone down and around South America or on a more northern trek and come back down," she says. "Or all the way around!"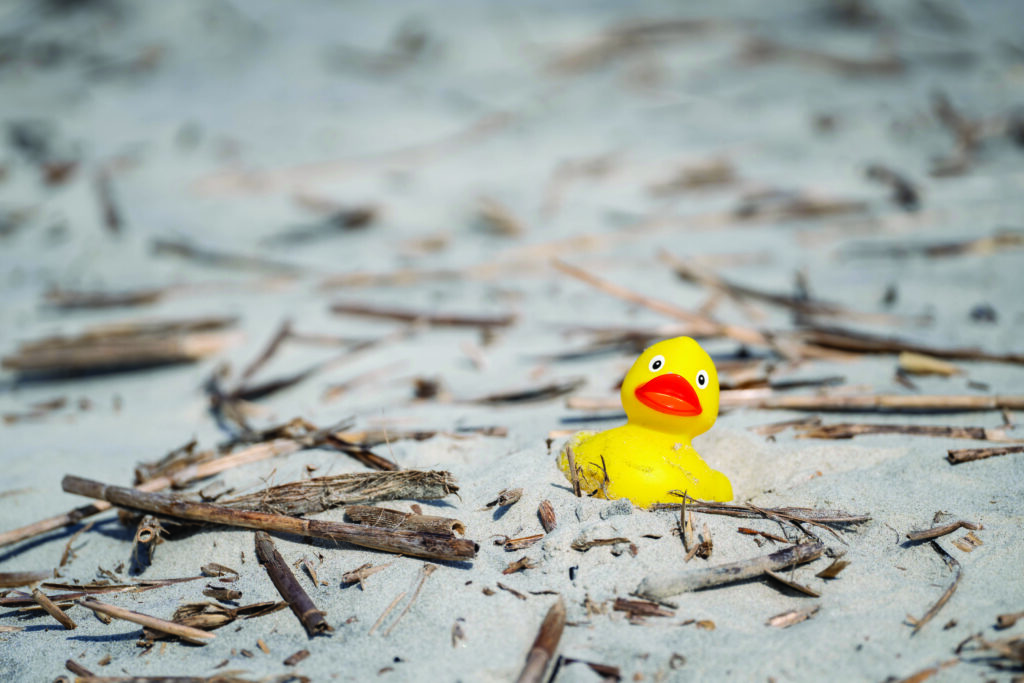 ---
Native American Arrowhead
Mara Weber, husband Greg, and daughter Gracie love the natural beauty Jekyll offers and, one day during a seashell search, they found something unusual: a Native American arrowhead. "It was right before my daughter's birthday in 2017, and she wanted to find whelk shells," Mara says. The family headed for the tidal pools of Driftwood Beach, taking the suggestion of Ray Emerson, the lead park ranger for the Jekyll Island Authority. That's where they spotted the object. They later learned their discovery was between 3,000 and 5,000 years old.
The arrowhead is now on display as part of an exhibit at Mosaic, Jekyll Island Museum. Usually twice a year the Webers visit the museum, where they check up on the spearhead and some soapstone pottery that they discovered on the same trip. "When we come down, we go to the museum and take a picture with our spear point," Mara says. "We want other people to see it, too. And my daughter is doing a 4-H project on geology."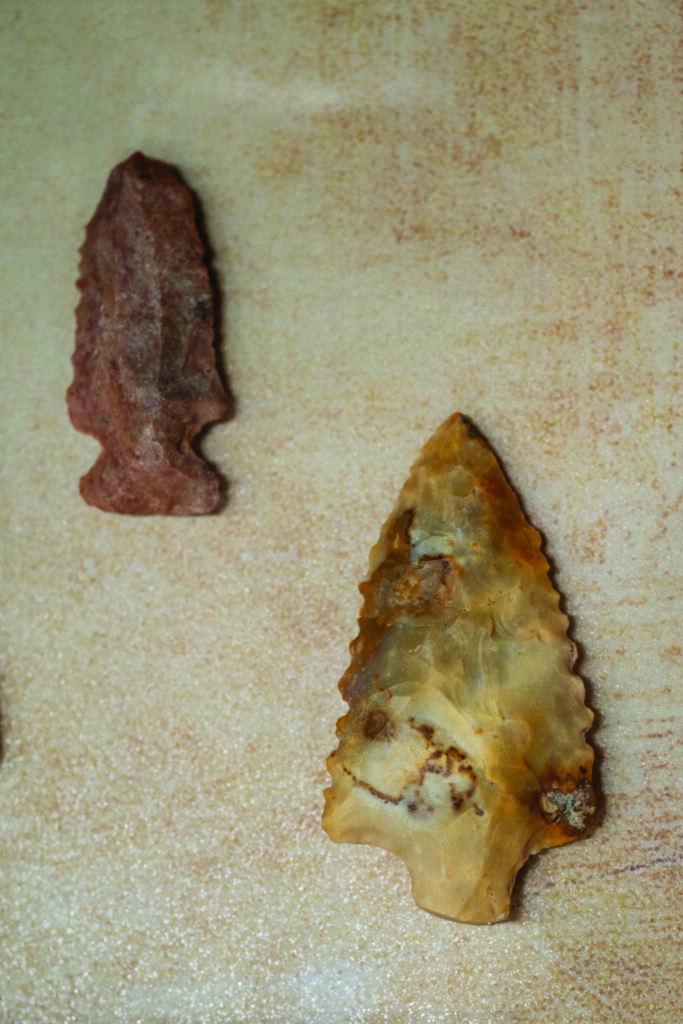 ---
The Mary Ann Shrimp Boat
The shrimper Mary Ann sank in 1995 on the south side of the island after a rising tide flooded the 60-foot vessel. In the years since, the beach has grown so much that now just the top of the ship, a few feet of its mast, emerges from the sands, a stark and poignant reminder of the power of tides and the shifting nature of barrier islands.The entirety of the Mary Ann, all 60 feet of her, is about 30 to 40 feet below the sand.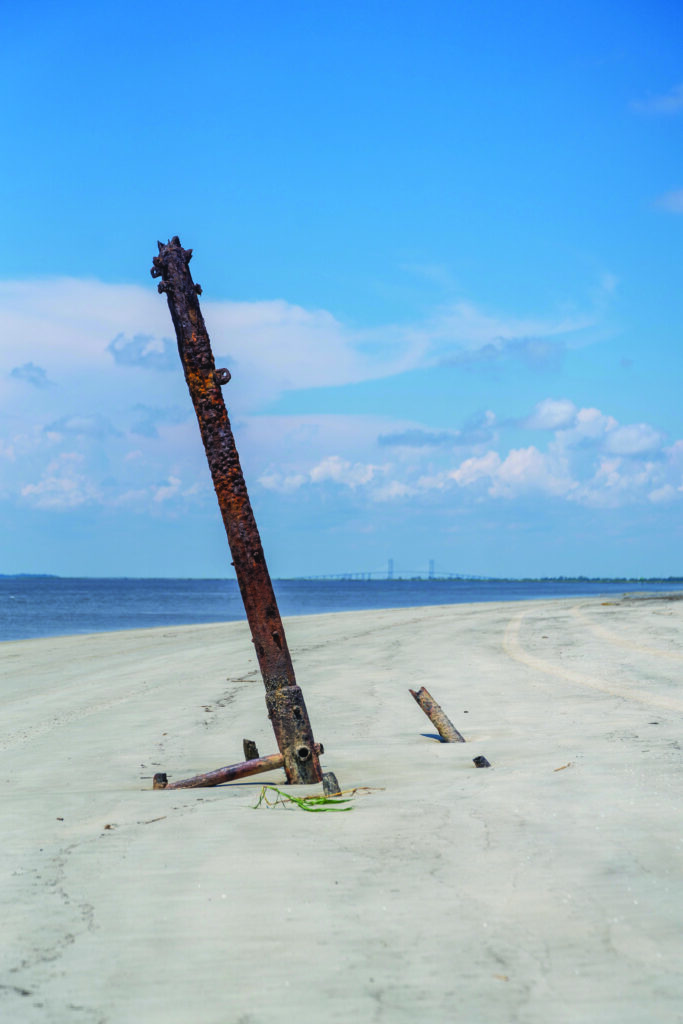 ---
Pine Rosin
In the words of historic preservationist Taylor Davis, it's common for "elements from other eras to pop up on the beach" after severe weather. This can include materials from pine trees used to build ships, things like turpentine, rosin, tar, and pitch.
Pine rosin recently turned up on Jekyll, along with the iron base of a ship mast—possibly from a vessel, Davis surmises, wrecked in the late 19th or early 20th century. Though island officials prefer to leave such items as they are found, visitors posting on social media—some mistaking their finds for amber—prompted ranger Emerson to bring the turpentine and rosin indoors for safekeeping. Even more has washed ashore since.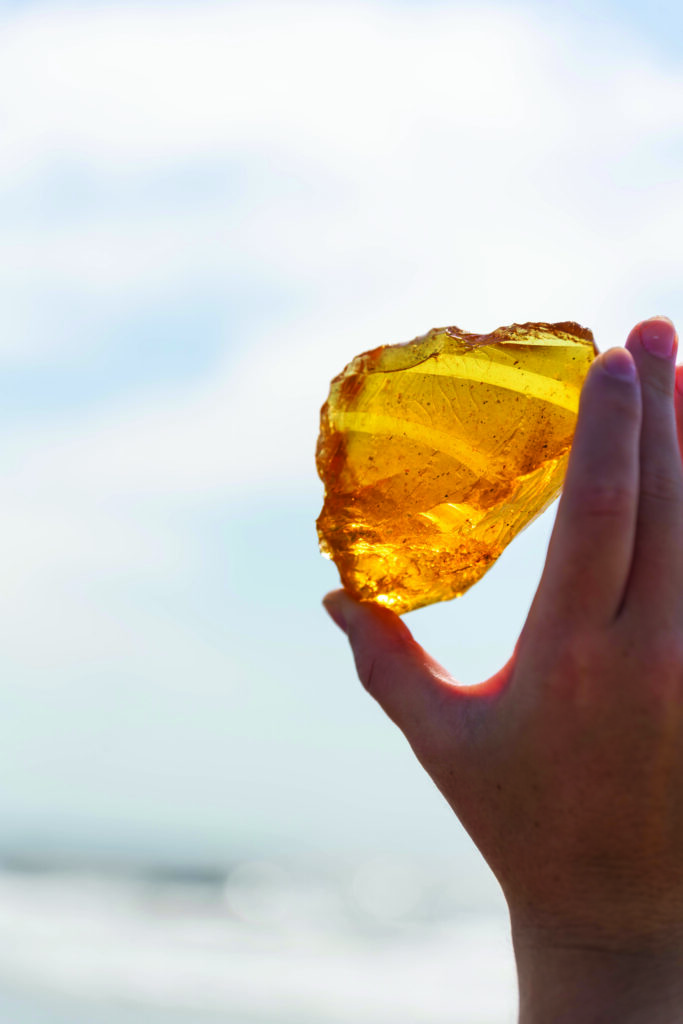 ---
Heinz Salad Cream Bottle
Recently, an empty condiment bottle for a British salad cream—common on salads and sandwiches in the UK—showed up from across the pond on the shores of Jekyll, discovered by ranger Ayron Moleen during her regular beach patrol. While picking up trash from the dunes, she spotted the bottle, pulled it from the sand and saw the words "Heinz of the U.K." on its bottom.
Moleen decided to keep it, placing it in the back of the club car. Although the bottle was accidentally discarded by a colleague, it was retrieved and is now sitting on the ranger's desk. "I'm definitely the 'one person's trash is another person's treasure' type," she says. "It's probably one of the cooler things I've found and verified."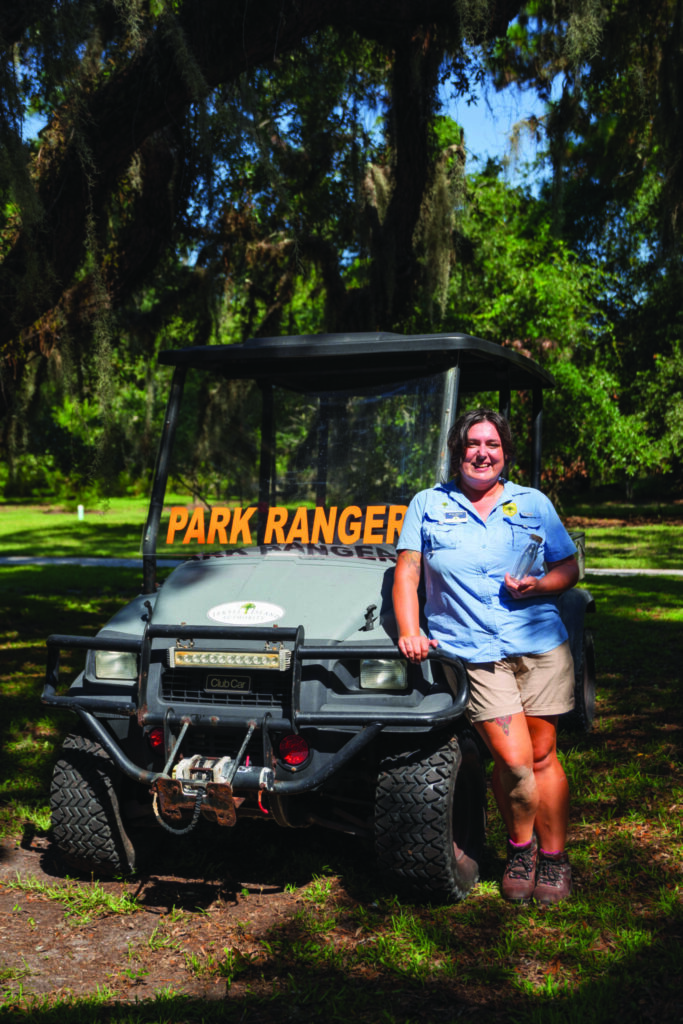 ---
Piano
Years ago, an upright piano was discovered on Driftwood Beach. "Our best guess for how it got there was a wash-in from a recent storm," Martin says. "There weren't any obvious vehicle marks or drag marks through the woods to where it was." It took four or five people to remove it. "The keys clunked a little when we pressed them," Martin says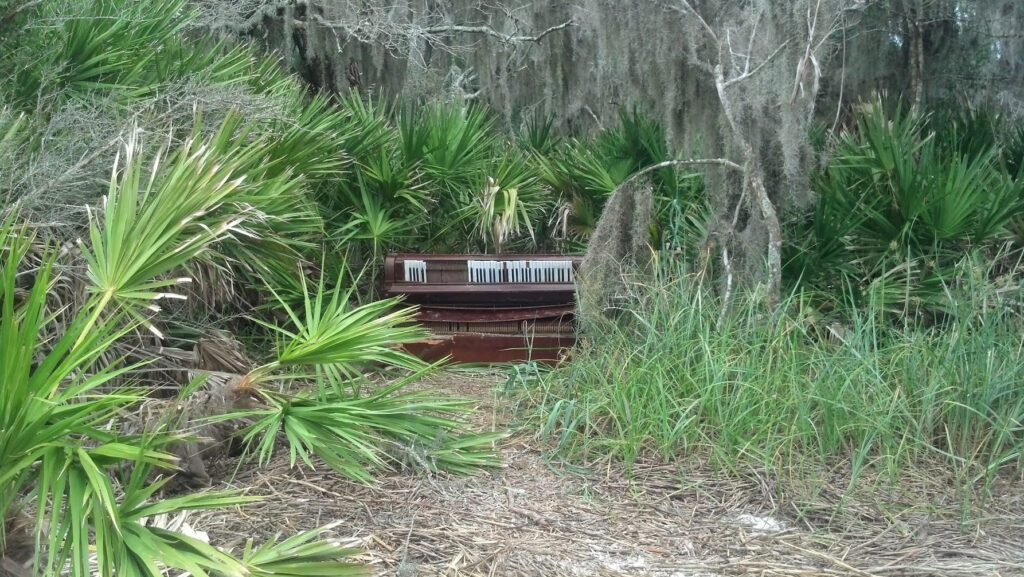 ---
Glass Fishing Floats
Glass fishing floats, or Japanese glass floats (page 64), have long been part of the commercial fishing world, used to keep nets and other fishing gear afloat. The term Japanese glass floats is a bit misleading because they were not used in Japan until the 20th century. But the beauty we associate with the floats is a result of the Japanese eye for design. Today, these floats are considered a collector's item, especially since the advent of the more mundane plastic floats. Many have ended up on Jekyll Island. Each winter, local authorities hide a number of the treasures throughout the island for hunters young and old to discover. It's part nostalgia, part marketing endeavor, an island-wide game of "hide-and-seek" that prompts visitors to get out and discover the beauty of Jekyll Island. It's been a southern tradition now for more than two decades. Visit jekyllisland.com/island-treasures for how to find your own one-of-a-kind glass treasure.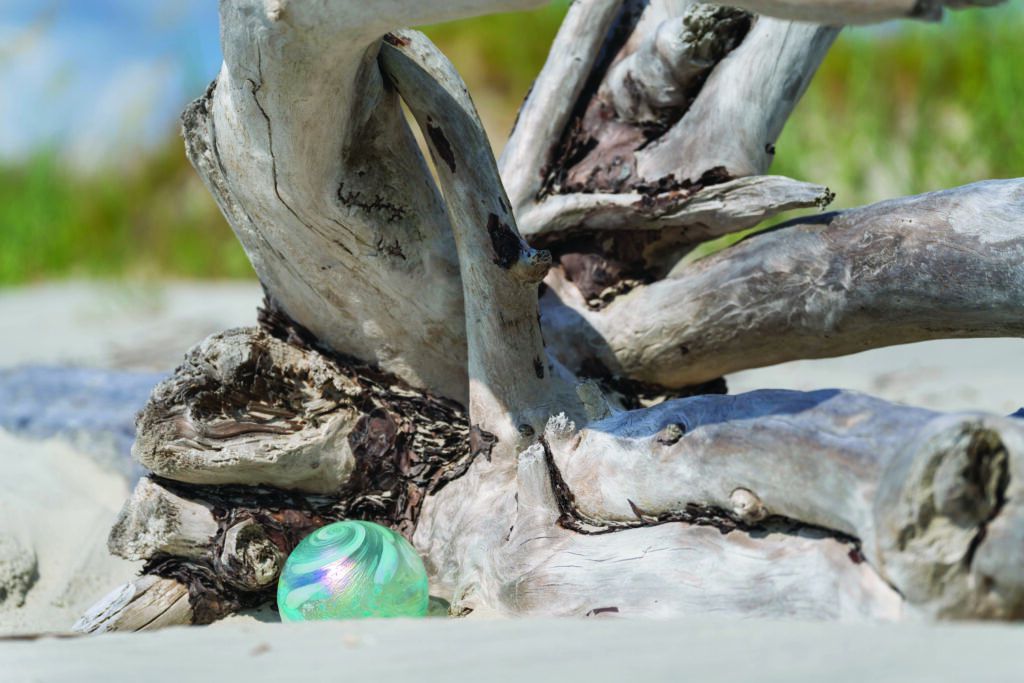 ---
Please Do Not Disturb
Remember, artifacts on public lands or in public waters—even those that might look like natural treasures or someone's discarded trinket—are not to be taken home as a prize. Jekyll Island is a state park, and is covered under Georgia law, which prohibits removing artifacts from any property without written permission from a landowner (like the Jekyll Island Authority).