Jekyll's amphitheater, once a cultural fixture, awaits its encore
By Tess Malone
Through a sea of Spanish moss in a forest just north of the firehouse on Stable Road is an amphitheater. More than 40 years ago, its 2,000 seats were filled with residents and tourists watching popular musicals as wood storks soared overhead and stars lit the stage.
Today, the venue lies in wait for the next curtain to rise.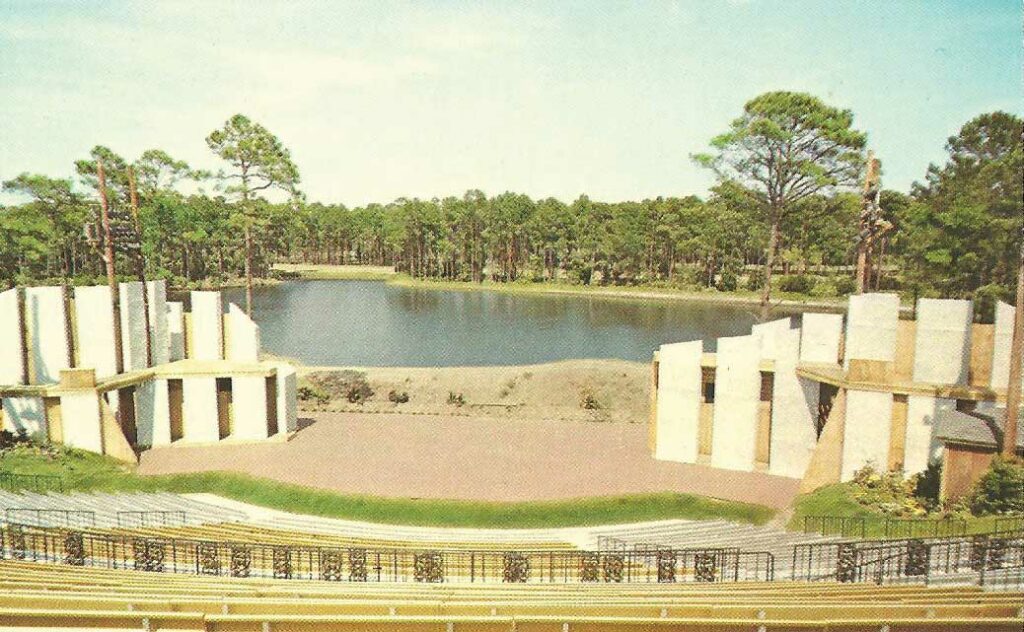 After it was built in 1972, the amphitheater quickly became the center of the island's rich theater scene. North Carolina playwright Paul Green brought history to life in the musical Drumbeats in Georgia, advertised as "the story of a state's birth and struggle." Running for three summers from 1973 to 1975, the theater helped revitalize other historic structures on the island, including the servants quarters and Villa Ospo Cottage, which provided lodging for dozens of performers.
The amphitheater continued to be a hub for musical theater over the next three decades. Various university companies took up residence. Florida State University produced as many as four shows there every season until 1983, when the University of Georgia theater department took over for four years. By 1989, Valdosta State University produced plays there.
Longtime Jekyll resident Pat Overholt remembers seeing five Broadway musicals a season at the amphitheater with her fellow island residents and those from elsewhere in Glynn County. The theater companies were regional, but they employed homegrown talent, so locals could watch their neighbors perform. Attending shows became a regular part of island culture.
"We arrived on Jekyll Island in 1987 and saw shows there for about 15 years before it was closed," Overholt says.
When Valdosta State University left in 2004 after state budget cuts, the theater's owner, Jekyll Island Authority, expanded programming. Visitors could catch film screenings and concerts. But the amphitheater closed in 2005 and, in the years since, has fallen victim to the elements. Hurricanes have damaged the stage beyond repair.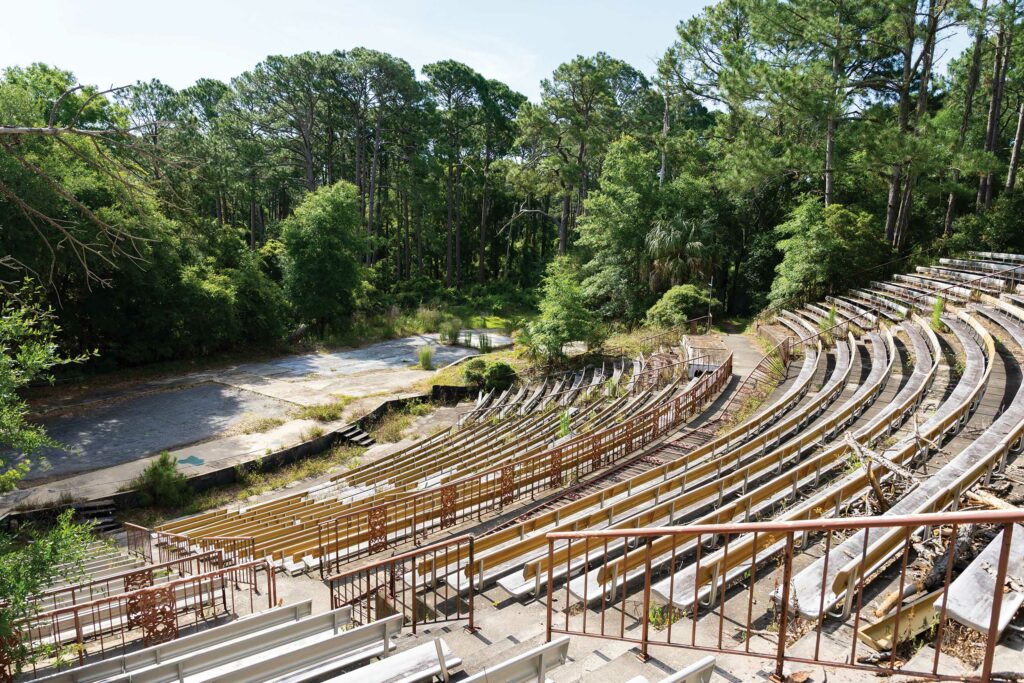 Since at least 2013, some have been looking for ways to restore the famed venue and bring back the musicals that once graced the stage. Though other
developments across the island have taken priority in recent years, reviving the amphitheater is still on a lot of to-do lists.
In late 2019, JIA executive director Jones Hooks noted interest among some local hoteliers to reopen the amphitheater as an events space. He suggested that a promotions company might want to partner with the hotels to draw musical acts and other entertainment options.
While the venue would need renovations to its stage, its concrete-and-metal bleachers are mostly intact. And the setting itself—next to a pond, nestled among the trees on the west side of the island—makes the amphitheater a one-of-a-kind Southern showplace just dying for a show.
A second act may yet be in the wings.