Here's a hearty meal straight from the island's rich culinary history
BY ALLISON ENTREKIN
Food and drink have been an integral part of Jekyll Island's culture throughout its history. Native Americans cooked fish over open fires. Colonial settlers brewed the state's first beers. Jekyll Island Club members entertained with large dinners, and State Era residents experimented with fancy seafood dishes. Here, we share historically inspired recipes that bring the flavors of Jekyll's past to present-day kitchens.
Appetizer: Betty's Oyster Rockefeller
Yield: 6 Servings
1 cup butter
½ cup flour
2 cloves garlic, minced
½ teaspoon salt
¼ teaspoon cayenne
1 cup chopped onions
½ cup chopped parsley
2 packages frozen chopped spinach, thawed & drained 
¼ cup anchovies, minced
1 ounce absinthe or sherry
3 dozen oysters on the half shell, 1 cup juice reserved
Rock salt
Melt butter in a large sauce pot, stir in flour, and cook five minutes. Do not brown. Blend in oyster juice, garlic, salt, and cayenne. Place onions, parsley, spinach, and anchovies in a food processor and combine. Add to pot and simmer, covered, for 20 minutes. Remove cover and stir in absinthe or sherry; cook until thickened. Top each oyster with sauce and put half shells in a broiler over rock salt (which cradles the oyster and helps to distribute the heat) for about 6 minutes, or until edges of oysters begin to curl.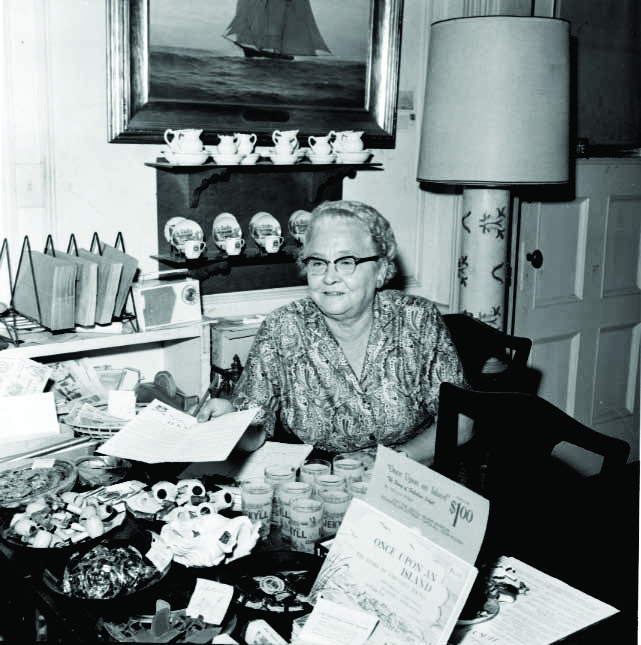 This recipe comes from a State Era seafood cookbook entitled A Pretty Kettle of Fish, by Tallu Fish. It was Fish who helped open the Jekyll Island Museum on December 11, 1954, the same day the Jekyll Island Causeway opened to cars on the island. Until her death in 1971, Fish compiled the museum's archives and wrote books about Jekyll. The title of her seafood cookbook was a play on words: Yes, there were fish in many of the recipes, but to her, the prettiest kettle of ''Fish" were her 13 grandchildren. — Excerpted from A Pretty Kettle of Fish: Jekyll Island Seafood Cookery, by Tallu Fish
Entrée: Chicken Stew
Yield: 15 servings
5-pound chicken
½ pack extra chicken gizzards
1-2 bunches scallions, chopped
1 pound bacon
1 medium onion, diced
2 stalks celery, diced
2 carrots, chopped
1 tablespoon minced garlic
8 tablespoons butter
8 tablespoons flour
1 tablespoon paprika, or to taste
8 potatoes, chopped
1 pint half and half
2 tablespoons flour
2 tablespoons cornstarch
1 cup water
Sprinkle chicken with salt and pepper. Place in a large stew pot, along with extra gizzards. Add water to cover. Boil about 1½ hours, until falling off the bone. Let cool about 20 minutes. Debone chicken and place back in broth. Sprinkle scallions in broth. Cook bacon and set aside. Pour off some of the bacon grease, then sauté onion, celery, carrots, and garlic in remaining grease. Add butter and flour mixed with paprika to vegetables. Add everything to broth, stirring well. Chop bacon and add to broth. Add potatoes. Season to taste with parsley, thyme, salt, garlic powder, pepper, seasoned pepper, white pepper, red pepper, and dill. Add half and half. Simmer about an hour, until potatoes have cooked through. In a separate bowl, mix flour and cornstarch, then add water. Add to pot, stirring constantly to desired thickness. Simmer until ready to serve.
This recipe is emblematic of the kind of dish that Major William Horton, who settled Jekyll Island during the Colonial period, might have eaten. The Georgia Trustees granted Horton the island for one pound and one shilling in 1735; with the help of indentured servants, Horton went on to plant crops and build a tabby home (now known as the Horton House), the facade of which still stands today. This recipe would likely have been prepared in a large pot over an open flame and accompanied with beer; Horton planted hops and rye and founded Georgia's first brewery on the island. — Recipe courtesy of Gretchen Greminger and Mosaic, Jekyll Island Museum Curator Andrea Marroquin
Side Dish: Corn Pudding
Yield: 8 servings
9 ears corn, husks and cornsilk removed (or substitute 2 cans cream-style corn and 2 cans whole-kernel corn, drained)
2 cups milk
3 eggs
1 teaspoon salt
1 teaspoon sugar
Optional: 8 ounces cheddar cheese, 1 teaspoon seasoned pepper, 1 teaspoon cumin or paprika, and/or 1 teaspoon minced garlic.
Fill a large soup pot with enough water to cover corn and bring to a boil. Boil corn approximately 10 minutes. Remove corn from boiling water and allow to cool for 10 minutes. Grate corn on a coarse grater into a 9×13 (x 2.5 deep) casserole dish. Add milk, eggs, salt, and sugar (and any optional ingredients, as desired). Stir until well blended. Bake at 400 degrees for 50-60 minutes, until it sets (it should not jiggle when shaken) and top is golden brown.
Jean Brown Jennings, wife of Standard Oil Director Walter Jennings, acquired this recipe from a friend in August 1896. In 1927, the Jennings built a modern stucco mansion called Villa Ospo on Jekyll Island; Walter was president of the Jekyll Island Club, and he and Jean often welcomed island newcomers into their home. This recipe is something Jean might have offered at one of her many Club-era parties. To update this recipe for modern palates, consider including adding optional ingredients (see recipe) to the mixture. — Recipe from Mrs. J.A. Weekes, gathered by friends in the book of Jean Brown Jennings, wife of Club member Walter Jennings
Dessert: Apple Charlotte
Yield: 6 servings
1 loaf white bread, divided
10 tablespoons melted butter, divided
2 medium apples, divided 
4 tablespoons brown sugar, divided
2 tablespoons molasses, divided (optional)
¼ teaspoon cinnamon
Butter a 1.6-liter round CorningWare souffle dish. Remove bread crusts and cut as much bread as needed into shapes (rectangles, half circles, squares, triangles, as needed) to tightly fit the sides and bottom of the mold. Brush one-third of the melted butter on both sides of the bread pieces. Use buttered bread to line the bottom and sides of the dish.
Jean Brown Jennings acquired this recipe from her friend, Mrs. J.A. Weekes, in August 1896. Jennings' home on Jekyll Island, Villa Ospo, had a magnificent great room with easy access to sprawling, cypress-lined grounds. This dessert is something she might have served to members of the Jekyll Island Club when she and her husband Walter were in town. — Adapted from the original recipe by Mosaic, Jekyll Island Museum Curator Andrea Marroquin