M.E. Thompson didn't last long as governor, yet his deal for Jekyll stands the test of time
BY REBECCA BURNS
For Georgia political junkies, M.E. Thompson occupies a quirky niche as one of the principals in a bizarre dispute over the state's governorship. For the rest of us, Thompson's legacy is more significant: He had the vision to acquire Jekyll Island in one of the country's most impressive land deals.
Born into poverty in southeast Georgia, Melvin Ernest Thompson—who always went by "M.E."—was raised by his mother, who was widowed when he was just a toddler. Thompson worked his way through Emory University as a dishwasher and brush salesman and continued his studies at the University of Georgia. He rose from teacher to administrator to superintendent of Georgia schools, which sparked greater political ambitions. In the mid 1940s, he served as the head of Georgia's revenue department, scrutinizing budgets and resolutely looking out for regular Georgians.
While heading the revenue office, Thompson hiked alcohol taxes to increase education spending. He also formed a plan to turn one of the barrier islands on Georgia's 100-mile coastline into a state park. When political opponents later criticized the Jekyll purchase, he gleefully touted the ways that the state-owned island would offer vacation destinations to suit any budget. Thompson himself enjoyed many trips to the beach. His personal photos in the archives at the University of Georgia include snapshots of family trips to the coast, including both Tybee Island (on the border of Georgia and South Carolina) and Jekyll Island.
"Jekyll had great hidden potential," says Tom Alexander, the director of historic resources for the Jekyll Island Authority. "It was a natural gem, with beautiful buildings and a fascinating history. Practically, it was close to the mainland which would make it easier for everyday people to visit."
Thompson zeroed in on Jekyll in 1946, but put his plans on pause when he ran for the newly created position of lieutenant governor. He won, without ever delivering a campaign speech. That should have cemented his place in history, but it led to one of the more bizarre chapters in Georgia politics. The winner of the governor's race—Eugene Talmadge—died three weeks after the election. Departing governor Ellis Arnall claimed the job should stay with him. Thompson insisted that, as lieutenant, he should become governor. And Talmadge's son, Herman, who'd solicited write-in votes as his father battled illness, said Georgia's people wanted him.
In a dramatic scene in the Capitol early in 1947, lawmakers awarded the governorship to the younger Talmadge in a booze-fueled early morning vote, according to the book "The Three Governors Controversy: Skullduggery, Machinations, and the Decline of Georgia's Pro­gressive Politics." The Georgia Supreme Court overturned the vote and named Thompson acting governor through 1948. He assumed office on May 18, 1947.
Thompson made the most of his brief tenure, funding infrastructure projects without raising taxes. And he followed through on his working idea, authorizing the state to spend $675,000 to acquire Jekyll Island. He battled to keep the governorship in 1948, but Herman Talmadge unseated him, turning the Jekyll acquisition into political fodder by describing the island as "Thompson's Folly."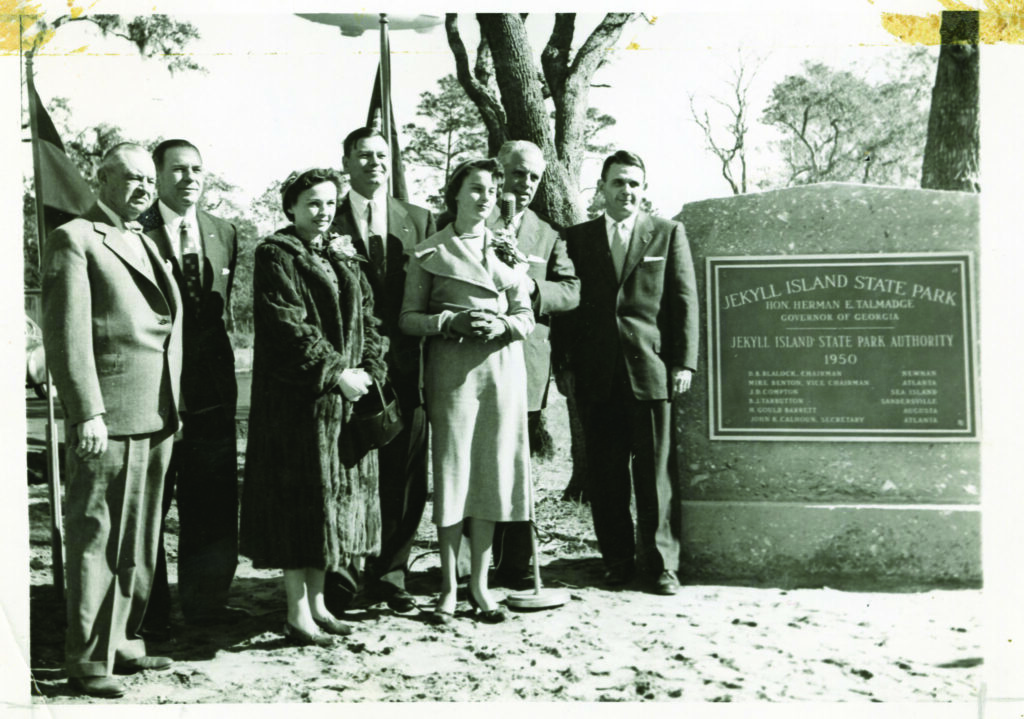 Thompson died in 1980, his legacy secure.
"He never gave up. That cool idea of making Jekyll a state park is something he held onto during all the political drama," Alexander said. "He made it happen."
Jekyll Island, like the rest of Georgia was left to us as a
heritage in trust for our children and their children's children.
It is never to be finished, but
always to be improved."

— Governor M. E. Thompson in 1947