Wander on Two Wheels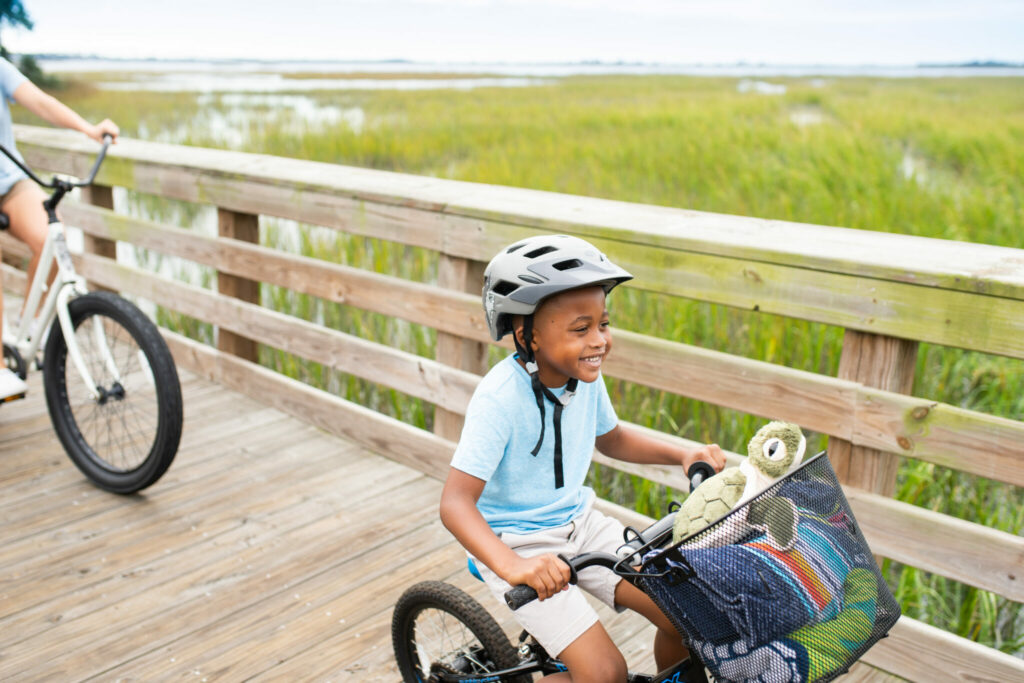 Historical sites, ocean views, and the island's abundant wildlife make each bike ride an adventure. Whether you're seeking an active outing or a leisurely afternoon ride, biking on Jekyll Island is a perfect way to immerse yourself. If you have ever wondered where to begin as you think about conquering all 24 miles of bike trails on the island, we have the perfect guide for you to wander on two wheels!
---
Historic District Loop
Biking through Jekyll Island's historic district is like taking a journey through time itself. Pedal along shaded paths, passing by cottages and the Jekyll Island Club Resort where America's wealthiest families once retreated. Whether you're a history buff or simply seeking a leisure ride, wander on two wheels through Jekyll Island's historic district. It promises to be an unforgettable experience that immerses you in the island's storied past.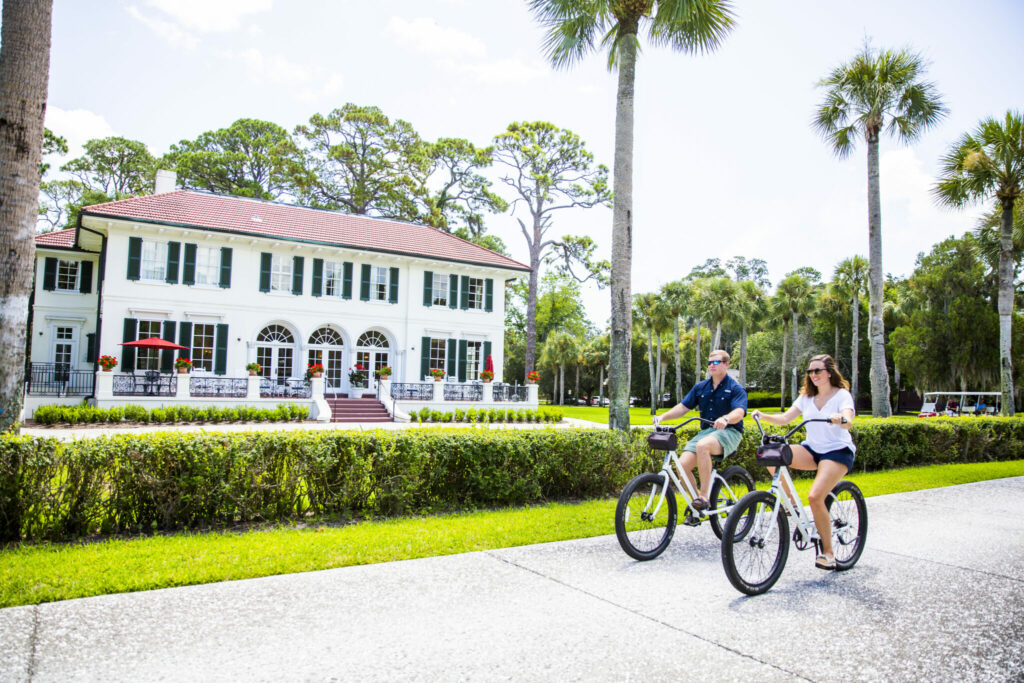 Pro tip: Restrooms and water fountains are located at The Wharf. Take a pit stop for refreshments and shopping on Pier Road or spend the afternoon at the Georgia Sea Turtle Center and Mosaic, Jekyll Island Museum.
---
North Loop
Biking on Jekyll Island's North Loop is a serene and captivating experience that brings you close to nature and Jekyll Island's wildlife. This bike trail offers a diverse coastal landscape. As you venture along this route, you'll be surrounded by a lush maritime forest, marsh, and oceanfront views. Stop at Driftwood Beach to take in the weathered driftwood formations scattered along the shoreline. Make sure to carry both a chain and a U-lock to secure your bike effectively during your ride.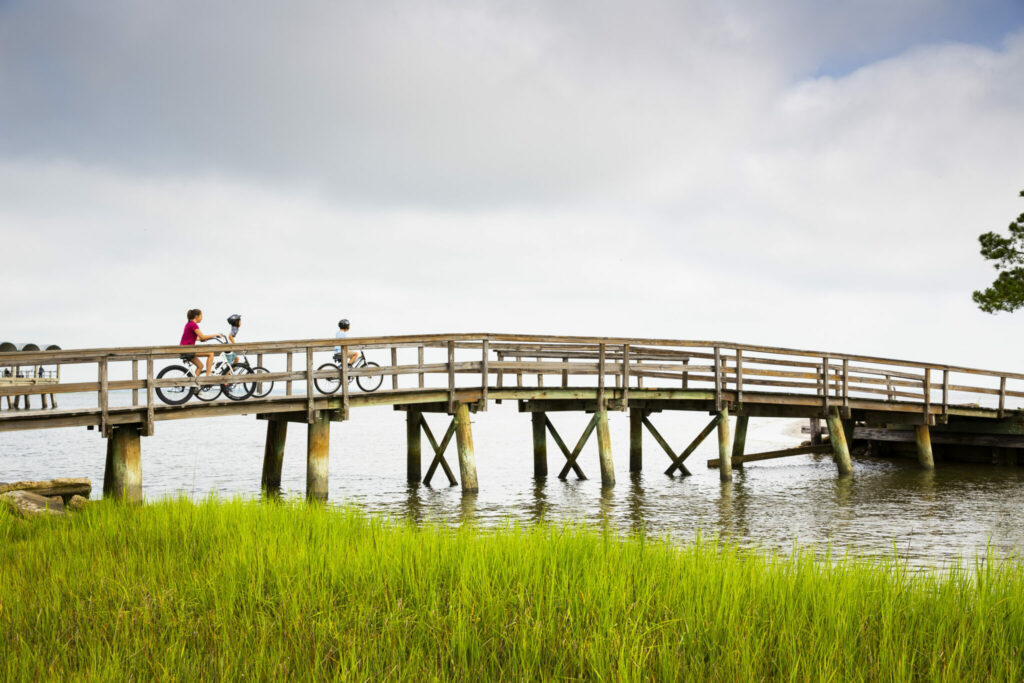 Pro Tip: Points of interest include: Driftwood Beach, Horton Pond, Horton House, DuBignon Cemetery, and the fishing pier. Restrooms are located at the fishing pier, and it's a great place to stop for a picnic lunch! 
---
South Loop
Wander on two wheels along Jekyll Island's South Loop, which includes St. Andrew's Beach. Biking through the southern part of the island, you'll encounter maritime forests and salt marshes, creating a captivating backdrop for your ride. Take a break from your biking adventure and explore the shoreline, the Wanderer Memory Trail or rejuvenate under a canopy of live oaks.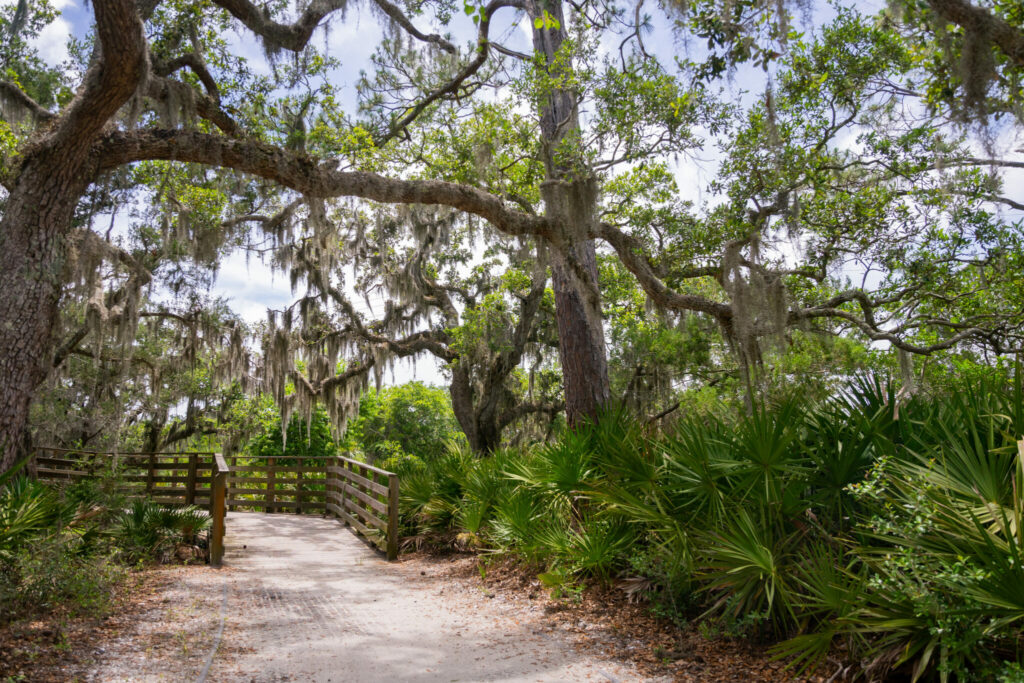 Pro Tip: Bring plenty of water with you on this trail, it's more secluded than others. Restrooms are located at St. Andrews Beach Park and South Dunes Beach Park. 
---
Bike Rentals
Jekyll Island Bike Barn
The Jekyll Island Bike Barn rents adult and kid-sized bikes, tricycles, tandem bikes, two- and four-person surreys, bike trailers, and dual trikes.
Hours: Daily, 9 a.m.-5 p.m.
Location: Located at the corner of N. Beachview Dr. and Shell Rd.
Phone: 912.635.2648
Beachside Bike Rentals
Beachside Bike Rentals rents bicycles at Days Inn & Suites, Seafarer Inn & Suites, and Villas by the Sea.
Hours: Seasonal hours; please call.
Phone: 912.635.9801
Website: beachsidebikerentals.com
Jekyll Wheels
Conveniently located on the east side of the Jekyll Island Club's Ballroom Veranda, Jekyll Wheels is a bike rental and maintenance center, inclusive of a new fleet of bicycles and related accessories. Guests bringing their own bikes may also find overnight storage. Open to the public.
Hours: Daily, 8 a.m.-5 p.m. weather permitting
Location: 371 Riverview Drive
Phone: 912.635.5185
Website: jekyllclub.com
---
Bike Paths Maps
Navigate Jekyll Island by bike with our detailed maps, including points of interest. Follow the bike paths when possible. For safety, avoid roads and other paths not explicitly designated for bikes. See more rules and safety tips »