Turn Off The Lights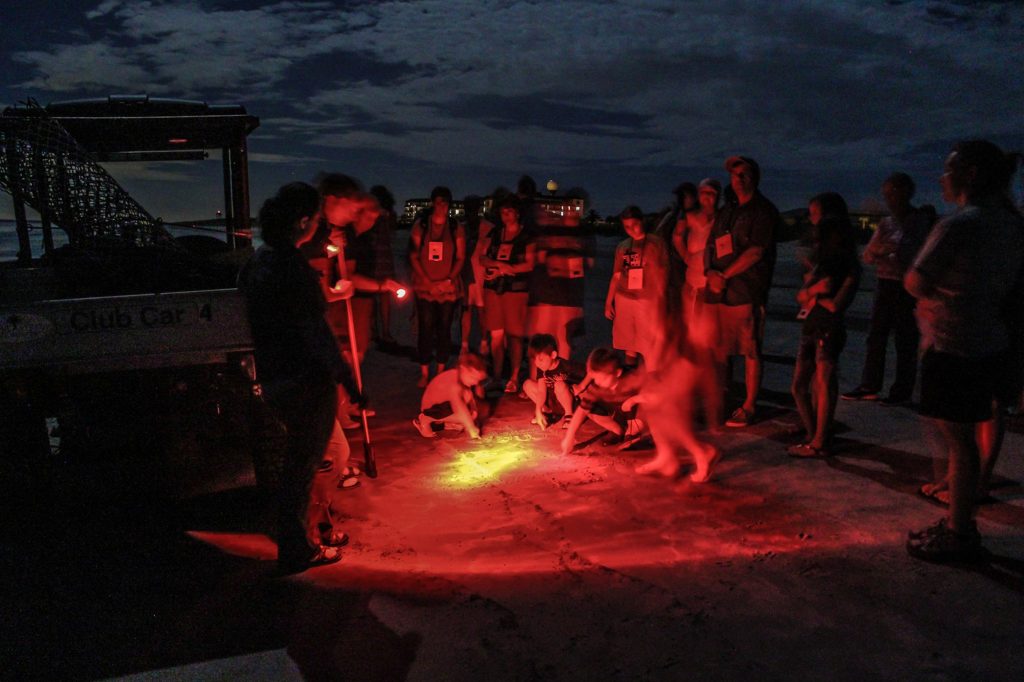 Turn off the lights on the beach, baby. Extra red, we don't want nesting moms to see this. Turn off the lights beachside baby. You know what we need, want you to embrace the darkness. Want you to embrace the darkness.
During nesting season, we recommend embracing the darkness on the beach and taking in its natural beauty when at all possible.
Flashlights are prohibited on or near beaches from May to October unless using turtle-safe lighting. Turtle-safe lighting including lamps/tubes/bulbs/diodes or other light sources that may be used in exterior light fixtures has been specially designed to emit only long wavelength light (amber or red LEDs producing light wavelengths not less than 560 nanometers) that is not disruptive to nesting sea turtles or their hatchlings.
---
Keep the Sand Smooth
One simple way to keep our beaches safe for sea turtles is to keep the sand smooth. Please be turtle safe by knocking down sandcastles and filling in holes before you leave the beach. Leaving large holes in the sand can obstruct turtles' nesting attempts. When you keep the sand smooth on Jekyll Island beaches you are helping to create a suitable environment for nesting.
---
Pick Up Trash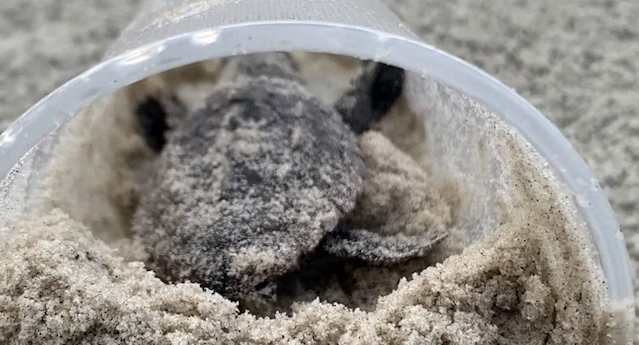 Remove all trash and beach accessories (chairs, umbrellas, tents, toys) Litter, especially plastic, poses a threat to sea turtles. They can mistake plastic bags, straws, and other debris for food and ingest them, leading to serious health issues or death. Whenever you visit Jekyll Island beaches, be sure to clean up after yourself and pick up any trash you come across.
The hatchling pictured above was safely released.
---
Report Turtle Sightings and Nest Discoveries
If you come across a sea turtle nesting or encounter a hatchling disoriented on the beach, report it to the Georgia Sea Turtle Center. The Georgia Sea Turtle Center staff monitor the beaches daily during nesting and hatching season. Should you see a sea turtle or a sea turtle crawl, please call our sea turtle hotline at (912) 215-5046. This information helps our research biologists monitor turtle populations, track movements and ensure their protection.
---
Close Curtains in Hotels or Rentals if you are Beachfront
If you are staying in one of the beachfront properties on Jekyll Island there is a simple, but highly effective way to help save sea turtles during your stay. Closing your curtains or blinds at night prevents light from spilling onto the beach, reducing the chance of false crawls and disorientation of sea turtles during nesting and hatching season.
---
Adopt-A-Nest
When you adopt-a-nest you are supporting the GSTC's mission by helping ensure the continued monitoring and research of Jekyll Island's sea turtle nests.
What's included in the Adopt-a-Nest Package?
Personalized Certificate of Adoption (electronic)
A welcome email with sea turtle facts
A report about your nest's success after it has been excavated (inventoried)
Jekyll Island's nesting and hatching season summary report (usually in October)
Updates on any upcoming GSTC public sea turtle releases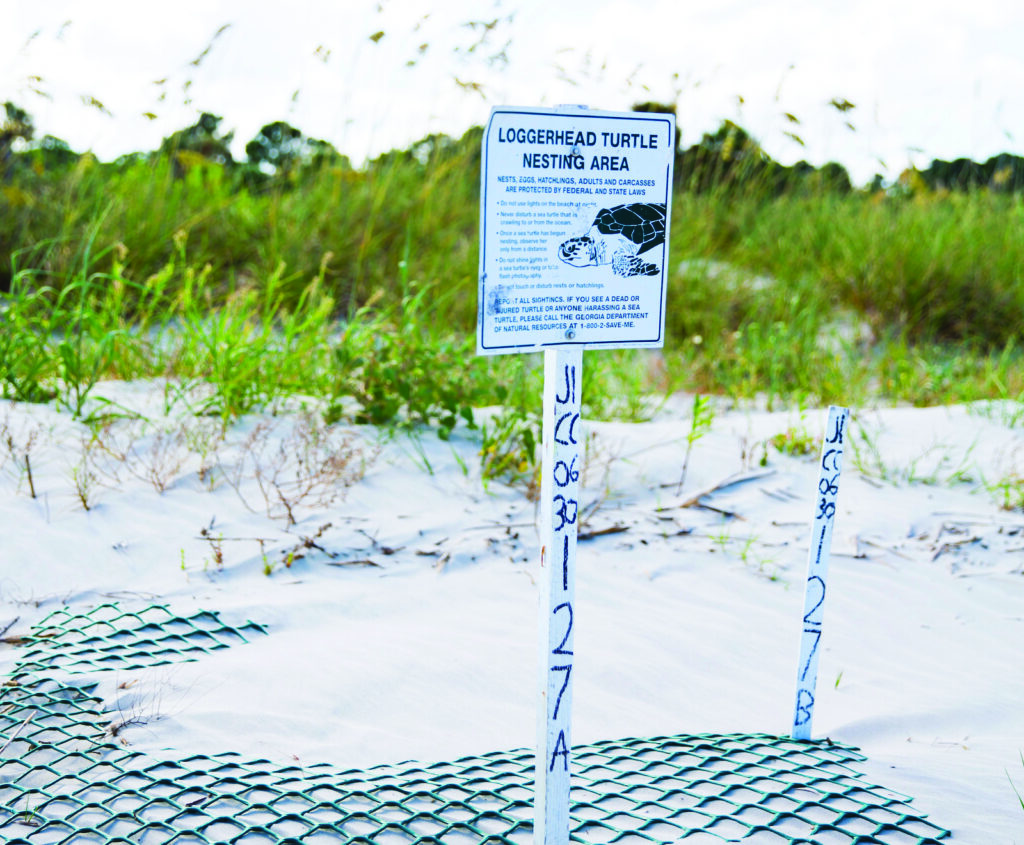 ---
Visit the Georgia Sea Turtle Center
By visiting the Georgia Sea Turtle Center, you not only gain knowledge about sea turtles but also support the Center's mission of rehabilitation, research, and education. The GSTC has increased awareness of habitat and wildlife conservation challenges, promoted responsibility for ecosystem health, and empowered individuals to act locally, regionally, and globally to protect the environment for over sixteen years.
Insider Tip: The Georgia Sea Turtle Center is now operating under timed-entry admission. Visitors are highly encouraged to purchase admission online in advance of arrival to guarantee admission on the date and time of interest. Purchase general admission »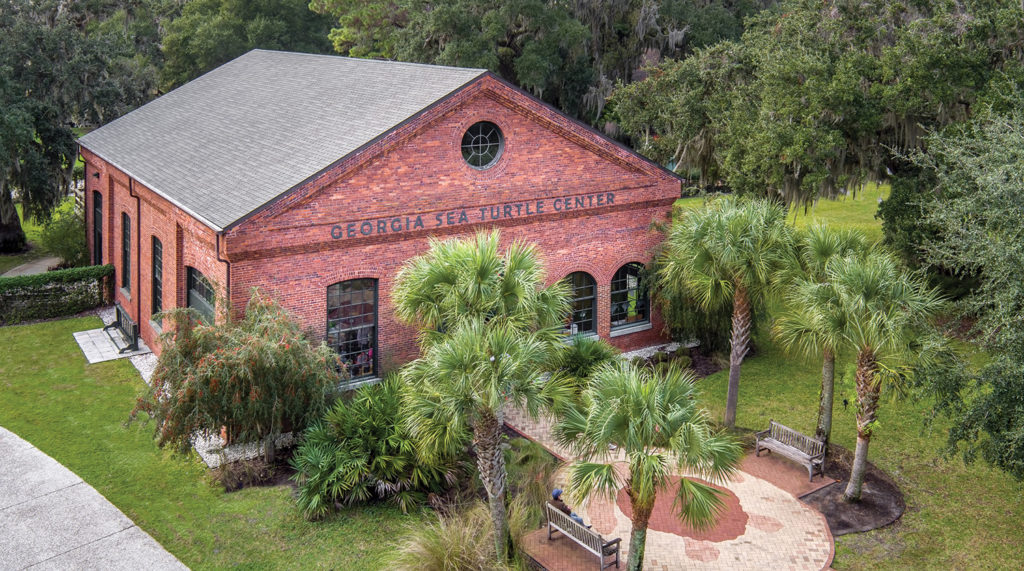 ---
Each of Georgia's sea turtle nesting projects uploads its data online and you can explore past nesting seasons or follow along this sea turtle season in real time.