Preserving the past is a longstanding tradition on Jekyll Island. The island's first preservation efforts began in 1890, when members of the Jekyll Island Club raised funds to restore Horton House. Charles Stewart Maurice and John Mason Loomis spearheaded a subscription drive to preserve the colonial ruin, affectionately called "Old Tabby," so it would "last many years." In 1971, Horton House was listed on the National Register of Historic Places.
Tallu Fish was another strong advocate for preserving the island's eventful past. In 1954, she opened Indian Mound Cottage to the public as Jekyll Island's first museum, presenting Jekyll Island history as a main attraction to draw guests to the island. She was so successful in bringing attention to the island's history that others began to recognize the Jekyll Island cottage colony as a valuable resource and legacy.
National Historic Landmark District
In 1967-1968, the Jekyll Island Authority hired architect J. Everett Fauber and landscape architect Clermont Lee to develop a master plan for what was then known as "Millionaire's Village." They called for the restoration of all historic structures and landscapes and the creation of a "Victorian Williamsburg" on the island. This ambitious plan was never fully implemented, but it did encourage work to begin in earnest to preserve the remaining structures of the Jekyll Island Club.
From 1968-1978, a number of the island's historic buildings were returned to active use under the direction of Roger Beedle, a retired engineer. Beedle oversaw the Jekyll Island Authority's efforts to maintain the buildings, documenting them as they were at that time as well as the many changes accomplished during his ten-year involvement.
The former Jekyll Island Club was also added to the National Register as a historic district in 1972, and was granted National Historic Landmark District status in 1978. With such designations, Jekyll Island's importance in American History was recognized. These recognitions and achievements resulted in further investments in the history of the island.
During the 1980s, new State and Federal tax credits spurred private investment in Jekyll Island's historic resources. A public-private partnership resulted in more than $20 million in renovations of the Jekyll Island Clubhouse for use as a modern hotel. This investment prompted the Jekyll Island Authority to create a Historic Preservation Department within the Jekyll Island Museum, which launched an impressive 20-year investment in preservation on Jekyll Island.
Over the years, the Jekyll Island Club National Historic Landmark District has inspired more than $40 million of investments in the site, through a combination of private, non-profit, state, federal, and Jekyll Island Authority contributions. The cottages of the historic district are now maintained by one of the largest ongoing preservation programs in the Southeast. Visitors can often observe workers restoring roofs, painting cottages, repairing stained glass windows, or gilding architectural features.
Baker-Crane Carriage House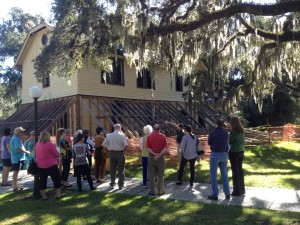 It is hard to miss the major work taking place at the Baker-Crane Carriage House right now. This structure is one of only three in the Jekyll Island Club National Historic Landmark District that has not received major restoration work – until now.
This substantial project all started with a simple plan to install a new roof. As contractors reviewed the project it was quickly determined that the building needed more immediate attention before the roof could be replaced. The extensive stabilization currently underway includes some very noticeable bracing on the exterior, additional bracing on the interior, and foundation repair. There will also be some selective demo on the second floor to prepare for future work on preserving and restoring the building.
A preservation architect has begun a meticulous building assessment. The entire building has been carefully studied, and a plan of action to stabilize and ultimately restore the building is under development. Once the new roof is complete, the exterior bracing will be removed and Baker-Crane will be ready for the next phase of restoration.
This project has provided a wonderful opportunity to share the ongoing preservation of Jekyll Island's historic resources with guests to the historic district. Come check out this work in progress over the next several months!
Hollybourne Cottage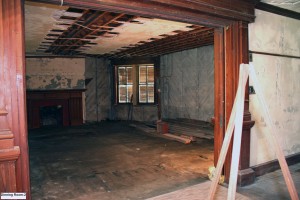 Hollybourne Cottage is one of the more unique architectural structures on Jekyll Island. Constructed in 1890, this "cottage" was built in a style that is unlike any other on Jekyll Island and perhaps in all of Georgia.
Hollybourne was owned by Jekyll Island Club Member Charles Stewart Maurice, a bridge engineer. William H. Day was the architect that designed the structure, but the building design also reflected Maurice's knowledge and expertise in bridge construction.
Due to its unique construction, Hollybourne suffered from significant moisture damage following the Club's closure, when the building was no longer occupied.
Current ongoing efforts to restore Hollybourne Cottage by the Jekyll Island Museum's team of volunteers began some 18 years ago with regular winter guest, Dick Tennyson. Dick stopped by Hollybourne one day and asked what he could do to help. He was tasked with restoring all the window shutters and when that was complete he kept at it. Since that time, Dick and many other volunteers have completed hundreds of thousands of dollars' worth of restoration projects for the Jekyll Island Authority.
Dick and his team of volunteers have been restoring Hollybourne from the structural timbers to painting and finishing woodwork. No job seems too big, too small, or too dirty, and they work together to solve problems as they are discovered. Volunteers work four to six hours a day during the winter months. They are a merry band that enjoy each other's company and enjoy giving of their time, labor, and expertise to make Jekyll Island a better place.
The Jekyll Island Foundation's "Hollybourne Fund" purchases supplies, equipment, and otherwise supports these volunteers in their restoration efforts at Hollybourne Cottage.