Sea Turtle Season on Jekyll Island
The best time to see adult sea turtles is during nesting season, which begins in May with nests often laid through mid-summer. Jekyll Island is one of the few places where you can experience up-close encounters with sea turtles. These gentle giants can weigh hundreds of pounds, and adult females leave their saltwater and estuarine habitats to bring themselves onto the sandy beaches to lay eggs.
Sea turtle hatching season typically happens in August through October and is the best time to potentially witness turtle hatchlings emerge from their nest and scamper their way across the beach and into the ocean!
At the Georgia Sea Turtle Center, take a behind-the-scenes tour into the turtle hospital to learn about sea turtle care and treatment. To spot some sea turtle nests for yourself, head out on the center's Night and Dawn Patrol programs with a field biologist. You can also take a guided Turtle Walk to learn more.
---
Sea Turtle Nesting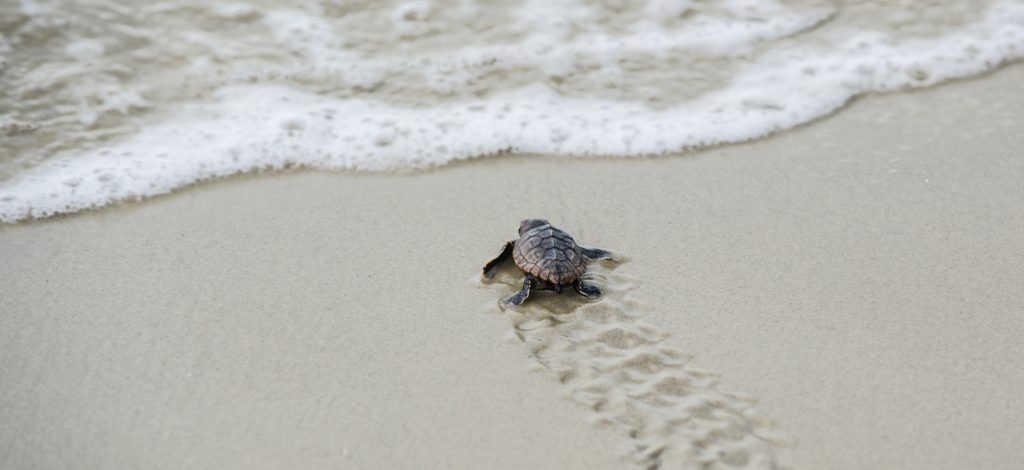 Sea turtle season kicks off with nesting, beginning in May with nests often laid through mid-summer. On Jekyll Island, nesting has increased by an average of approximately 3.2% each year since the early 90s; roughly mirroring the increasing trend seen statewide.
The 2022 nesting season was a record-breaking year for the island! Loggerhead sea turtles across all of Georgia's beaches broke the state record with 4,053 nests; this is the first time they surpassed 4,000 nests in recorded history. On Jekyll Island, the loggerheads laid 243 nests, which smashed the island's previous record of 204 nests out of the water!
Each of Georgia's sea turtle nesting projects uploads their data online and you can explore past nesting seasons or follow along this sea turtle season in real-time.
---
Sea Turtle Season Programming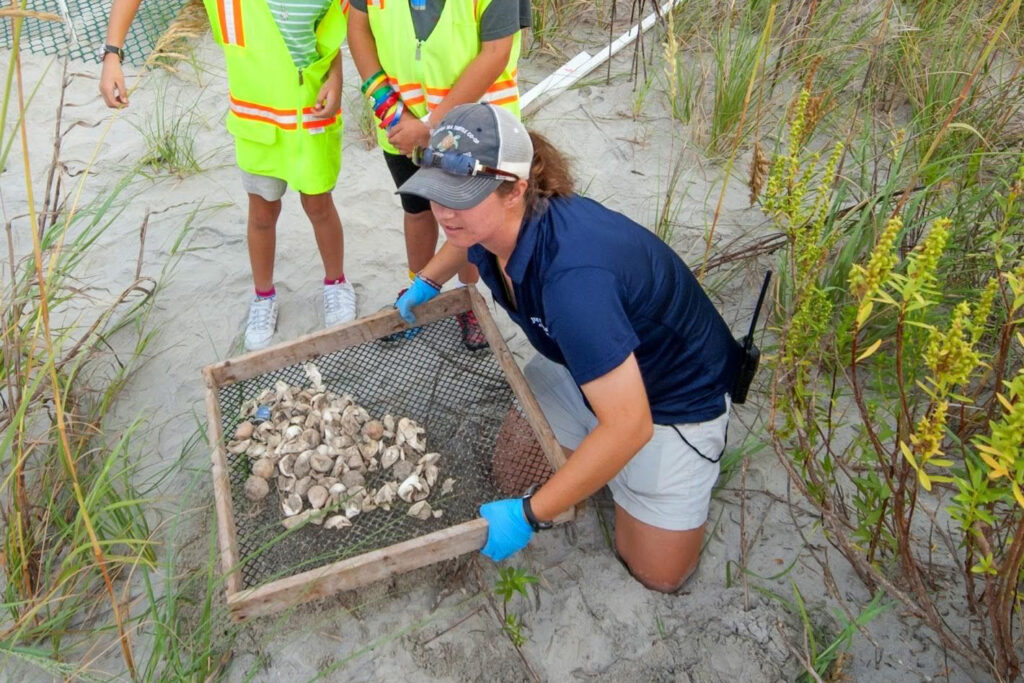 Explore the beach at night and learn about the amazing journey of loggerhead sea turtles nesting along the Georgia coast. Along the way, guides will lead a variety of activities while you wait for potential nesters to arrive.
The Georgia Sea Turtle Center's Ride with Night Patrol program offers participants the unique opportunity to see what it is like to be a sea turtle field biologist for one night. The evening will be spent with our sea turtle patrol team, riding the beach in utility vehicles and walking the other half on foot, in search of sea turtles that nest on Jekyll Island's beaches. If a turtle is encountered, participants will have the chance to assist our research scientists as we learn more about these animals, making for an immersive, rugged, and inspiring field experience.
The Georgia Sea Turtle Center's Ride with Dawn Patrol program offers participants the unique opportunity to see what it is like to be a sea turtle field biologist tasked with daily nest monitoring on Jekyll Island. The morning will be spent patrolling Jekyll Island's beaches with our sea turtle patrol team, riding in utility vehicles (UTVs) and walking on foot, assisting with a variety of tasks, including potentially protecting nests, checking for signs of predators, and potentially observing nest inventories. The opportunity to work alongside our research scientists and contribute to efforts to protect the sea turtle population on Jekyll Island will make this an immersive experience one will never forget.
Join the Georgia Sea Turtle Center on a Sunrise Turtle Walk to explore the wonders of Jekyll Island's beach ecology. Your guide will introduce you to the basics of sea turtle nesting and hatching, the ecological history of Jekyll, and any wildlife you come across. One of the potential activities could be the opportunity to witness an excavation of a recently hatched sea turtle nest.
---
See Recovery in Action
Visiting the Georgia Sea Turtle Center is truly a one-of-a-kind experience. The Center offers the public a chance to learn about sea turtles and see rehabilitation in action with a host of interactive exhibits and experiences. Year-round indoor and outdoor programs are also available for guests of all ages.
---
Beach Safety During Sea Turtle Season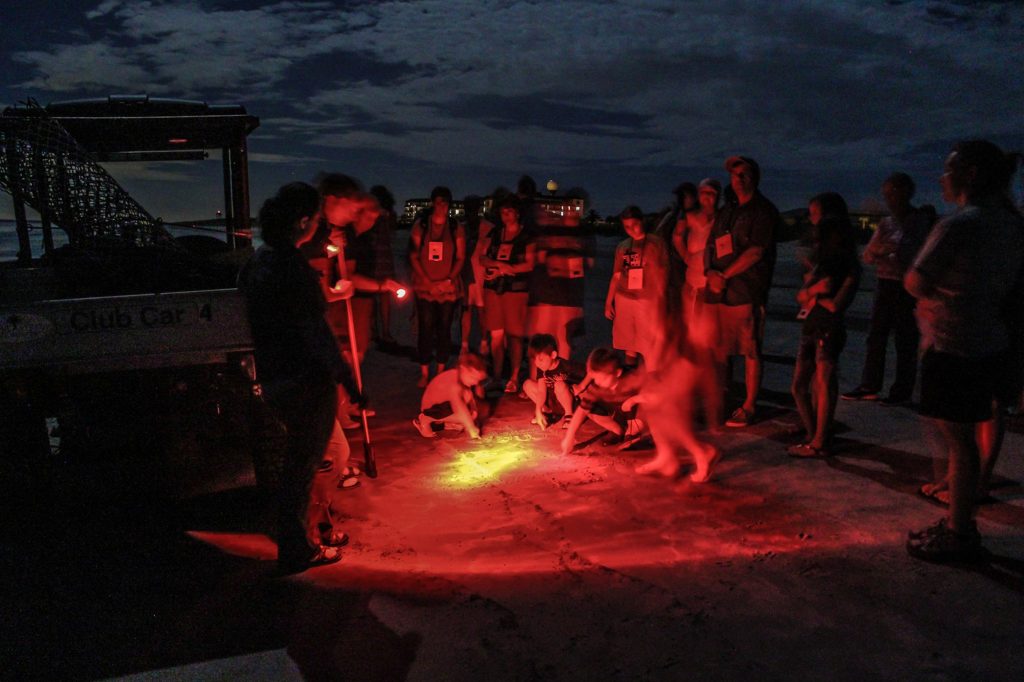 Do not disturb turtle nests or turtles.
Use only turtle-safe RED flashlights on the beach at night. Red filters or red cellophane are not turtle-safe.
Stay out of the dunes
One simple way to keep our beaches safe for sea turtles is to keep the sand smooth. Please be turtle safe by knocking down sandcastles and filling in holes before you leave the beach.
Remove all trash and beach accessories (chairs, umbrellas, tents, toys)
Pets must on a leash at all times; the maximum length for leashes is 16 feet
Please follow all beach lighting ordinances. Visit jekyllisland.com/ordinances to review the beach lighting ordinance.
The Georgia Sea Turtle Center staff will be monitoring the beaches daily during nesting and hatching season. Should you see a sea turtle or a sea turtle crawl, please call our sea turtle hotline at (912) 215-5046.
---
Adopt-A-Nest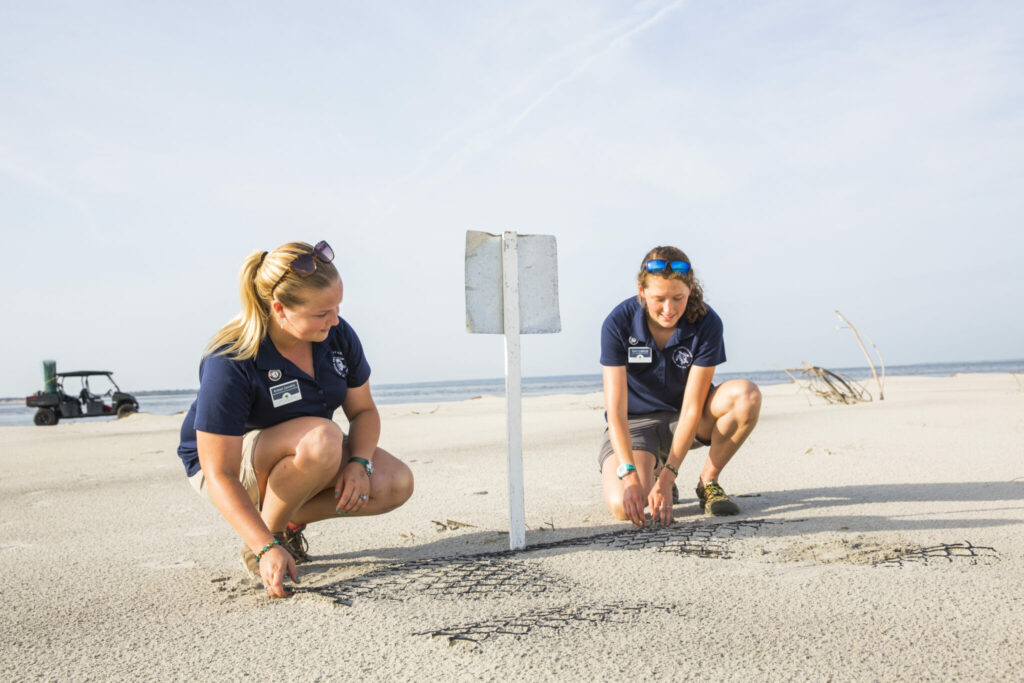 When you adopt-a-nest you are supporting the GSTC's mission by helping ensure the continued monitoring and research of Jekyll Island's sea turtle nests.
What's included in the Adopt-a-Nest Package?
Personalized Certificate of Adoption (electronic)
A welcome email with sea turtle facts
A report about your nest's success after it has been excavated (inventoried)
Jekyll Island's nesting and hatching season summary report (usually in October)
Updates on any upcoming GSTC public sea turtle releases
For questions about Adopt-a-Nest, contact gstceducation@jekyllisland.com or call (912) 635-4141.
---
The mission of the Georgia Sea Turtle Center is education, research, and rehabilitation of sick and injured animals. Since 2007 the Georgia Sea Turtle Center has helped over 3,000 sick, stranded or injured patients.
The GSTC is in its sixteenth year of operation hosting over 100,000 guests annually. The GSTC is operated by the Jekyll Island Authority (JIA). Through the center's hospital, rehabilitation, research, and education programs, the GSTC has increased awareness of habitat and wildlife conservation challenges, promoted responsibility for ecosystem health and empowered individuals to act locally, regionally, and globally to protect the environment.