Staff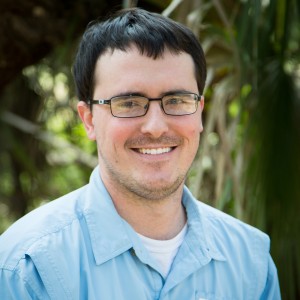 Yank Moore, Director of Conservation
Guy "Yank" Moore was hired as a Conservation Technician in 2013, promoted to Conservation Coordinator in 2014, and Conservation Land Manager in 2017. He was born and raised in Brunswick, GA, and has strong family ties to Jekyll Island. His dad's family grew up on the island in one of the historic houses and his grandfather worked with the JIA from its inception, retiring in a leadership role after a long career. Yank holds a B.S. in Environmental Science with a Concentration in Biology from Berry College in Rome, GA, and an M.S. in Environmental Science from Columbus State University in Columbus, GA. He has worked as a carpentry supervisor, an environmental consultant, a biology teaching assistant, and as a research assistant for a geologist studying the Chattahoochee River. This background serves him well in his multifaceted role as a technical expert and equipment specialist for our aquatic conservation and environmental monitoring programs. Moore represents the Jekyll Island Authority on the Steering Committee of the Coastal Georgia Cooperative Invasive Species Management Area. A consummate outdoorsman, in his free time he enjoys playing sports like disc golf and soccer as well as fishing. Yank and his wife Kayde live on Blythe Island.
Joseph Colbert, Wildlife Biologist
Joseph Colbert grew up in Columbia, SC. Following the events of September 11th, at 19 years old, he enlisted in the United States Marine Corps. After two deployments, he concluded his service to attend the University of South Carolina. In pursuit of a profession that would fulfill his ongoing commitment to public service, Colbert graduated with honors from USC in 2011 with a B.S. in Biology. Joseph advanced scientific knowledge and engaged the public about coastal wildlife conservation during two national service contracts as an AmeriCorps member with the Georgia Sea Turtle Center on Jekyll Island. As a graduate student at the University of Georgia's Odum School of Ecology, he was selected as a Tillman Scholar – one of 60 nationally – and the first from UGA. This prestigious honor is based on Colbert's leadership and service record. His master's thesis involved plant and wildlife community response to prescribed fire in rare maritime grasslands. Joseph rejoined the JIA in 2016 and now serves as the island's first wildlife manager. He is responsible for minimizing negative interactions and increasing positive interactions between people and wildlife while pursuing opportunities to enhance the value of the island's habitats.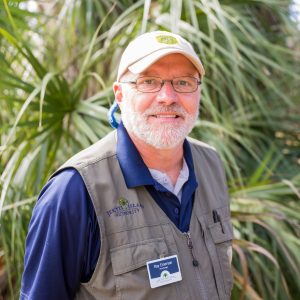 Ray Emerson, Lead Park Ranger
Ray Emerson has been Park Ranger for the JIA since October of 2017.  As the public face of the Conservation Department, his primary responsibility is educating the public about Jekyll Island and, through that process, supporting all ordinances and policies governing the wildlife and public & natural spaces on the island. Originally from Brockton, Massachusetts, Ray earned his Bachelor of Science degree in 1980 from the University of New Hampshire, focused on Environmental Conservation. He began his partnership with the JIA as a volunteer at the Georgia Sea Turtle Center (GSTC) in August of 2012. Ray has been active in the Education, Husbandry, Rehabilitation, and Research departments, and even volunteered internationally with GSTC partner programs.  In December of 2015, Ray was appointed Assistant Manager of the GSTC Gift Shop. He has always loved animals and was the kid whose patio was filled with turtles, snakes, toads, frogs, etc. in the spring and summer (all were released back into the wild). A major highlight of his time with the GSTC was when he saw his first Leatherback sea turtle in St. Kitts in 2014.  Ray, his wife Kathy, and their dogs have been residents on Jekyll since July of 2013.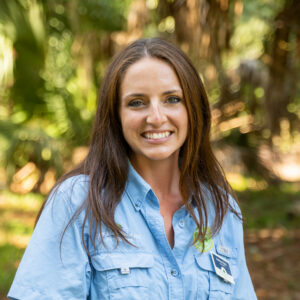 Andrea Deck, Park Ranger
Andrea began working for the JIA in the spring of 2021 as a Seasonal Park Ranger. As a result of her excellent performance, she was offered, and accepted, a permanent Park Ranger position at the end of the summer. Originally from southeastern Ohio, Andrea moved to Michigan where she worked and began a family. She recently completed her Bachelor's Degree studies online through Southern New Hampshire University, majoring in Environmental Science, in order to follow her dream of working with coastal wildlife. Andrea, her husband, and their 2 children, along with 5 dogs and 1 cat have been residents of Hortense, Georgia since the fall of 2020.

Ayron Moleen, Park Ranger
Ayron is a South Georgia native who grew up about half an hour from Jekyll Island in Brantley County. She graduated from the College of Coastal Georgia with a Bachelor's degree in coastal ecology in May of 2019. Hired as a seasonal ranger, Ayron was then kept as a part-time park ranger and a member of the conservation team. She volunteered with the Satilla River Keeper as well as multiple middle schools in surrounding counties to spread knowledge of the unique ecosystems of southeast Georgia. During her free time, Ayron enjoys bartending and spending time with her family.
---
Friends & Partners